Leadership lessons from the sporting world: Building a winning team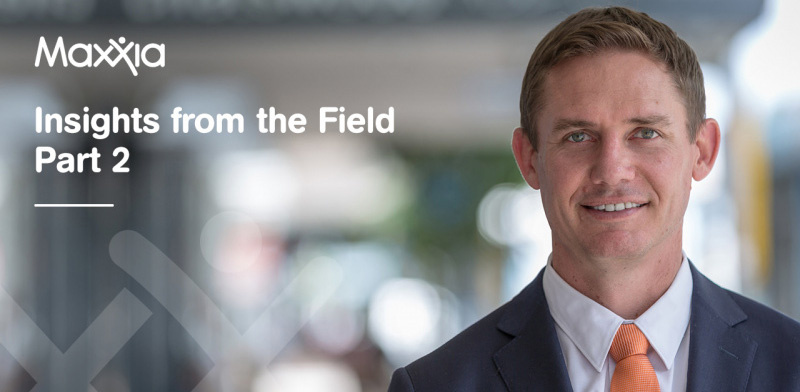 In the highly competitive world of international rugby, players with talent and ability are highly sought after by selectors. But as in the corporate world, no individual can win the day purely on their own performance. No matter how talented the individual, if their values don't match the culture of success you're aiming to build, the impact on your team could be significant and negative.
Finding the right fit
In the current HR landscape, organisations are no longer sizing up candidates to find the perfect match. It's more a case of doing what it takes to have the best of the talent pool choose you as their next employer. In the words of Ignite Global CEO, Kim Seeling-Smith from our 2018 Maxxia Employee Experience report, "We are staring down the barrel of a skills gap, and each and every industry needs to find new and innovative ways to win the war for talent."
But there can be a high price to pay when your star recruit turns out to be one who actively disrupts your organisation's culture. According to research from Harvard Business School, toxic employees can cost a business more than the superstars add to their bottom line. When vetting hires for skills, talent and performance, it's just as important to consider how different personal styles and values will impact team culture and performance overall.
It's certainly something former Wallabies coach Stephen Larkham makes a priority for team selection. "Finding talent is a tricky process," he says. "You've got to make sure they've got mental toughness, that's the most important thing a player needs to have. The second thing is whether or not they'd fit into the team environment that currently exists. Are they selfless, are they disciplined, have they got respect, are they willing to learn?"
Where to focus recruitment resources
To find out if a candidate will complement the team dynamic can take time and a big commitment from stakeholders. Rapid rates of organisational growth drive high demand for new employees. Add to this new technology available to automate and 'smooth' the hiring process and assessing cultural fit in candidates can fall by the wayside in the rush to fill the talent gaps.
Rather than using technology to accelerate recruitment, it can take the burden of transactional tasks away from HR teams and hiring managers, freeing them up to connect with potential employees instead. Inviting candidates to sit in on a meeting or join a team lunch both take time. But these are golden opportunities to assess a candidate's comfort levels in different environments and see how they interact with the whole team.
Being part of something bigger
Given the high price of hiring and firing a toxic worker – estimated at $12,500 in turnover costs in the HBR report – any investment in selecting for cultural fit is likely to be worthwhile. But if an organisation has perfected their process for hiring ideal employees, what can they be doing to keep them on board?
According to Stephen, giving team members a sense of shared purpose is essential for retaining talent. "We're striving to create the best place in the world to play rugby" he says. "In order to do that you want to see that the players are enjoying being part of something that's bigger than themselves."
If new hires don't feel that sense of purpose and belonging, organisations could see their fresh talent walk out within months. This is where effective onboarding can become mission critical to team building. In our 2018 Employee Experience report, Joel Corrigan, Senior Recruiting Lead for Uber Australia & New Zealand shared their approach and why he believes it's so important to offer 'nubers' a next-level onboarding experience.
"People fly into San Francisco and attend what we call 'uberversity'. It comes back to trying to attract and retain the best people, but I also just think it's the right thing to do. What I do day in day out is convince people to change jobs, and it's such a big decision, it's kids, it's sometimes moving countries, cities and schools. I think that being prepared and ensuring that transition goes smoothly should be a top priority."
Continuous learning matters
Based on his experience in the rugby world, Stephen is grateful to his teams, past and present, for giving him so many opportunities to learn. "I've been with rugby now as a player and a coach for more than half my life," he says. "It's always the team environment where I'm learning the most. Everything I've learned that I think is valuable has come out of the team environment."
For both organisations and employees, learning at the individual level is becoming ever more important to their success. The Mercer 2018 Global Talent Trends Study focuses on five key trends behind a 'thriving' business and workforce. One of these is change@speed supported by exponential learning. "Leaders and employees around the world understand that to thrive, organisations need their employees to be lifelong learners who grow with the business, embrace continuous change, master new technologies, and build skills for the future ."
Developing a culture where learning and belonging are given the same priority as skills and productivity relies heavily on how recruitment plays out. Striking the right balance between filling a skill shortage and hiring people to enhance organisational culture is a difficult ask. But at the end of the day, HBR researchers came down on the side of 'corporate citizenship' as having greater potential to boost team productivity than talent.
To further explore the alignment between building a winning team and employee experience request a copy of our EX report