Enhancing The Employee Experience Through Meditation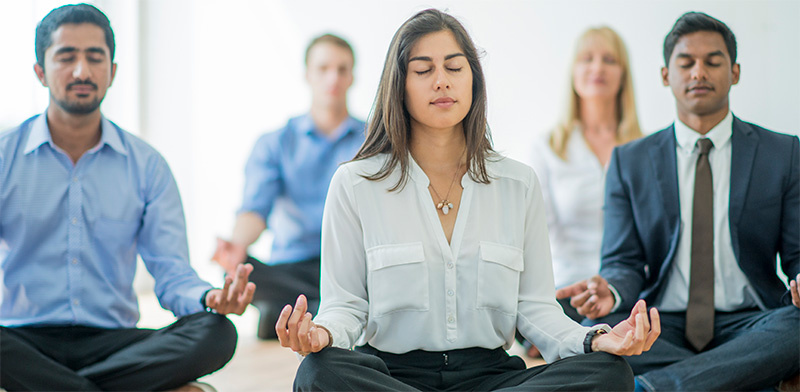 Despite mainstream society's growing uptake of mindfulness, the idea of meditation in the workplace may still seem a little kooky to some. But for many companies – big and small, public or private sector – meditation has become an integral part of employee wellbeing and the employee experience.
At Apple, Steve Jobs' love of meditation has led to his employees being granted 30 minutes each day to meditate at work, as well as providing on-site meditation classes.
Google, which believes meditation boosts employee wellbeing as well as the company's bottom line, offers meditation spaces and regular courses.
Meanwhile, staff at Nike have access to relaxation rooms, which they can use to take a nap, pray and meditate.
Dr Dusana Dorjee, a cognitive neuroscientist in the School of Psychology at Bangor University, believes the philosophy behind mindfulness has clear links to organisational processes and outcomes.
She told HR Magazine: "In practice, [mindfulness] means noticing thoughts and sensations as they arise and consciously choosing if and how to respond. Taught-mindfulness practices present an opportunity to develop the ability to pay attention in a skilful, non-judgemental way. This ability to respond rather than react makes mindfulness a very attractive approach for workplaces."
International law firm Herbert Smith Freehills are recognised for their innovative – and successful – workplace integration of mindfulness and meditation. They first dipped their toes in more than eight years ago when two learning and development colleagues at the firm's Australian arm included short meditation sessions as part of a new leadership program.
"We started softly, with a 15-minute meditation session towards the end of the day," recalls Murray Paterson, now Head of Learning and Development.
A lifelong meditation advocate, Paterson was one of the driving forces behind developing the suite of 10 mindfulness and meditation programs that now run at the firm each year. The initiative has been so successful that it's been incorporated into their London office as part of plans for a global roll-out.
Paterson says while the push for such programs needs to arise from within an organisation, it needn't come from within human resources or learning and development. "It needs people with the passion and experience for it to kick off, no matter where they are in the organisation."