Maxxia's VR experience adds wow factor to workplace engagement & education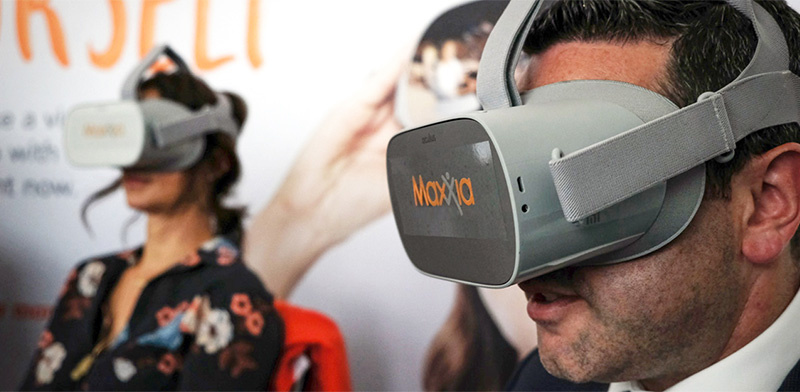 Not so long ago, virtual reality (VR) was consigned to video gaming, but it has evolved into a wonderfully immersive customer experience tool for some of the world's more forward-thinking brands.
The team at Maxxia - a leading provider of employee benefits to organisations of all shapes and sizes, from large corporates and SMEs, to health, not-for-profit and government - has invested in some of the latest VR technology to bring new levels of engagement and education to the most popular salary packaging benefit, novated leasing.
Introducing the Maxxia VR Experience, a fully immersive virtual test-drive that transports customers into three brand new BMWs alongside our ambassador, Olympic swimmer and TV personality Giaan Rooney.
Developed in partnership with Sydney film and content production company Rapid Films – whose portfolio includes 360 VR experiences for National Geographic, Samsung and Qantas – the VR Experience is all about engaging new, existing and prospective customers and creating a fresh and fun connection to the Maxxia brand and to novated leasing.
While you take in the panoramic views of Victoria's iconic Great Ocean Road, a section of Queensland rainforest and the Sydney Harbour Bridge, Giaan details the many benefits of novated leasing.
As a working mother, Giaan was chosen as much for her accessibility and approachability as someone who has achieved excellence in their chosen fields. There's also an added bonus: her husband has been a novated lease customer.
"I only work with brands that have strong morals, like Maxxia," Rooney says. "Because I believe that if I trust in them, then others should too."
Other partners include the Macquarie Group and BMW, with the German luxury car manufacturer supplying three brand new vehicles for the shoot and partnering with Maxxia for a forthcoming vehicle offer campaign.
Simon Haidar, Group Executive Sales and Product Services, says the BMW connection is obvious. "If customers can't relate to an aspirational brand then there's no wow factor. With our access to great pricing, we can help to get people into an aspirational vehicle, or something they can aspire to, down the track."
Maxxia's team of Customer Education Managers will be equipped with branded VR headsets and hosting VR Expos at Maxxia client workplaces nationally helping employees experience Maxxia VR for themselves.
Employees can also download the Maxxia Drive app (via the App Store or Google Play) bringing the full 360 experience to your phone, and also includes videos on Maxxia and novated leasing.
Lisa Henderson, Group Executive Marketing, says the VR Experience has created excitement across the whole business. "Virtual reality is a new innovation for us, and we've designed it so that our customers are as excited about novated leasing as we are. It's a great way to engage them," she says.
Haidar agrees. "It's giving people experiences they haven't had before; that's where it's a powerful medium. It's all about creating an experience for customers so that they have a tangible connection and a link to our brand."
For more information visit the Maxxia Drive page on the Maxxia website.