As job market activity reaches a 10-year high in 2021, talent attraction is clearly a pressing matter for many HR teams. With a spike in demand for skilled workers and more employees looking to change jobs, retention as well as successful recruitment has become a priority.
Research shows 42% of employees say company culture has diminished since the onset of the pandemic, with employees blaming a lack of communication or lack of effort to make remote employees feel connected.1 In this article we explore the role employee benefits can play in enhancing your EVP and demonstrating tangible value from recruitment through to retention.
Employee benefits are crucial for a competitive EVP
Research from Gartner confirms that employee benefits continue to be a valued part of the employee experience in a rapidly changing environment. Their research conducted in late 2020 found S&P 500 companies in the US placed particular emphasis on two areas of talent investment: employee benefits and employee wellbeing.
Employee benefits were the most mentioned of talent investments in conversations with their workforce about rewards — and mentioned almost five times more than before the pandemic.2
Additional Gartner research shows that organisations that effectively deliver on their EVP can increase new-hire commitment by nearly 30%.3
Employees can only value what they know about
An employer's brand needs to convey that its culture, benefits and growth opportunities are superior to those of competitors in the race for talent. While onboarding is prime time for engaging employees with benefits, ongoing communication and campaigns can demonstrate their value throughout the lifecycle. With regular reminders of benefits on offer, particularly as employees transition through different roles, work locations and life stages, organisations have a golden opportunity to show how they're investing in workforce wellbeing by offering a range of benefits to suit employees' individual circumstances.
Meeting the changing priorities of your workforce
Our lives and priorities have changed as a result of the pandemic and the workplace is no different. Employee benefits that may have taken a back seat for some employees may now be a priority for your workforce. Some key examples include:
Employees who have relocated to remote or regional areas may be able to salary package rent or mortgage payments, interest on their mortgage or property purchase costs. For those relocating for work purposes, they too may be able to salary package expenses associated with moving.
Motivating and encouraging your workforce to upskill or re-skill can be more attractive when employees are able to pay for self-education and professional development expenses using pre-tax dollars through salary packaging.
Changing transport preferences mean a novated lease can be an attractive option for employees looking to get into a new car or upgrade their existing vehicle.
Financial wellbeing continues to be a top priority for organisations looking to boost employee wellbeing. Salary packaging can potentially reduce an employee's taxable income while increasing their disposable income. Financial savings provided as a result can have a tangible impact on reducing money stress.
Discover how employee benefits can help unlock your talent advantage.
What can employees salary package?
Maxxia has a deep understanding of the rules governing employee benefits and how they translate for different sectors and organisation types. From novated leasing to education expenses we can help you maximise the salary packaged benefits you offer to your employees.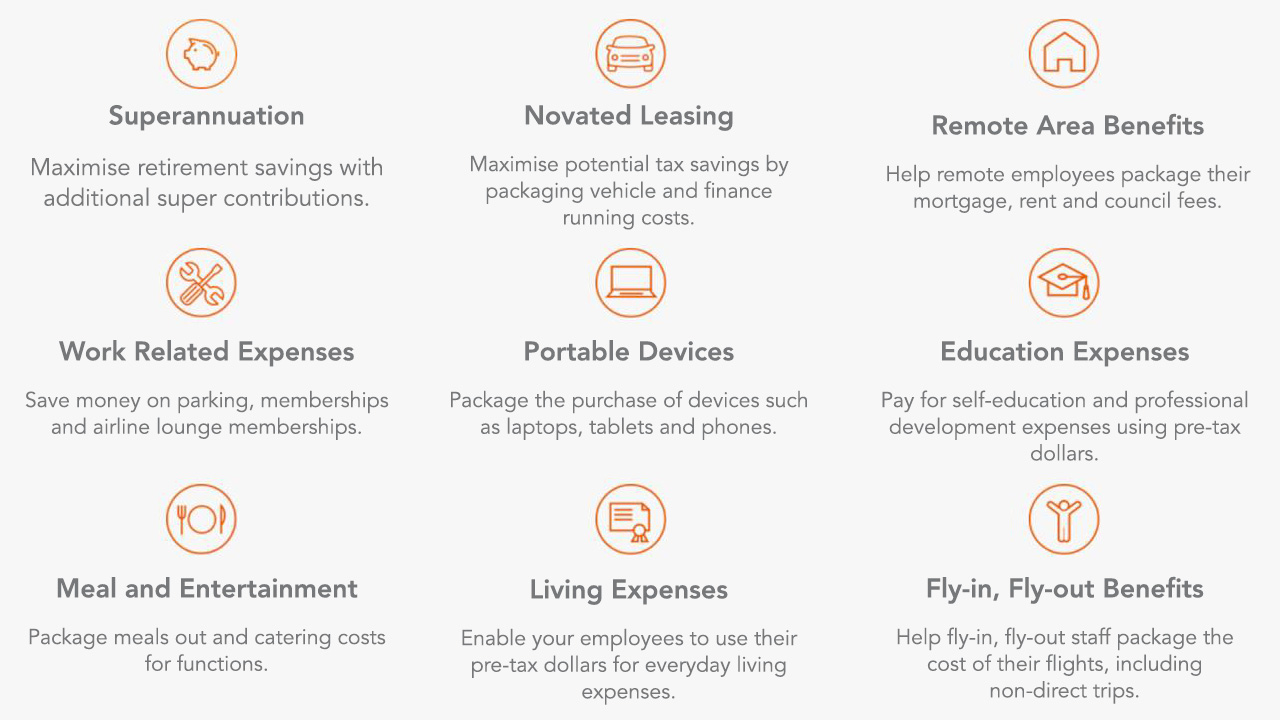 As a premium provider of employees benefits to many organisations across Australia, Maxxia have seen the difference salary packaging can make to the overall financial position of employees. Not only can take up of salary packaging potentially boost net household income for employees, a best-practice program supported by effective communication can also strengthen your employee value proposition as a whole.
Maxxia can offer your organisation a full benefits assessment to measure the effectiveness of your current employee benefits offer. We can also put a dollar figure to the potential savings and efficiencies from running the program and compare overall performance with best practice for your industry.
1. The Achievers Workforce Institute, 2021 Engagement and Retention Report
2. Gartner, A Key Pandemic Lesson Learned: Invest in Your Talent, 6 July 2021
3. Gartner, Battling for Talent? Show That Your Jobs Offer More Than Pay, 19 September 2019