With research from Gartner showing 24% of Australians plan on changing jobs1,  it's now even more important to remind employees of the benefits you offer. The new financial year can be the ideal time to communicate your plans for the future and boost engagement and retention as a result.
Even with the coming and going of pandemic restrictions taking its toll on many Australian businesses, demand in our local job market is rising. The May 2021 release from the Australian Government's Labour Market Information Portal reported the 13th consecutive monthly increase in job vacancies, bringing them to their highest level since October 20082. This is compounded by the fact that migration is likely to be restricted until mid-20223, limiting the supply of skilled employees still further and increasing competition for talent as a result. This competitive environment creates added pressure on organisations and their HR teams when it comes to attraction and retention.
What employees now expect
To entice candidates into vacant roles and keep employees engaged, there are several key drivers for HR teams to be aware of. The same Gartner survey found that a post-pandemic workforce is most likely to jump ship because of problems with work-life balance, manager quality and respect with their current employer4. 
"Workers want to see the introduction of systems to better support work-life balance. There is also an expectation that management will step up and show more respect and appreciation for hard work through cultural change and tangible incentives." 
Aaron McEwan, Vice President, Gartner HR practice 
Belonging is also an important factor when it comes to retention, according to the Qualtrics 2021 Employee Experience Trends Report. Their survey of 11,800 full-time employees across 20 different countries revealed the top engagement drivers have shifted dramatically from 2019 to 2020. A sense of belonging and pride in the company's purpose have taken over from confidence in leadership and opportunities for growth as the top reasons for employees to feel engaged at work5. 
Communicate to meet – and exceed – expectations
So how can organisations take a step up in their employee communication to highlight what's on offer in these key engagement areas? Here are three tactics designed to get the message across to employees that they're valued and respected:
1. Be clear about the benefits you offer
To start with, consider how often and how clearly you're communicating with employees about what the status quo is and what's coming next, even when the latter is not fully formed. This includes what to expect from future working arrangements. As a recent article from McKinsey points out "organisations may have announced a general intent to embrace hybrid virtual work going forward, but too few of them, employees say, have shared detailed guidelines, policies, expectations, and approaches. And the lack of remote-relevant specifics is leaving employees anxious"6.
Being upfront and proactive in communication on topics ranging from remote working to employee benefits can keep employees from feeling uncertain about where they stand. Taking a best-practice approach to employee benefits promotion and education, for example, can help your workforce get clarity on what's on offer that they have yet to take advantage of. A program that includes live and on-demand webinars or 1:1 consultations on salary-packaging and other benefits topics can deliver more direct and personalised content to employees that's most relevant to their own needs.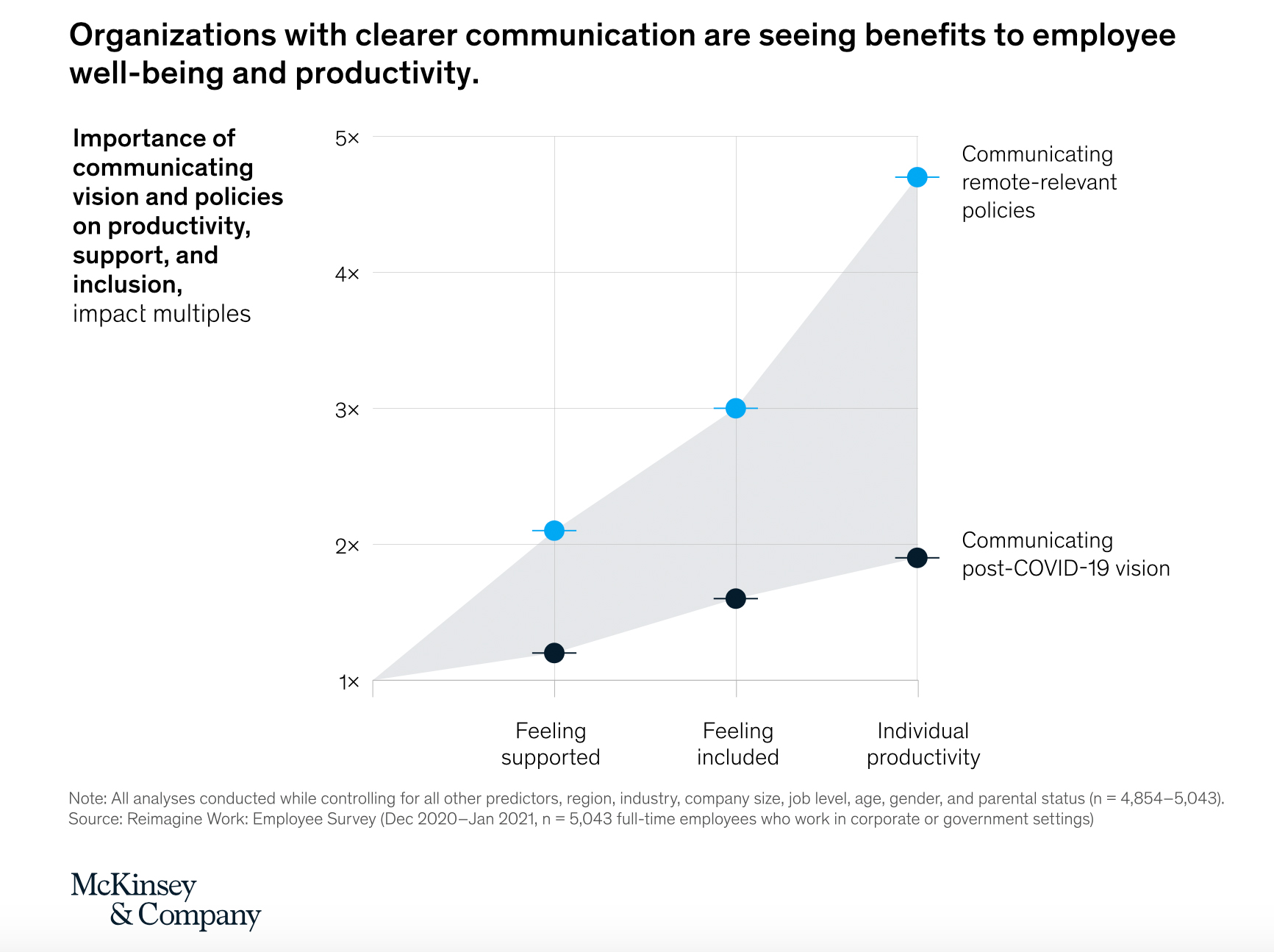 2. Communications and content tailored to your employees
This tailored approach to employee benefits communication highlights another area where there could be room for improvement. In our recent article on supporting and engaging with your hybrid workforce we reported research that suggests there is a disconnect between where employers are focusing their efforts and what employees actually want and need. 
Another research study that points to the potential for disconnect is the Qualtrics 2021 Employee Experience Trends Report which shows a concerning lack of action on feedback. 92% of employees believe that acting on feedback matters but only 7% felt their employer acted on feedback "really well"7. This further emphasises the importance of being responsive and aware of employees' priorities and concerns across all employee communications, including benefits.
3. Improving financial wellbeing is a tangible benefit for your workforce
A priority that's likely to be top of mind for many employees is their finances. While the job market may be providing many opportunities for new roles, wage growth is expected to be just a little above 1% for the next year or so according to an April 2021 forecast from Deloitte Access Economics8. In this context, it's challenging for employers to support financial wellbeing for their workforce through salaries alone. 
Employee benefits offer an easy way to engage with your workforce on their financial wellbeing. Not only can take up of salary packaging potentially boost disposable income for employees, a best-practice program supported by effective communication can also strengthen your employee value proposition as a whole.
As a premium provider of employee benefits to many organisations across Australia, Maxxia have seen the difference salary packaging can make to the overall financial position of employees. Not only can take up of salary packaging potentially boost net household income for employees, a best-practice program supported by effective communication can also strengthen your employee value proposition as a whole.
  
Maxxia can offer your organisation a full benefits assessment to measure the effectiveness of your current employee benefits offer. We can also put a dollar figure to the potential savings and efficiencies from running the program and compare overall performance with best practice for your industry.