In recent years we've seen a significant increase in the scope of the HR role and the accompanying workload. It's more important than ever to partner with providers who can offer practical support and best practice guidance to ease the load. And with talent retention and acquisition high on the HR and organisational agenda, an enhanced level of service from your employee benefits provider is critical.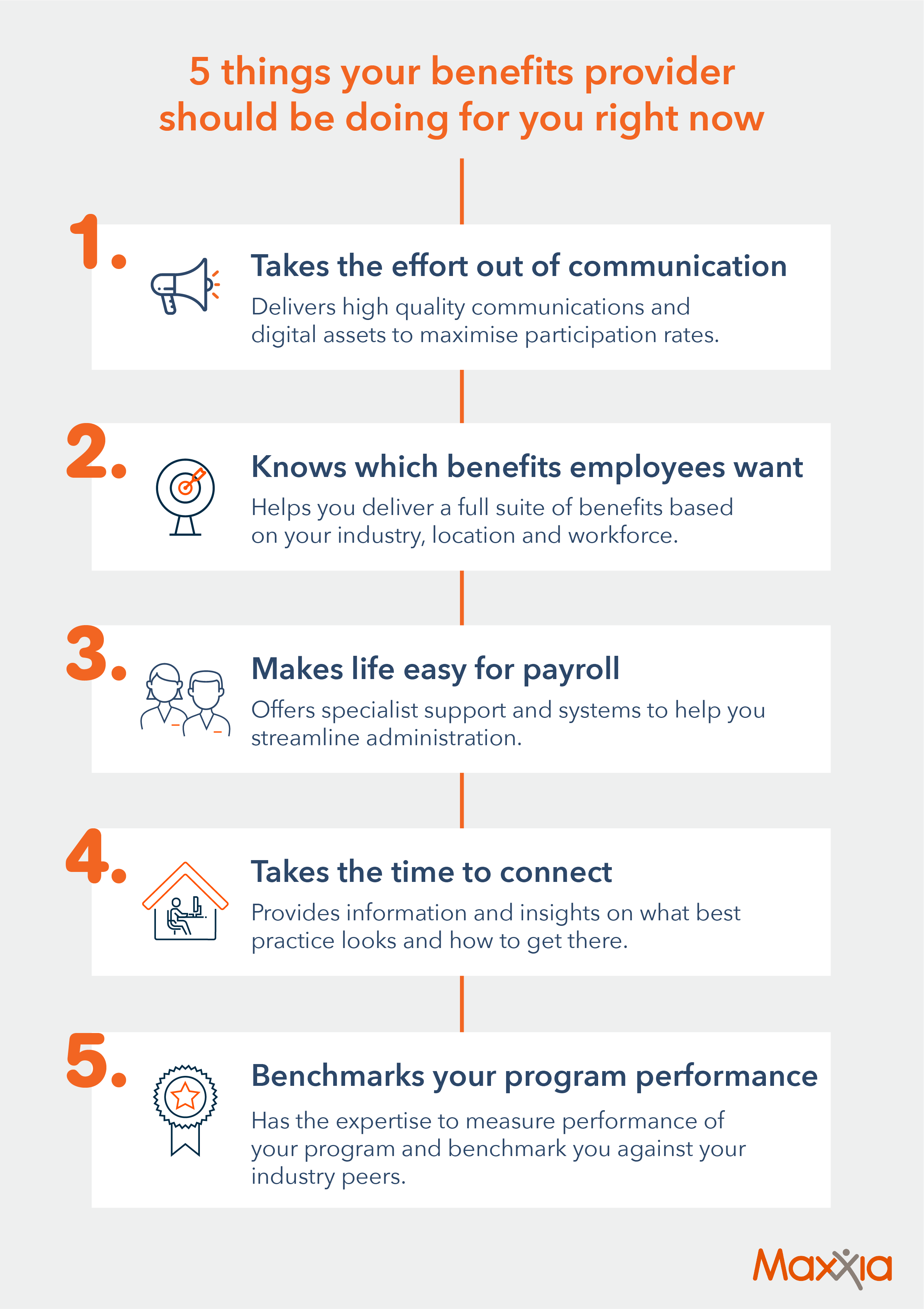 Here are five things your employee benefits provider should be doing for you right now:
1. Taking the effort out of communication
At a time when HR teams are pulling out all the stops to demonstrate value to employees and candidates alike, it's crucial to promote your employee benefits as a key element of a compelling EVP, after all employees can't value something they don't know about.
You can expect your benefits provider to deliver:
Engaging and personalised communications and campaigns throughout the year
Up to date content that reflects a changed workplace for employees, from new hires to incumbents
Options to connect with employees both online and face to face
2. Helping you offer benefits your workforce really want
HR have been at the very centre of fundamental changes in the workplace as a result of the pandemic. Many employees have switched to hybrid working patterns, with some in the office or at home full time, and the benefits an employee values will depend on their location, stage of life and workplace arrangement.
You can expect your benefits provider to:
Take the time to understand how your business and workplace has changed since 2020
Have an in-depth knowledge of ATO approved benefits and who can access them
Support you in deciding which benefits to offer your employees and why
A benefits package should no longer be designed on the basis of 'one size fits all'

"There has been a fundamental shift in the workforce. Our goal is to maximise the positive impact of a client's benefits program. That means doing everything we can to make sure employees see the value in the benefits they have access to."

Fil De Nittis, General Manager – Customer Development, Maxxia
3. Delivering resources that make life easier for payroll
Delivering the best in employee experience can only happen if you are properly resourced with specialist support dedicated to fully resourcing your employee benefits program and systems to help you streamline administration.
You can expect your benefits provider to:
Provide comprehensive employer reports to ensure every program stakeholder stays informed
Offer customer service both online and over the phone for employers and employees
Provide accurate and fast responses that get problems solved efficiently
"Employees can contact Maxxia's Client Relations Team for specific enquiries, eliminating the need for the payroll team to source and provide this information to employees. Irrespective of the range of benefits offered by organisations to their people, payroll teams consistently and quickly recognise the value of Maxxia's simplified approach to alignment with their existing systems."

Kala Ladlow, Client Services Team Manager, Maxxia
4. Making more time to connect
Moving to an online model shouldn't come with a sacrifice to the level of service you're getting. Even though it can be harder these days to meet face to face, that doesn't mean your provider should be spending any less time with you.
You can expect your benefits provider to deliver:
A dedicated relationship manager to make your life easier, not busier
A proactive approach to keeping up to date with your needs
Information and insights on what best practice looks like for your organisation and how to get there
5. Benchmarking your program performance
When there's little to no feedback from employees about your organisation's benefits offer, the most likely reason is because they don't know about it or they're not using it. With greater attention on retaining and attracting talent it's critical to be able to quantify the value your benefits program delivers.
You can expect your benefits provider to:
Have the expertise to measure performance of your program across key metrics and outcomes, including participation rate, employee engagement and the overall financial value of your program
Provide insights based on your sector, organisation type and workforce makeup
Deliver the tools to make it easy to benchmark and measure progress over time, and explore strategies and solutions to help improve performance across all measures
"Since transitioning to Maxxia we've gone from having a 68% uptake to over 85% uptake."

Suellen Bruce, Executive Director People, Culture & Communications, Western Health
As a premium provider of employees benefits to many organisations across Australia, Maxxia have seen the difference salary packaging can make to the overall financial position of employees. Not only can take up of salary packaging boost net household income for employees, a best-practice program supported by effective communication can also strengthen your employee value proposition as a whole.
Maxxia can offer your organisation a complimentary benefits assessment to measure the effectiveness of your current employee benefits offer. We can also put a dollar figure to the potential savings and efficiencies from running the program and compare overall performance with best practice for your industry.