You could save on a range of living expenses through salary packaging
Who can salary package the living expenses benefit?
This salary packaging option is available for the following industries:
What is the living expenses benefit?
Living expenses are just that – expenses necessary to get by. Whether you're looking to package the roof over your head, the food on your table at home or at a restaurant, or even your utility bills, you could put pre-tax dollars towards a range of expenses and potentially save on tax.
What counts as living expenses for salary packaging?
You could be eligible to salary package living expenses if you work for a:
private or public not-for-profit hospital – up to $9,010
charity or other not-for-profit organisation – up to $15,900
The benefits you could be eligible for comprise a range of fixed and variable expenses.
FIXED
VARIABLE
Groceries
Utility bills
Fuel
School tuition fees (private or public schools)
Council rates
Clothing
Dining out
Movie tickets
Gym memberships
Private travel and holidays (domestic travel and overseas travel expenses)
Household expenses
Childcare (non-employer provided)
HECS/HELP repayments
Insurance premiums (including life, home/contents, health, car, and disability)*
Trauma life insurance (for yourself, your spouse and/or your dependents)**
Kitchen accessories
Hand-held devices
Salary packaging utility bills
Nobody likes bills, but with salary packaging, they could be a little less painful. Whether it's electricity, phone, gas, water or internet, you could make these payments using pre-tax funds in your salary packaging account.
How much could you save with the Living Expenses benefit?
Let's say you earn $80,000, you're a health worker and you salary package your full $9,010 and $2,650 entitlements in Living Expenses and Meal Entertainment. Because you're using pre-tax dollars for the items you package under this benefit, you could enjoy an annual net benefit of $3,892*.
| | | |
| --- | --- | --- |
|   | Without Salary Packaging | With Salary Packaging |
| Gross salary | $80,000.00 | $80,000.00 |
| Living Expenses Cap | $0.00 | $9,010.00 |
| Meal Entertainment Cap | $0.00 | $2,650.00 |
| Administration Fee | $0.00 | $220.00 |
| Input Tax Credits | $0.00 | $20.00 |
| Tax & Medicare | $18,067.00 | $13,975.00 |
| Living Expenses without Salary Packaging | $9,010.00 | $0.00 |
| Meal Entertainment without Salary Packaging | $2,650.00 | $0.00 |
| Take-Home Pay | $50,273.00 | $54,164.70 |
| Net Benefit |   | $3,891.70 |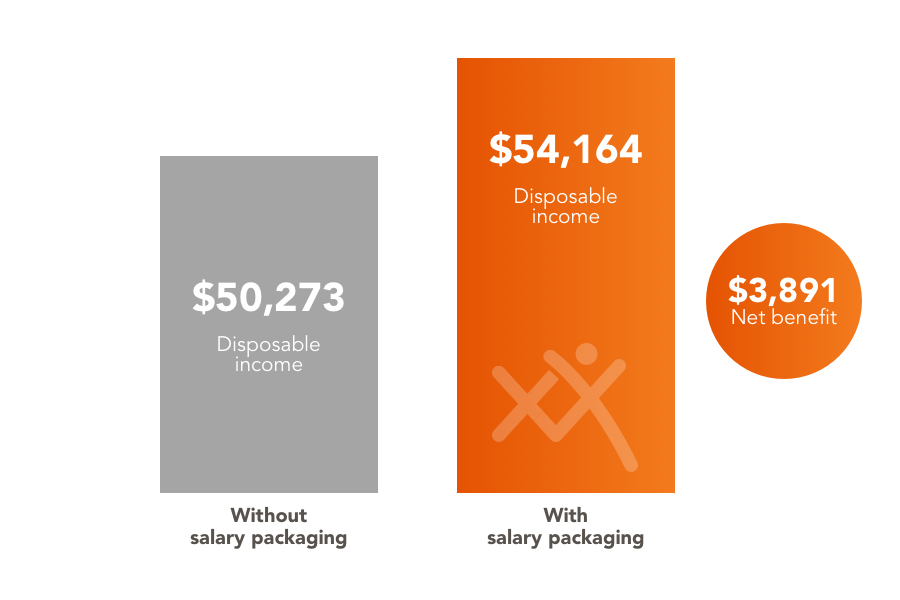 Important things to know
You can only package Living Expenses if your employer allows it as part of your workplace benefits program. Contact your employer to find out if this benefit is available to you.
*Assumptions: The estimated potential tax benefit is based on the assumption that an eligible employee salary packages the specified amount. FBT rates effective 1 July 2023 and PAYG tax rates effective 1 July 2023 have been used and average Fees and Charges are included. The actual administration fee that applies to you may vary depending on your employer. Tax, benefit and Medicare Levy calculations are approximate, and assume no other taxable income is received. HELP repayments and taxation surcharges are excluded. This general information doesn't take your personal circumstances into account. Please consider whether this information is right for you before making a decision and seek professional independent tax or financial advice. Conditions and fees apply, along with credit assessment criteria for lease and loan products. The availability of benefits is subject to your employer's approval.
Things you need to know: The above information is not intended to constitute taxation or financial product advice. Your benefits and savings will vary depending on your personal objectives, financial situation and needs. We recommend you obtain independent financial advice before making any financial decisions. Eligibility criteria and terms and conditions apply. All salary packaging proposals are subject to the requirements of your employer. Administration fees will apply. The actual administration fee that applies to you may vary depending on your employer. Maxxia may pay and receive commission or rebates in connection with some services and products it provides or arranges to be provided by third parties.
Maxxia Pty Ltd | ABN 39 082 449 036.
Request more information
Use the salary packaging calculator
We take the guesswork out of salary packaging.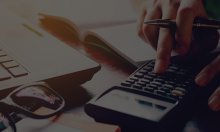 KEEP EXPLORING
Other salary packing items you might be interested in