Find out how salary packaging could help you pay off your mortgage faster
Who can salary package mortgage?
This salary packaging option is available for the following industries:
What is the mortgage benefit?
Owning a home might be the Australian Dream, but mortgage repayments can be a bit of a nightmare. That's why many Maxxia customers take advantage of the mortgage salary packaging benefit.
Ordinarily you would pay your mortgage using your money after tax is taken out, but salary packaging allows you to pay before tax. By making tax-free repayments, you could pay off your home loan and potentially have more disposable income to spend on fun things.
How much can I package towards mortgage?
Mortgage repayments would come under the Living Expenses benefit as part of ATO-approved salary packaging.
Employees in the Healthcare sector can package $9,010 towards payments considered Living Expenses. Employees in the Charity sector can package $15,900 of their pre-tax income.
Why should I cover my mortgage with salary packaging?
Here are some of the potential benefits of salary packaging a mortgage:
Pay off your home loan quicker and avoid higher interest payments.
Potential to increase your disposable income.
Package both principal and interest repayments.
Enjoy the convenience of setting regular reimbursements from your Maxxia account to your bank account to cover mortgage payments.
How does salary packaging mortgage work?
Let's say your mortgage repayments are $3,000 a month. If you get paid monthly, your employer will send $3,000 of your pay cheque to Maxxia before tax is taken out. If you have no other benefits, the remainder of your pay is then taxed and paid into your bank account, to spend how you please.
You can set up regular reimbursements from your Maxxia account to make life easier. These payments are in line with the funds Maxxia receives from your employer.
The same method applies if you pay your mortgage fortnightly.
How much could I save through salary packaging mortgage repayments?
The below table demonstrates how salary packaging can potentially save you money by reducing your taxable income.
| | | |
| --- | --- | --- |
|   | Without Salary Packaging | With Salary Packaging |
| Gross Salary | $70,000.00 | $70,000.00 |
| Mortgage Salary Package Cap | $0.00 | $15,900.00 |
| Administration Fee | $0.00 | $220.00 |
| Input Tax Credits | $0.00 | $20.00 |
| Tax & Medicare | $14,617.00 | $9,062.50 |
| Mortgage Without Salary Packaging | $15,900.00 | $0.00 |
| Take-Home Pay | $39,483.00 | $44,837.50 |
| Net Benefit |   | $5,354.50 |
In the above table, we have calculated the estimated savings of an employee in the charity industry who earns $70,000 per year. We have also assumed this employee does not have a HECS / HELP debt.
This employee can salary package up to $15,900 towards their mortgage repayments as part of their living expenses cap. They can also take advantage of the Meal Entertainment benefit of $2,650 each year.
We have calculated the benefit of salary packaging versus paying for these same expenses after tax is taken out. By salary packaging with Maxxia, this employee could be saving $5,354.50 each year!
You make mortgage repayments anyway, so why wouldn't you salary package?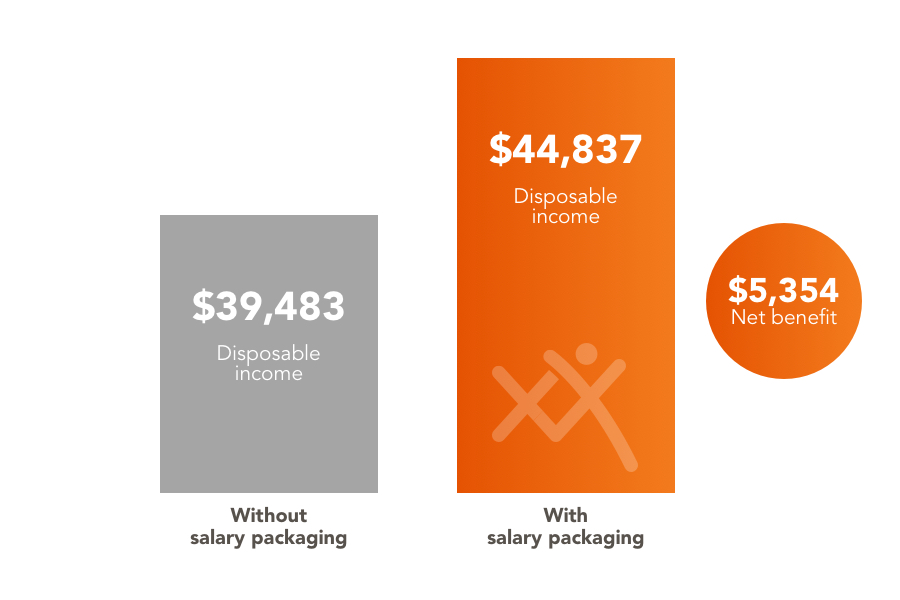 Important things to know
You can only salary package home loan repayments for a property you live in; you cannot salary package repayments for an investment property.
Some banks and lenders may not be fully aware of how salary packaging works, so we recommend seeking independent financial advice to make an informed decision.
Saving for your first home?
If you're saving for your first home, you could take advantage of salary packaging through the First Home Super Saver Scheme. Find out how Maxxia can help you get into your first home sooner.
*Assumptions: The estimated potential tax benefit is based on the assumption that an eligible employee salary packages the specified amount. FBT rates effective 1 July 2023 and PAYG tax rates effective 1 July 2023 have been used and average Fees and Charges are included. The actual administration fee that applies to you may vary depending on your employer. Tax, benefit and Medicare Levy calculations are approximate, and assume no other taxable income is received. HELP repayments and taxation surcharges are excluded. This general information doesn't take your personal circumstances into account. Please consider whether this information is right for you before making a decision and seek professional independent tax or financial advice. Conditions and fees apply, along with credit assessment criteria for lease and loan products. The availability of benefits is subject to your employer's approval.
Things you need to know: The above information is not intended to constitute taxation or financial product advice. Your benefits and savings will vary depending on your personal objectives, financial situation and needs. We recommend you obtain independent financial advice before making any financial decisions. Eligibility criteria and terms and conditions apply. All salary packaging proposals are subject to the requirements of your employer. Administration fees will apply. The actual administration fee that applies to you may vary depending on your employer. Maxxia may pay and receive commission or rebates in connection with some services and products it provides or arranges to be provided by third parties.
Maxxia Pty Ltd | ABN 39 082 449 036.
Request more information
Use the salary packaging calculator
We take the guesswork out of salary packaging.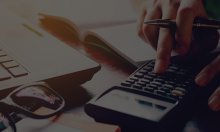 KEEP EXPLORING
Other salary packing items you might be interested in