Planning a holiday or event? Salary package the cost!
You may be eligible to salary package the cost of your holiday accommodation or venue hire for a special event.
Who can package holidays and events
You can salary package holiday accommodation or venue hire costs if you work for a:
private or public not-for-profit hospital
charity or other not-for-profit organisation
and your employer offers this as part of your workplace benefits program. 
Is there a limit to how much venue hire and holiday accommodation I can package?
Yes. Together with the meal entertainment benefit, you can package up to a cap limit of $2,650 each FBT year.
You may also decide to package venue hire alone. The cap limit of $2,650 still applies each FBT year.
The venue hire cap is in addition to the existing salary packaging cap limit for everyday living expenses (for example, mortgage or rent).
What can I package?
holiday accommodation
whether you're travelling locally or overseas, you can pay for the cost of your holiday accommodation using your pre-tax dollars
venue hire
The accommodation or venue hire you salary package doesn't have to be business related, is FBT-exempt, and is not included in your salary packaging cap limit - for everyday living expenses.
You could use pre-tax dollars to pay for the hire of a venue or other facilities for special celebrations such as weddings, birthdays or anniversaries for yourself, your spouse - or for your children. Please refer to our FAQ for more information,
You cannot claim food and beverages under this item. Please see meal entertainment for more information about salary packaging meals.
How to claim holiday and events
You can use the Meal Entertainment Maxxia Wallet to pay for Venue Hire expenses. If you want to make a claim after payment, you can submit your claim through Maxxia Online or our app. However, you can't use Maxxia Wallet to pay for bookings made through an online or in-person travel service.
If you don't have the Venue Hire benefit already in your package, follow these steps to add it in:
Jump onto Maxxia Online and visit the Contact tab.
Choose from the drop-down options that you want to "Make a change to your package" and add the "Holiday Accommodation and Venue Hire" benefit.
If you have a balance in your Meal Entertainment benefit that you'd like to use for this claim, scroll down to the comments section and type in this line: Please use all funds currently in my Meal Entertainment balance for this claim. Please note: this will change how much is allocated to your Meal Entertainment benefit and is likely to impact any claims previously submitted but not yet paid.
You'll then receive a Your Benefit Summary email once your Venue Hire benefit has been created.
Visit Maxxia Online or the Maxxia app to submit your Venue Hire claim.
Things you need to know: The above information is not intended to constitute taxation or financial product advice. Your benefits and savings will vary depending on your personal objectives, financial situation and needs. We recommend you obtain independent financial advice before making any financial decisions.
Eligibility criteria and terms and conditions apply. All salary packaging proposals are subject to the requirements of your employer. Administration fees will apply. The actual administration fee that applies to you may vary depending on your employer. ITCs (refund on GST) are excluded. Maxxia may pay and receive commission or rebates in connection with some services and products it provides or arranges to be provided by third parties. Maxxia Wallet is issued by EML Payment Solutions Limited ABN 30 131 436 532 (AFSL No. 404131). Maxxia Pty Ltd ABN 39 082 449 036 act as an authorised representative (AFSL Authorised Representative No. 000278683) of EML Payment Solutions Limited (AFSL No. 404131).
Request more information
Use the salary packaging calculator
We take the guesswork out of salary packaging.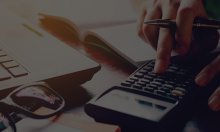 KEEP EXPLORING
Other salary packing items you might be interested in