By Bruce Newton, carsales.com.au
If time is money, then you have to spend more of one to save the other. The Polestar 2, which has just been heavily updated for model year 2024, is perfect proof of that statement, especially when you look at the variants that bookend the stylish range of all-electric four-door sedans from the Sino-Swedish car maker.
At one end, buyers can choose to spend less for the entry-level Standard Range Single Motor or, at the other end, more for the flagship Long Range Dual Motor that we're testing here, which will not only get you from A to B significantly quicker, but you'll also be able to drive longer distances and therefore save time recharging the battery more often.
Time or money? You choose.
What's new for the Polestar 2?
Either way, all four model variants in the Polestar 2 range have come in for a wide range of tweaks in the car's first upgrade since its debut in Australia in late 2021.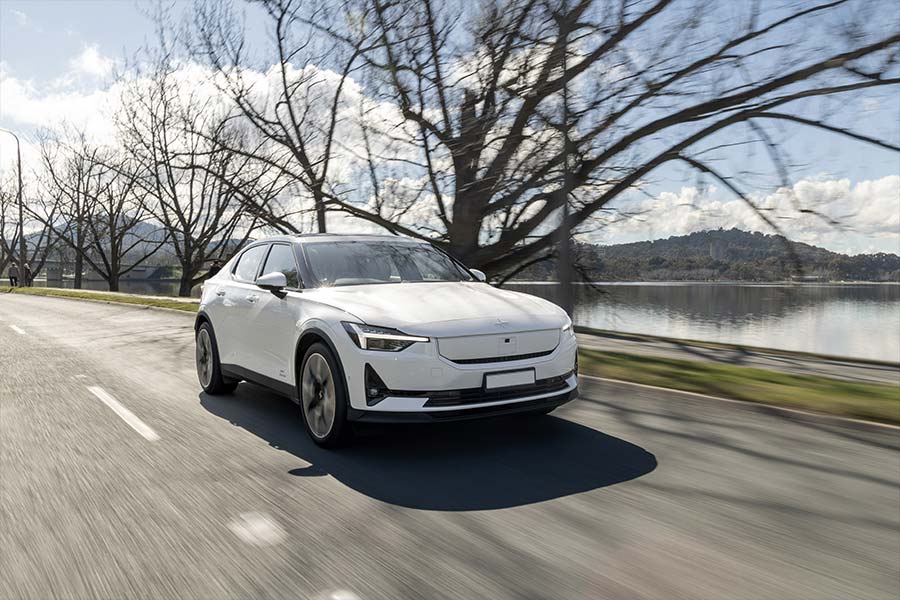 The big news is the swap from front- to rear-wheel drive and a performance boost for the two single-motor models that kick off the range.
Priced from $67,400 (plus on-road costs) for the base-model Standard Range with a revised 69kWh battery pack, or $71,400 (plus ORCs) for the Long Range with an all-new 82kWh battery, both Single Motor variants feature an upgraded electric motor that produces an extra 30kW/160Nm for a maximum output of 200kW and 490Nm.
Even with the added performance, driving range has been extended by 54km and 103km respectively, providing owners with impressive estimates of 518km and 654km.
Spend a little more ($76,400 plus ORCs) for the Long Range Dual Motor and you get 310kW and 740Nm (up 10kW/80Nm over the previous model) delivered through all-wheel drive traction, and the ability to travel up to 591km on a single charge.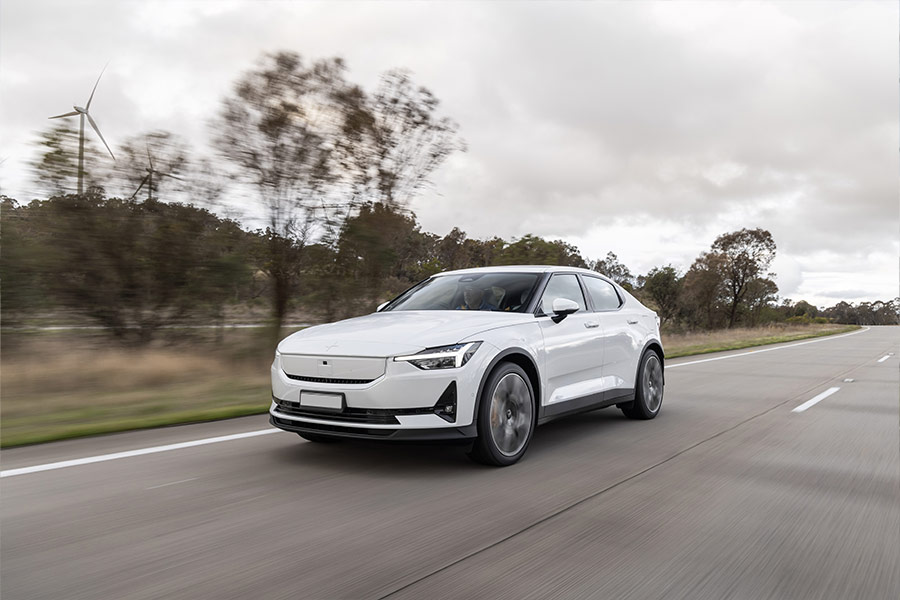 The model we're testing is the Long Range Dual Motor with the Performance Pack that sits at the top of the range as a new-age muscle car. It costs from $85,400 (plus ORCs) and brings even more performance (350kW) as well as a tailor-made dynamic package that includes Ohlins dampers, four-piston Brembo brake callipers with drilled discs and new-look lightweight 20-inch alloy wheels shod with sporty Continental SportContact6 tyres.
You also get 'Swedish Gold' seat belts and valve caps that do nothing for performance except sear your eyeballs.
By the way, you can add the extra power to the standard Dual Motor via an over-the-air update for $1600. But for the full Performance Pack, you'll have to pay the $9000 extra.
Energy consumption is rated at 16.0-17.2kWh per 100km (WLTP). On test we were running at 20-25kWh/100km.
Safety equipment gets a boost across the range too. Blind spot monitoring with steering support, cross traffic alert with brake support, rear collision warning and mitigation and a 360-degree camera are added to the well-tuned driver assist systems and eight airbags.
Otherwise, much is familiar about the look and feel of the Polestar 2. The update's five-door exterior is distinguished by a new 'smart zone' (flat panel) grille insert that hosts key active safety components including a camera and radar.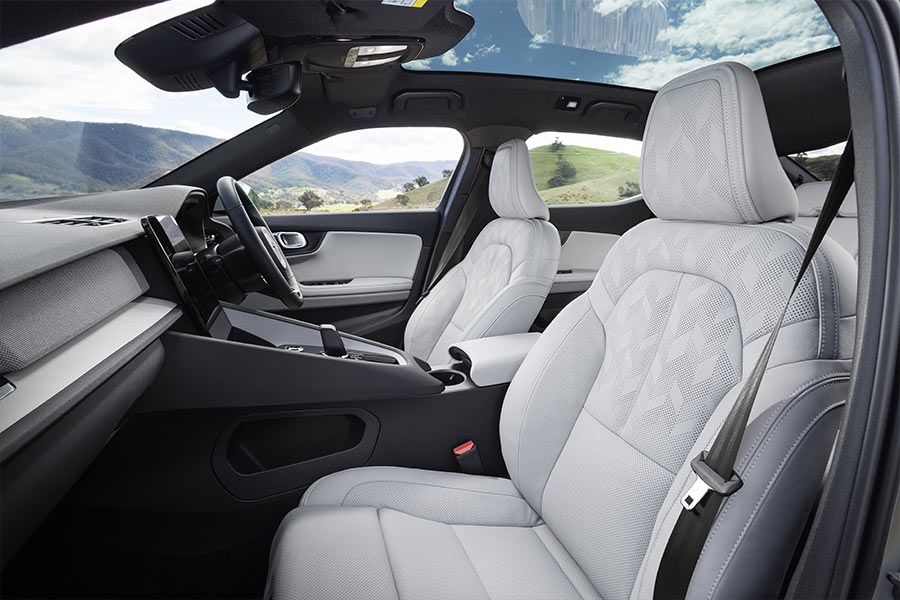 Inside the cabin is also largely the same as before in terms of comfort equipment for this model. Vegan upholstery is standard, as is dual-zone climate control and an Android operating system for infotainment, which works through a large 11.15-inch touchscreen and 12.3-inch configurable instrument cluster.
Our test car came fitted with the $6000 Plus Pack that included big-ticket items such as a 13-speaker Harman Kardon stereo, a UV and heat-treated panoramic sunroof and fully powered front seats with weave tech trim (and much more).
Shining bright
The good news here is the updated Polestar 2 Long Range Dual Motor with Performance Pack delivers on its promise.
Once you figure out how simple it is to get going – there's no start button, you just sit in it and press the brake pedal to fire it up – it's lightning quick to drive in that typically stealthy EV way, slamming you back into the seat as it whirrs ever-more rapidly forward under full acceleration.
The full fury of the powertrain is only delivered between 70-130km/h, so it's great for overtaking. The rest of the time it's just super-fast, and Polestar's claim that it can rocket from 0-100km/h in just 4.2 seconds (0.2sec faster than before) feels accurate.
An important element in the upgraded Dual Motor set-up is that the front motor is actually disconnected until it is required, either for added traction in slippery conditions or under full-throttle acceleration. Thankfully, the integration is seamless, and it is impossible to tell when it's chiming in and out.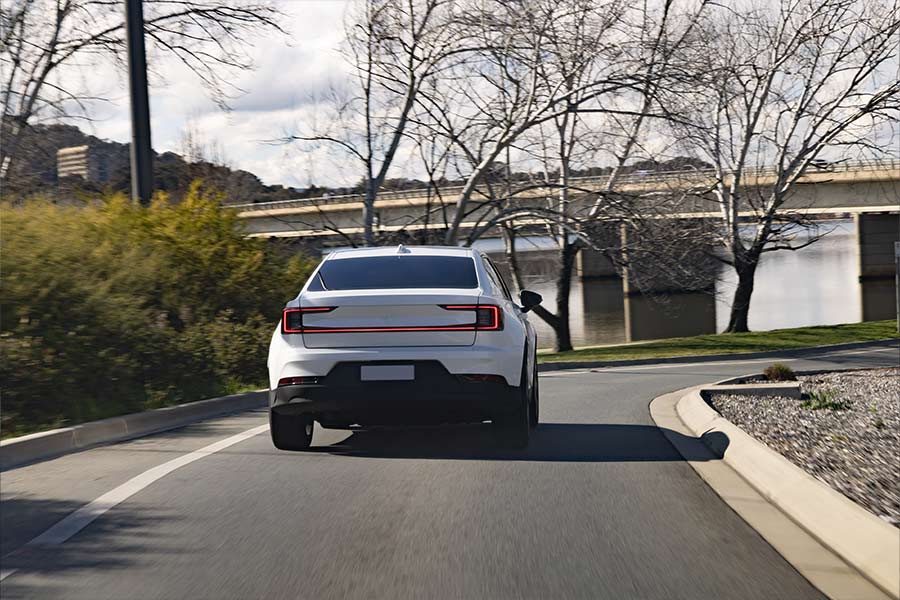 This face-bending acceleration is beautifully assisted by the upgraded handling package, particularly the Ohlins dampers which deliver a reassuring combination of compliance and control at speed, even over nasty potholes, patches, and sharp edges on the road.
That means you've got the ability to travel rapidly in a straight line and when the going gets twisty, which not all high-performance EVs can do as well. With the rear-biased AWD also helping out, it's neat the way this car hunkers down in corners and grips.
And when you back out of it, the cabin provides a relaxing and convenient environment. It's well built (in China) and looks and feels premium in that restrained way the Scandinavians do so well. It's miles ahead of a Tesla Model 3.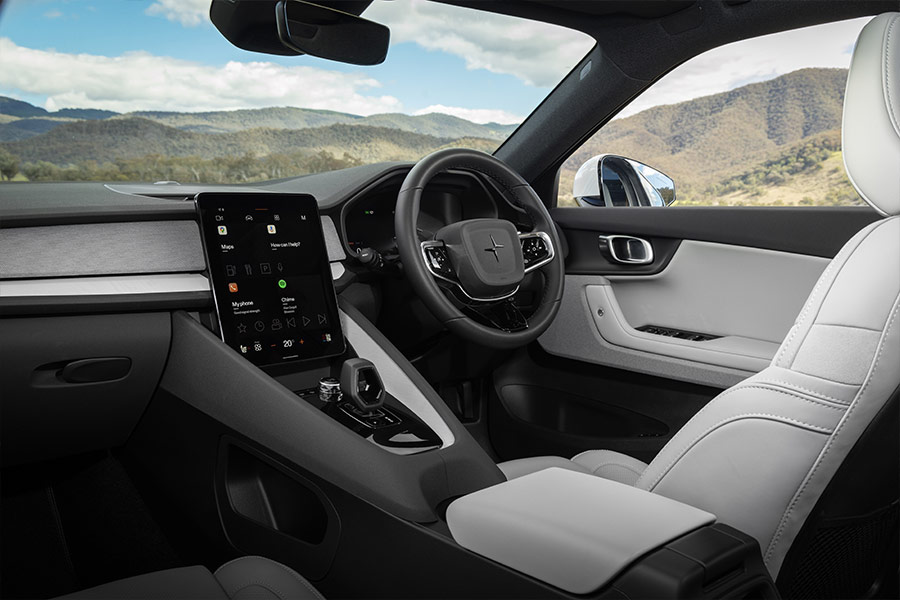 The seats are comfortable, sizeable, and supportive, there's plenty of handy storage space and the driver's relationship with the various digital controls isn't too complicated with some key functions still controlled via traditional physical buttons and dials.
The Polestar 2 range comes with five years/100,000km free servicing, which is excellent. A five-year/unlimited-kilometre warranty, five years' roadside assist and an eight-year/160,000km battery warranty are all par for the premium course.
Dark matter
While the 2023 Polestar 2 Long Range Dual Motor with Performance Pack produces the numbers and delivers the experience to rival a true muscle car, there is still something missing: an emotional connection for the driver.
Without an engine or exhaust there's no brapping, braying, crackle, and pop. And with only a single-speed reduction gear, there's no gearbox to row through.
That it weighs in at 2105kg further reduces any sense of lithe connection to the road.
The electric-assist steering system is accurate enough and easy to twirl in the lightest of its three settings, but it doesn't provide that much feel.
The electric motor's regenerative braking capacity can also be dialled-up or down through three modes from non-existent to obvious (not their real names), the latter of which is fully capable of delivering one-pedal driving. Being able to adjust the mode through flappy paddles (like Hyundai and Kia EVs do) and not through a touchscreen would have made this a more interactive and more useful feature to use on the move.
The Brembos add impressive stopping power when you call upon them, but they do require a substantial push on the pedal to respond.
The Ohlins are also much less pleasurable than the standard suspension set-up when trundling at round-town speeds. Just about every pebble in the road gets transferred to the cabin. Yes, they are adjustable through about 40 different settings, but they have to be re-tuned by hand and preferably by someone who knows what they are doing.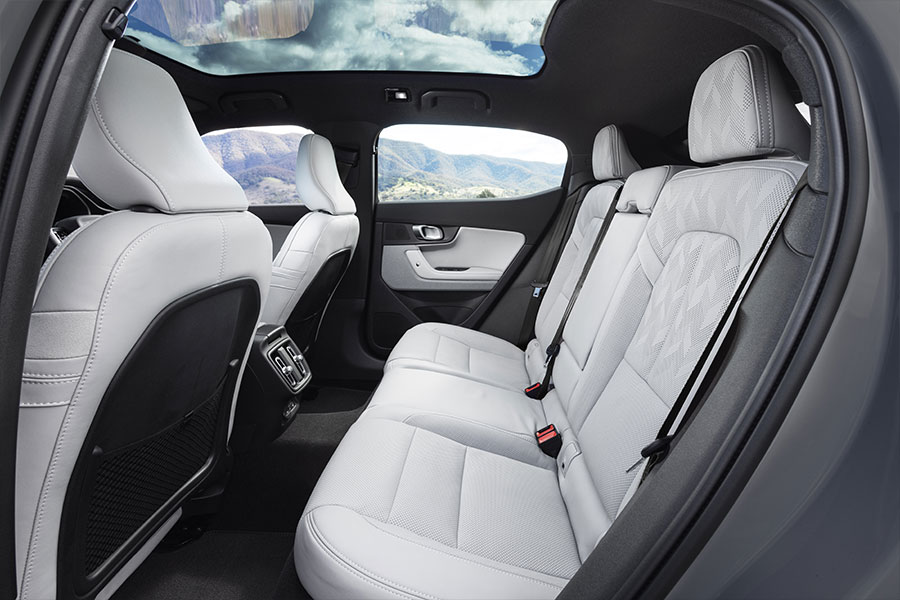 Rear seat passengers are a tad short-changed on space and sit notably upright. The exhaust tunnel that limits middle-rear seat foot room is a reminder the Polestar 2 shares its CMA architecture with ICE/EV vehicles such as the Volvo XC40.
The boot is accessed via a functional power tailgate, has a useful pop-up luggage separator, a hidden bin and space is okay (405 litres, expanding to 1095L with rear seats split-folded). But there's no spare tyre.
Finally, the optional Plus Pack includes stuff that should be standard in any premium EV like a heat pump and a heated steering wheel. An optional $3500 Pilot Pack fitted to the test vehicle includes adaptive cruise control. That, too, should be standard at this price.
Should I buy a Polestar 2 Long Range Dual Motor Performance?
The 2023 Polestar 2 Long Range Dual Motor with Performance Pack is a focused vehicle that undoubtedly delivers invigorating thrust and sporting behaviour on the open road.
But if you're planning to spend a lot of time commuting on rough roads, low-speed ride is compromised and might be too much.
Given it's so improved, and offers impressive driving range, the overhauled single-motor model is probably all the Polestar 2 most people need.
Polestar 2 Long Range Dual Motor Performance 2023 (MY24) at a glance:
Editor's Rating: 7.8/10
Price: 
$85,400 (plus on-road costs)
Battery: 
82kWh lithium-ion
Available: 
Now
Range: 
591km (WLTP)
Powertrain: 
Permanent magnet asynchronous motor front /
permanent magnet synchronous motor rear
Energy consumption:
16.0-17.2kWh/100km (WLTP)
Output:
350kW/740Nm
Safety rating: 
Five-star (ANCAP 2021)
Transmission:
Single-speed reduction gear
Disclaimer: Images supplied by Polestar Australia.
This article was prepared by an independent author. The information contained in this article represents the views and opinions of the original author, and is based on research carried out by the original author. The appearance of the article on Maxxia's website does not constitute an endorsement of its content by Maxxia in any way. The article has been made available for informational purposes only and should not be taken as advice. While all reasonable care has been taken to ensure that the statements made by the original author in the article are fair and accurate, Maxxia does not guarantee or warrant the accuracy or completeness of this information and will not be liable for, or in connection with, any loss or damage suffered as a result of any inaccuracies, errors or omissions or your reliance on this information. You should independently research and verify information before making any decision in respect of a vehicle.