By Bruce Newton, carsales.com.au
They say third time lucky, but, in the case of the Nissan X-Trail, it might actually be the fourth. The Japanese brand first launched its compact soft roader in 2000 and, since then, has soldiered on through three competent but largely forgettable generations.
This time though, the latest X-Trail promises to stretch well beyond the boundaries of mediocrity, especially at the top of the range with two e-Power hybrid models – the Ti and Ti-L flagship – that introduce new fuel-saving technology and deliver an unprecedented level of refinement, sophistication and quality.
Has the Nissan X-Trail blossomed from being disposable to desirable? Let's check it out…
New territory
The 2023 Nissan X-Trail e-Power with e-4ORCE (to give it its full name) sits atop the newly launched fourth-generation mid-size SUV range, priced from $54,190 (plus on-road costs) for the Ti and $57,190 (plus ORCs) Ti-L that we will focus on for this review.
As such, the e-Power models elevate the X-Trail into a higher price point, costing $4200 more than the regular Ti and Ti-L variants with a conventional petrol engine.
That's reflective of their complex petrol-electric dual-motor all-wheel drive powertrain. There are cheaper single-motor front-wheel drive X-Trail e-Power models offered overseas, but for now at least they aren't coming here.
Rivals for the X-Trail e-Power are many and varied, reflecting the massive amount of competition in the medium SUV segment.
But there are only a handful that have a similar but different electrified skew: The Mitsubishi Outlander Plug-in Hybrid EV (PHEV) and the Toyota RAV4 Hybrid – Australia's top-selling SUV and hybrid.
If fuel-saving is a strong consideration, then maybe a turbo-diesel Hyundai Tucson might be of interest as well.
Or if you just want to skip the petrol-electric halfway house then the Nissan Leaf battery-electric hatch is also in this price range.
The high road
The 2023 Nissan X-Trail Ti-L e-Power justifies its price tag with more standard equipment than any other model in the X-Trail range.
Not even the petrol-powered Ti-L with the 2.5-litre four-cylinder engine has 20-inch alloy wheels with Michelin tyres. But it does come with a spare tyre, whereas the e-Power has a temporary inflation kit. So, it's a bit of give and take.
Otherwise, both Ti-L versions do share almost the same level of luxury equipment above and beyond the rest of the range, including quilted Nappa leather-accented seat trim, a Bose 10-speaker audio, heated steering wheel, ambient interior lighting in the console and doors, heated outboard second-row seats, driver's seat and door mirror memory system, rear sunshades and motion sensing for the power tailgate with position sensing.
The two X-Trail e-Power models exclusively include active noise cancelling and a V-Motion grille in black too.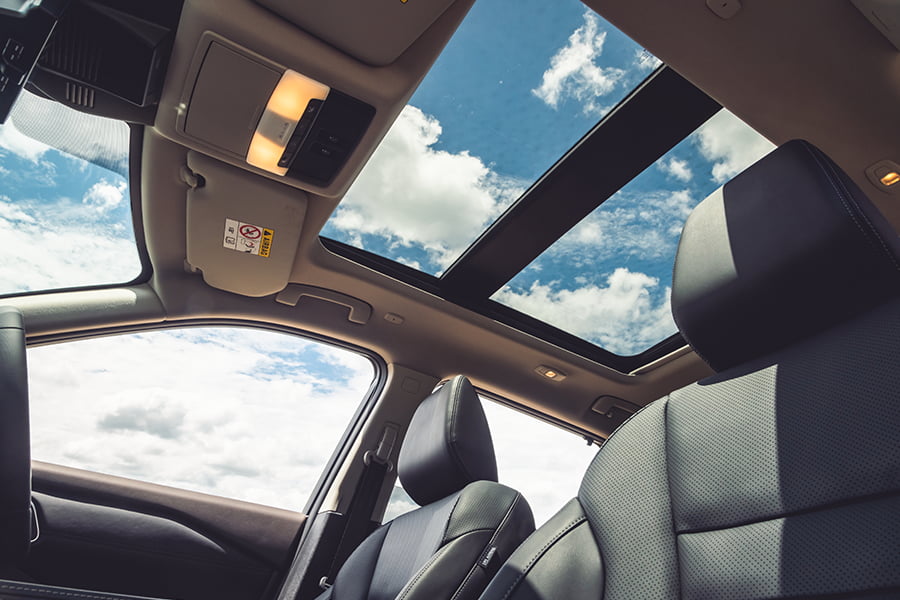 Other equipment highlights include a panoramic sunroof, tri-zone climate control (that worked well on a stinking hot day), 10-way power adjustable front seats with heating, roof rails and privacy glass.
The Nissan X-Trail is covered by a five-year/unlimited-km warranty with five years of roadside assistance. Service intervals are 12 months or a short 10,000km and cost an average $508.16 for each the first six times you visit the dealership.
Star power
All models in the 2023 Nissan X-Trail range, including the e-Power versions, have a five-star ANCAP safety rating based on the 2021 testing protocols.
The Ti-L is fitted with the full suite of Nissan's ProPILOT system, which offers semi-autonomous control of braking and acceleration and has a stop-and-go function for heavy traffic.
The autonomous emergency braking system with junction assist operates above 5km/h. It works when travelling forward and in reverse and can react to pedestrians and cyclists between 10km/h and 80km/h but may not spot them in dim or dark conditions.
Adaptive cruise control with traffic sign recognition, lane departure warning and prevention, rear cross traffic alert and , driver monitoring are also standard features.
There are seven airbags, including one fitted centre-front to prevent head knocks. LED headlights with adaptive high-beam and LED taillights and daytime running lights are standard across the range.
All X-Trails come with a reversing camera and most X-Trails (with the exception of the X-Trail ST) come with a 360-degree monitor. There are front and rear parking sensors but no auto parking assistant.
Reflected onto the windscreen is a 10.8-inch head-up display that provides navigation, driver assistance and road information.
Child seat tethers are fitted to all second-row seats and ISOFIX mounts are in the outboard seats.
Most X-Trails come with an internal mirror that also offers a camera view. Previously sampled examples of this tech have proved a bit disconcerting, but the Nissan version is clearer and therefore quicker to view.
On top of all that, Ti-L models come exclusively with door mirrors that tilt when reversing.
Digital Playground
As is par for the course these days, Nissan has joined the rush to digitise the cabin of the latest-generation X-Trail.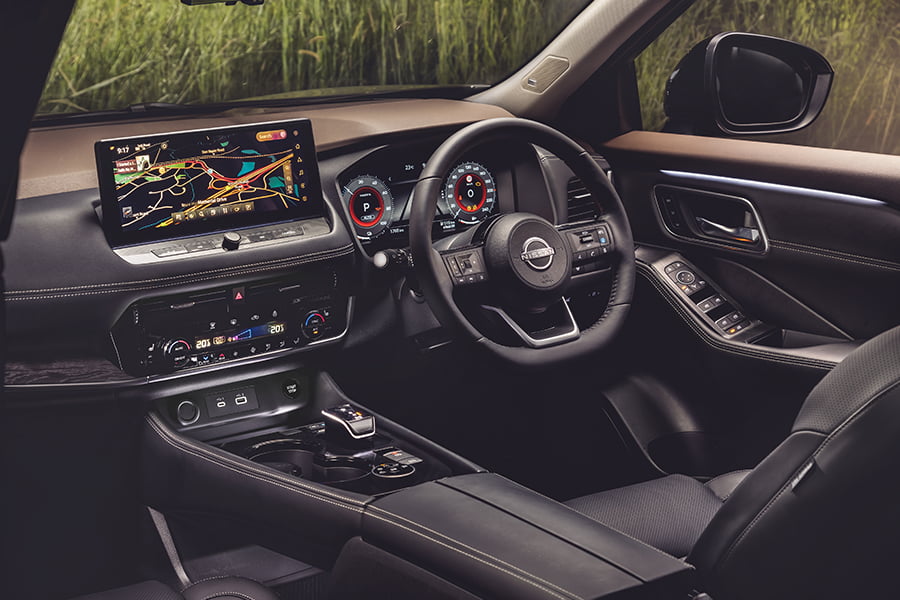 With the Ti-L, the driver has a 12.3-inch digital instrument cluster while a larger 12.3-inch touch screen sits proudly in the dashboard and takes care of all infotainment and other non-driving vehicle functions.
Included as standard equipment is embedded sat nav, Bluetooth connectivity and smartphone mirroring with wireless Apple CarPlay and cabled access to Android Auto, as well as an audio system with AM/FM and DAB+ digital radio.
Smartphones can be charged wirelessly, and there are four USB connections (2 USB-A and 2 USB-C) and 2 12V power outlets throughout the cabin.
And, thankfully, there are physical buttons for climate and some audio controls rather than being buried in the touchscreen.
As for the instrument cluster, it includes a power meter, speedometer and sub menus including a trip computer, an informative energy flow graphic, audio settings and a safety display for driver assist settings (among other things).
The screen can be easily swapped from a traditional look with dual dials to something more modern where the sub menus occupy more space.
All X-Trails come with intelligent key access and push-button start. However, only the Ti-Ls come with remote engine start.
A stunning transformation
Compared to its immediate predecessor that first appeared in 2014, the 2023 Nissan X-Trail's cabin is a stunning transformation.
It features a sweeping, modern cabin design, uses materials that look and feel top notch (although the piano black does quickly get smudgy) and at first glance it has the fit and finish expected of a Japanese-built vehicle.
We're clearly experiencing the best on offer in the Ti-L, but the Ti is not far off it in terms of premium appointments and all X-Trails share an impressive amount of interior space up-front and in the back with its sliding three-way split/folding rear seat.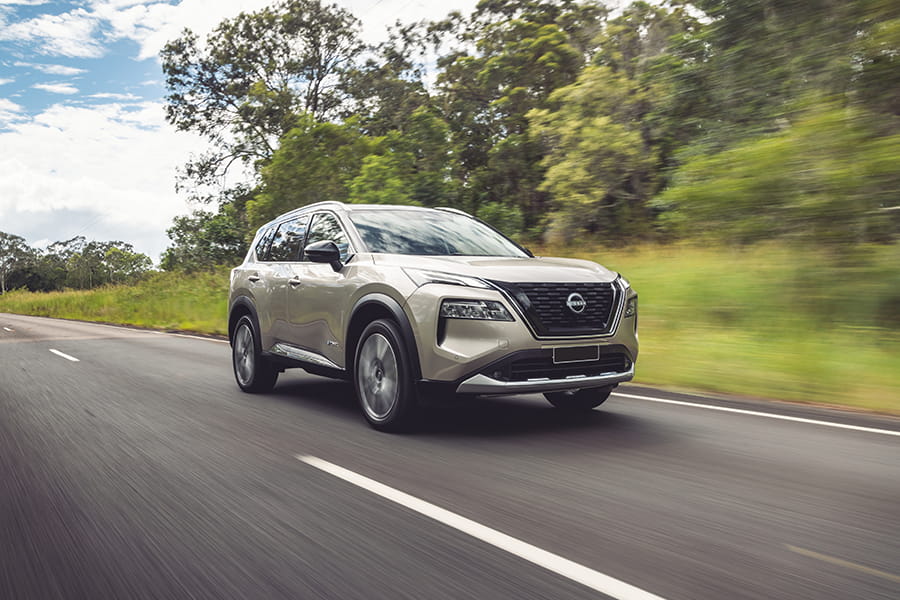 That's despite the new model being physically shorter than its predecessor, although it does ride on a wheelbase that is both longer and wider than before.
One option missing from the Ti and Ti-L models – both in petrol and e-Power form – is the seven-seat three-row configuration that's offered in the entry-level ST and ST-L models.
It would add to the value proposition, but also decrease boot space, which would drop from a generous 575 litres to 465 litres.
With design touches like a flying bridge centre console, the X-Trail is a storage king throughout the cabin. The boot is definitely the best bit with its modular storage options. I could remove one panel and drop a large suitcase into the hole created. Then, the panel re-inserts vertically to ensure cargo stays in place. Simple and helpful.
The driver gets reach and rake adjustment for the steering wheel and plenty of seat adjustment to ensure a comfortable driving position.
In the rear seat, there are climate controls, USB outlets, plentiful storage and a good view out. Entry and exit are aided by wide-opening doors.
Hybrid, but not as you know it
The 2023 Nissan X-Trail Ti-L e-Power has a hybrid petrol-electric powertrain, but one that operates differently to almost everything else. It is known as a range extender hybrid.
That means the petrol engine – in this case a variable-compression 1.5-litre turbo-petrol triple – is used purely to generate electrical charge.
That electricity is fed to the small 1.8kWh (useable) lithium-ion battery which then power the electric motors that are mounted on each axle and act as an all-wheel drive system that Nissan calls e-4ORCE.
Nissan insists the petrol engine never drives the wheels, unlike the hybrid system in the Toyota RAV4.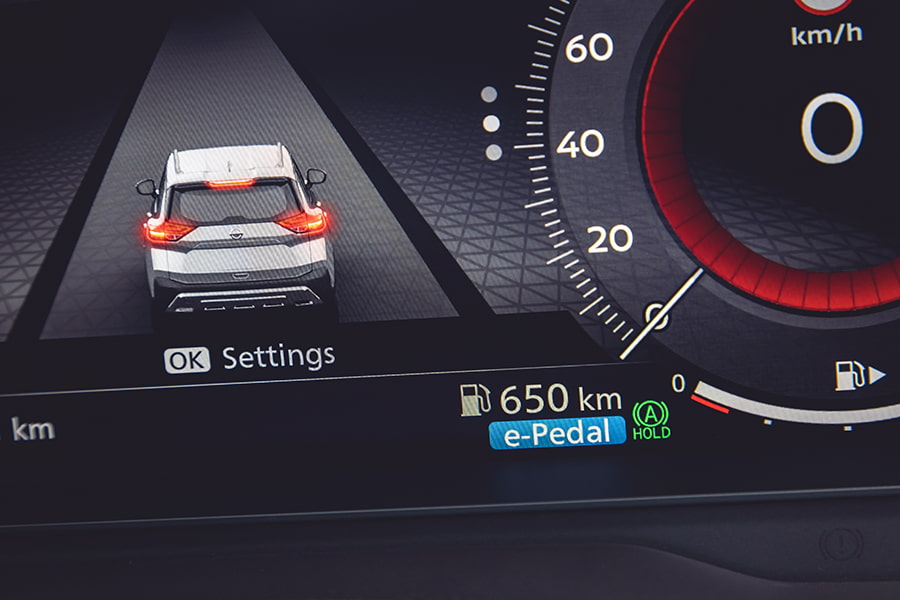 The front electric motor generates 150kW/330Nm and the rear e-motor 100kW/195Nm. The petrol engine is rated at 106kW and 250Nm.
The combined output is rated at 157kW, but no torque figure is given. It feels substantial in the driving (which we'll get to shortly).
The Nissan drives the front and rear wheels via single-speed reduction gears. Nissan claims e-4ORCE's rear torque response is up to 10,000 times faster than a mechanical AWD system.
Counting the numbers
One of the arguments Nissan puts in favour of the 2023 Nissan X-Trail Ti-L e-Power is it is more frugal than the orthodox models and therefore saves you money at the pump.
The claimed consumption rate for a Nissan X-Trail ePower is 6.1L/100km versus 7.8L/100km for a 2.5-litre Ti-L 4x4. Working on $2 per litre of fuel and driving 15,000km per annum, that equates to eight years to reclaim the $4200 difference paid upfront.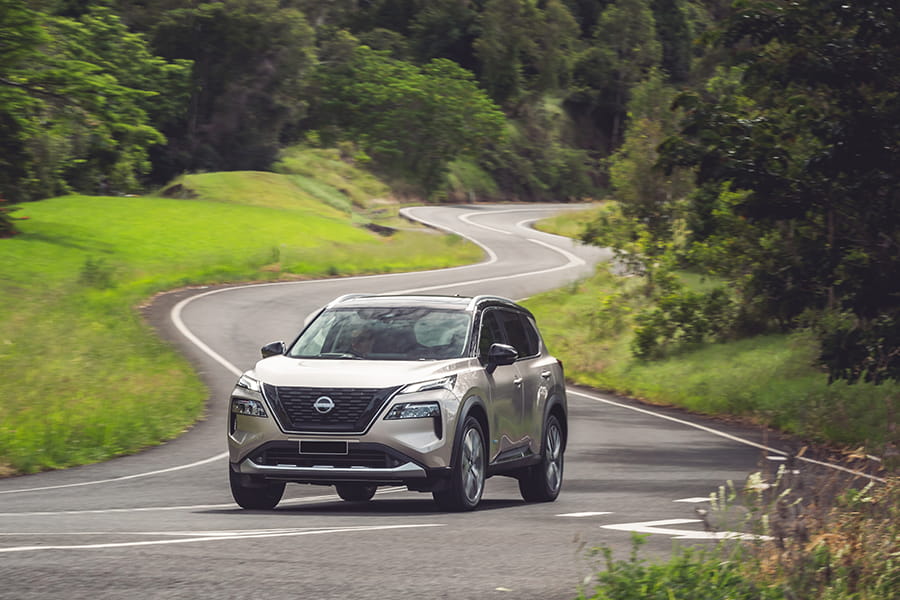 Bear in mind the e-Power might stretch its advantage around town where the e-motors will have more influence. But countering that is the fact the 2.5-litre engine uses cheaper 91 RON fuel versus the 95 RON recommended for the hybrid. All up, it's not the most compelling argument financially to spend the extra dosh.
However, there are ways to stretch the e-Power's fuel advantage. EV Mode – as its name suggests – runs the car as an EV. But that only lasts a short time because the battery is so small.
Brake and E-Pedal modes are measures designed to boost electricity regeneration. The latter offers an almost single pedal experience, eventually slowing the car to walking pace when the accelerator is lifted.
In the real world, experimenting with EV, e-Pedal and brake modes, our average came out at around 6.7L/100km (7.4L/100km on a shorter, hillier section with gravel).
Combined with a 55-litre fuel tank that delivers a range beyond 800km, which is well beyond most fully-electric cars – although, based on our experience , you have emitted around 124,000 grams of CO2 doing it.
Unique experience
Where the 2023 Nissan X-Trail Ti-L e-Power with e-4ORCE really shows off the value of its hybrid powertrain is in the driving rather than the fuel consumption numbers.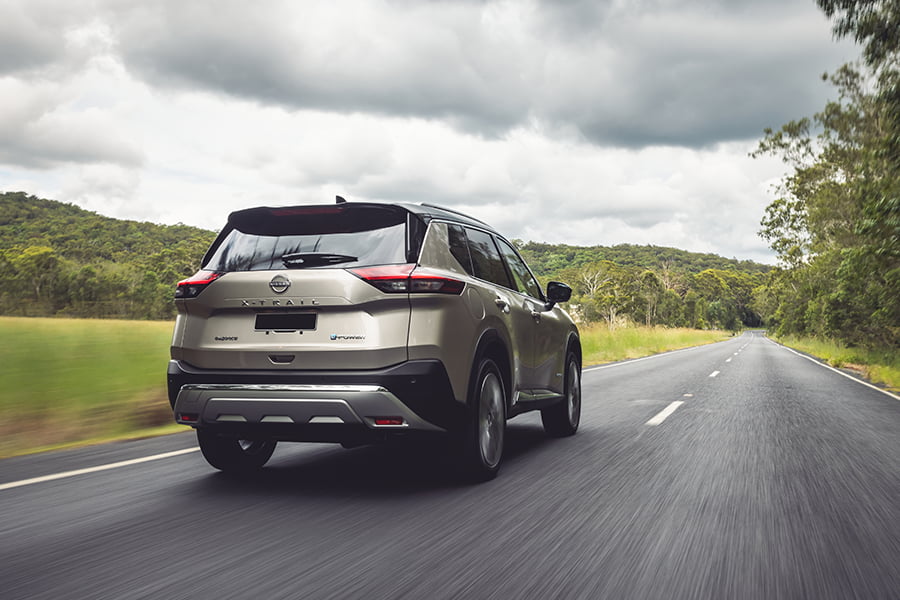 The front e-motor has been designed to intentionally produce higher outputs than the rear e-motor to act like a traditional front-wheel drive vehicle. As such, it has excellent response when the accelerator is pressed with smooth and quiet acceleration. Even up steep hills it surges forward.
It feels more perky in real life than its on-paper specifications, quicker than the dreary 7.0sec 0-100km/h claim and more agile than its porky 1911kg kerb mass might suggest. It's also a notable advance over the 2.5-litre four in conventional X-Trails.
The weird bit is the way the petrol engine behaves in contrast with what you're doing with the accelerator. It will idle along doing its charging thing at times when the e-motors are revving hard scaling a hill.
The engine will even turnover rolling down a hill to expel excess electricity if the battery is full and the e-motors aren't working (it doesn't use fuel in this mode though).
Aligning with the alert and responsive powertrain – it's well alert and responsive in normal and sport but stultifying in Eco drive modes – is a chassis system underpinned by a new platform that delivers a distinct step up in road holding and comfort compared to the old X-Trail.
It's much more controlled and competent in its responses to the electric-assist steering, has better body control in corners and – dare I say it – is even a little bit of fun to drive. The steering is light for low-speed operation and weights up at speed, especially in Sport drive mode.
Nissan says e-4ORCE helps smooth out handling by distributing power and braking force to individual wheels and aids the ride by using the regenerative braking function of the rear e-motor to reduce pitch and dive.
Just a note here on the ride quality. It is little sharper in the Ti-L with its 255/45R20 rubber than the less aggressive 235/55R19s on the X-Trail Ti. Adaptive damping would help here. The fatter tyres also generate more road noise.
Cruising on the freeway enabled the engagement of ProPILOT, which proved almost as intuitive as the excellent Ford Ranger/Everest driver assist systems we've recently sampled. It maintained its position in the centre of the lane well, but even in its mildest mode it jumped away from white lines as if they were the bumpers on a bowling alley.
Can it go off-road?
The short answer is probably but we didn't get to try out how far off the beaten track it could go during our time with the 2023 Nissan X-Trail Ti-L e-Power.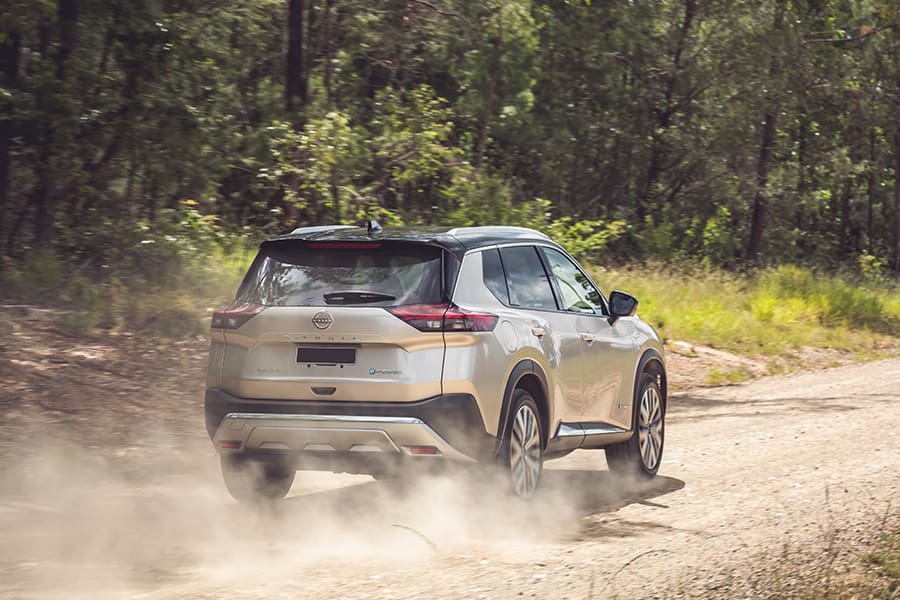 It does have a specific off-road drive modes to support such a thing. However, all we did was drive on some gravel roads, which was drama free.
The lack of a proper spare tyre is a bit worrying though if you were to consider venturing any further.
Serious contender
The 2023 Nissan X-Trail Ti-L e-Power is an impressive piece of work. It is significantly better than its predecessor, which had fallen to the back of the pack by the time it was replaced.
The stumbling block is the price. At around $60,000 on the road, the X-Trail Ti-L e-Power is nudging up against some heavy-hitting opposition that extends far beyond the obvious family SUV rivals.
But that doesn't detract from Nissan's achievement here. It is to be congratulated for delivering a stylish, interesting and enjoyable vehicle that deserves to be taken seriously.
2023 Nissan X-TRAIL e-POWER Ti-L with e-4ORCE at a glance:
Editor's Rating: 7.7/10
Price: 
$57,190 (plus on-road costs)
Transmission: 
Single-speed reduction gear
Available: 
Now
Fuel: 
6.1L/100km (ADR Combined)
Powertrain: 
1.5-litre three-cylinder turbo petrol-electric
CO2:
139g/km (ADR Combined)
Output:
106kW/250Nm
(electric motors: 150kW/330Nm and 100kW/195Nm)
Safety rating: 
Five-star (ANCAP – 2021)
Combined output:
157kW (torque NA)
Disclaimer: Images supplied by Nissan Australia.
This article was prepared by an independent author. The information contained in this article represents the views and opinions of the original author, and is based on research carried out by the original author. The appearance of the article on Maxxia's website does not constitute an endorsement of its content by Maxxia in any way. The article has been made available for informational purposes only and should not be taken as advice. While all reasonable care has been taken to ensure that the statements made by the original author in the article are fair and accurate, Maxxia does not guarantee or warrant the accuracy or completeness of this information and will not be liable for, or in connection with, any loss or damage suffered as a result of any inaccuracies, errors or omissions or your reliance on this information. You should independently research and verify information before making any decision in respect of a vehicle.