By Feann Torr, carsales.com.au
Almost every car maker has a small soft roader on the showroom floor, as city-sized SUVs have taken over the role traditionally played by hatchbacks and compact cars. They are so prolific that is hard for new car shoppers to know where to begin.
But Nissan is hoping its all-new, third-generation Qashqai can cut through the noise as the new top-of-the-tiny-tots with class-leading safety, improved levels of standard equipment and a sharp new design.
On paper, there's a lot to like about the new 2023 Nissan Qashqai, including a revised powertrain that is more efficient yet produces more power, a versatile interior and loads of thoughtful features that make it convenient as a compact family runabout.
The improvements, however, come at a cost, with prices increasing across the board.
So, let's find out if Nissan can lay claim to raising the bar in the small SUV class with the new Qashqai.
Prices are up
The 2023 Nissan Qashqai has matured and improved in almost every conceivable way but its evolution to an ultra-modern five-seat wagon has seen prices rise.
Where its predecessor was priced between $28,590 and $39,090 plus on-road costs, depending on the variant, the new four-model launch range for the third-generation Qashqai starts at $33,890 (plus ORCs) for the entry-level ST and maxes out at $47,390 (plus ORCs) for the top-shelf Ti model driven here.
In between, the range also includes the ST+ (from $37,890 plus ORCs) and ST-L (from $42,190 plus ORCs).
A little luxury
You don't miss out on very much with the flagship 2023 Nissan Qashqai Ti that we drove during the Australian media launch.
The long list of standard equipment includes eight-way, power-operated front seats with a massage function (which is a rare – but very welcome – inclusion among small SUVs), quilted leather interior trim, dual-zone climate control with rear air vents and a high-quality 10-speaker Bose audio system with a subwoofer.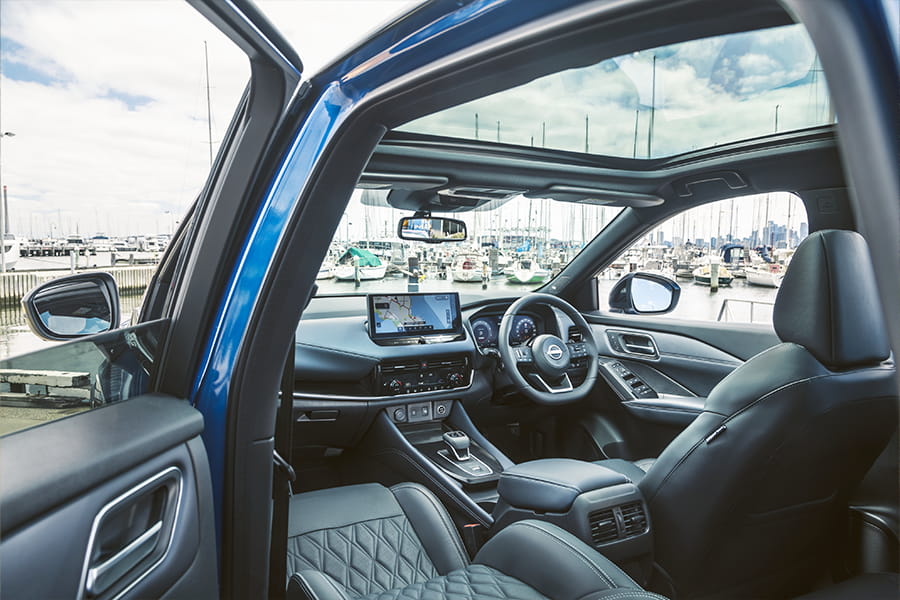 There's also two 12.3-inch digital screens – one for the instruments and the other for the infotainment and sat nav – as well as an impressive 10.8-inch colour heads-up display, a panoramic glass sunroof, ambient cabin lighting, 19-inch alloy wheels, tinted windows and a hands-free powered tailgate.
The only box you really need to tick is the choice of colour, with premium paint costing an extra $700, while a two-tone contrasting roof will add $500.
Whichever way you look at it, that's a lot of gear crammed into a small SUV, some of which you won't find as standard equipment in luxury SUVs that cost at least twice as much.
And, even at the other end of the range, entry-level Qashqai models feature plenty of goodies such as adaptive cruise control and automatic headlights with high beam assist.
All Qashqai variants are covered by a five-year/unlimited-kilometre warranty, which is average nowadays, given that some brands offer seven-year and even 10-year warranties, while annual (or 15,000km) service intervals are pegged at $670 on average, adding up to $4024 over six years, which is on the higher end of the price scale.
A new class benchmark
The 2023 Nissan Qashqai is one of the safest SUVs in its class, thanks to the standard fitment of seven airbags, a strong safety cell and an impressive array of advanced safety technology.
The new Qashqai has scored a five star ANCAP safety rating, and every model is equipped with Nissan's Intelligent Mobility safety suite.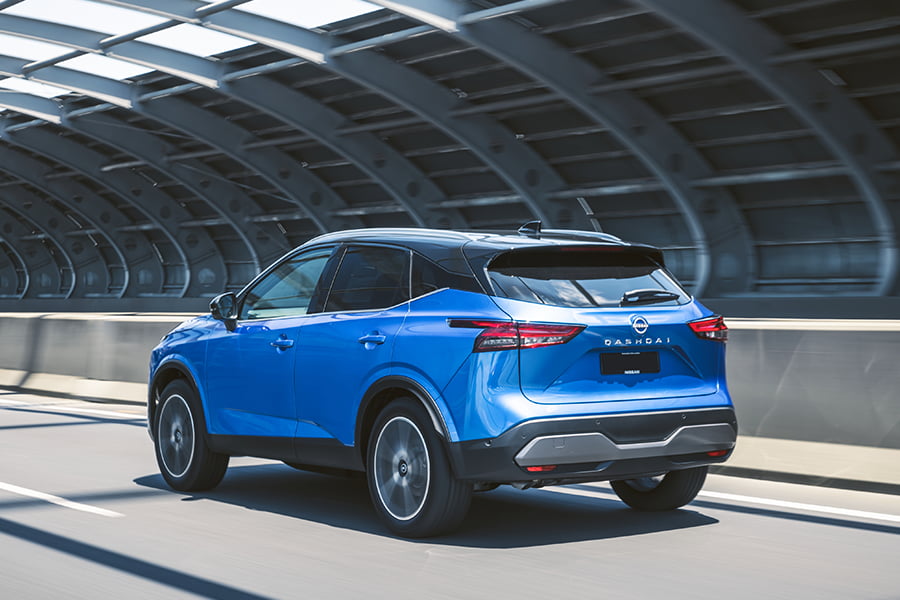 This includes adaptive cruise control, intelligent forward collision warning, lane assist, blind spot intervention, driver attention alert, rear cross traffic alert, front and rear parking sensors, a reversing camera and autonomous emergency braking (AEB) with junction assist and vehicle, pedestrian and cyclist detection.
The AEB system also works when reversing the vehicle, and all variants from the ST+ model upwards are fitted with a 360-degree parking camera with moving object detection.
Even the blind spot warning system has a proactive intervention function that's designed to stop the driver side-swiping other vehicles on the move, plus there's traffic sign recognition (real-time speed limit updates), an active speed limiter, rear seat and rear door alerts and a tyre pressure monitoring system.
Chuck in adaptive LED headlights with automatic high beam dipping and you're looking at a safe and sound mode of transport.
The latest technologies
There's no denying the 2023 Nissan Qashqai has taken a huge leap forward from the moment you open the door, particularly in the top-spec Ti model with its pair of large high-definition 12.3-inch digital screens deftly integrated into a modern dashboard design.
The digital instrument cluster is excellent, with a wide range of driving data and customisable elements and themes.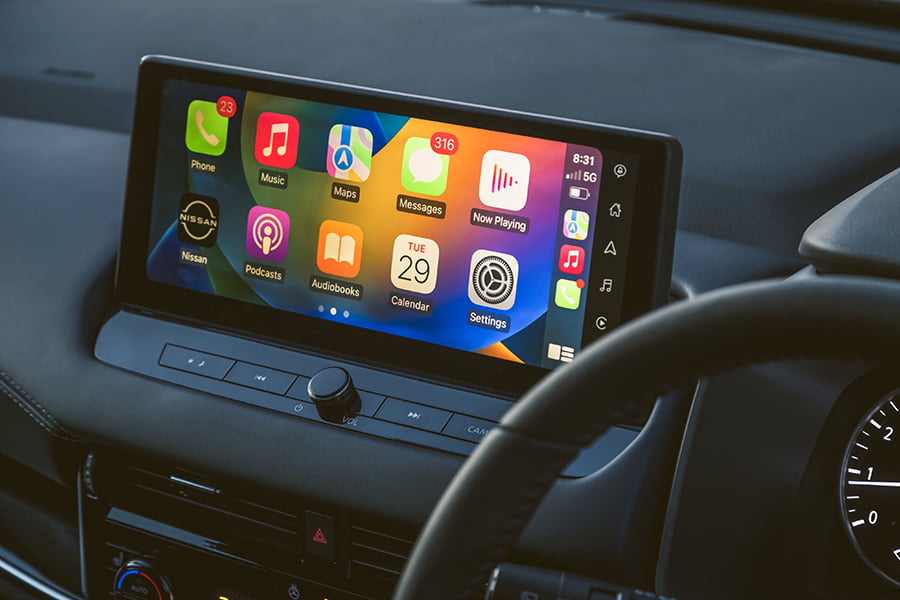 And while the central infotainment touchscreen doesn't look quite as dynamic, the user experience is good, with intuitive menus.
Most owners will plug in Apple CarPlay or Android Auto via the USB-A or USB-C ports, and those with iPhones can use wireless CarPlay, but it's not as good as the wired version with huge voice lag during hands-free phone calls.
The Nissan Qashqai Ti also features a 10.8-inch colour head-up display that informs you of vehicle speed, current speed limit, navigation directions and so forth, and is a great addition to the tech suite as it allows you to keep your eyes on the road while digesting relevant data.
Champagne on a beer budget
Within the space of a month, Nissan has refreshed almost its entire SUV range with new models of the Pathfinder, X-Trail and now the Qashqai arriving in showrooms. Only the ageing Patrol remains untouched.
And the Japanese brand has done a tremendous job in elevating the quality and convenience of its small, medium and large soft roaders with an ultra-modern fit-out across all three family members.
To be honest, the Qashqai is probably the standout. Our Qashqai Ti looks and feels like a class above the rest of its class thanks to well-integrated digital components previously mentioned.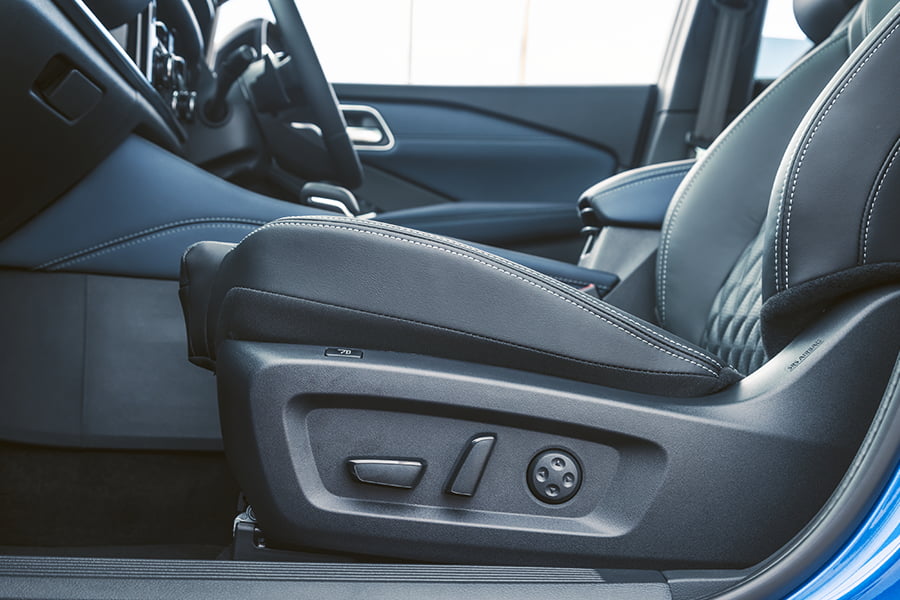 But it's the rest of the package that really stands out. T he premium, quilted blue-and-black leather seats look as stylish as they are comfortable, and offer plenty of support and adjustment to make light work of long journeys. The massage function is a further delight.
Nissan reckons the premium soft leather mono-form seats "take 25 days to produce, while more than 60 minutes are needed to embroider the new 3D diamond-quilted design".
The beautiful tactile elements extend beyond the seats as well with all the switchgear - buttons, dials and stalks – being well-damped and delivering a premium touch. Even the gear shifter has a contemporary look and feel.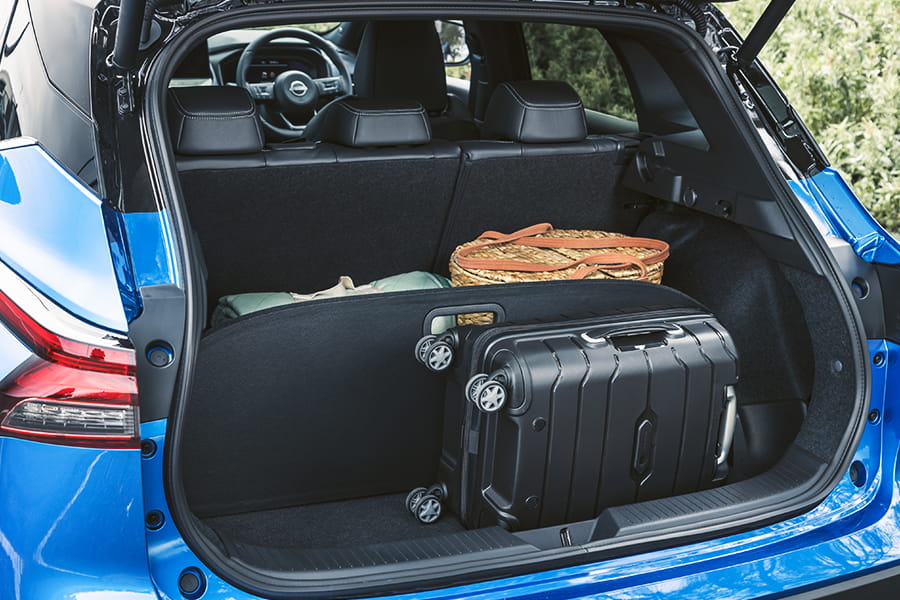 Add in the high-quality Bose stereo system, a large panoramic glass roof, dual-zone automatic climate control, USB-A and USB-C ports for front and rear passengers, comfortable back seats and flexible boot space, and you're looking at a very classy small SUV.
Small packages
The wheezy 2.0-litre petrol engine (106kW/200Nm) in the previous generation has been replaced in the new 2023 Nissan Qashqai by a new-generation 1.3-litre turbo-petrol four-cylinder that, despite being smaller in overall capacity delivers higher outputs of 110kW and 250Nm (compared to 106kW and 200Nm in the previous model).
Even though the Qashqai purports to be an SUV, all models are front-drive only and feature a new X-tronic continuously variable automatic transmission.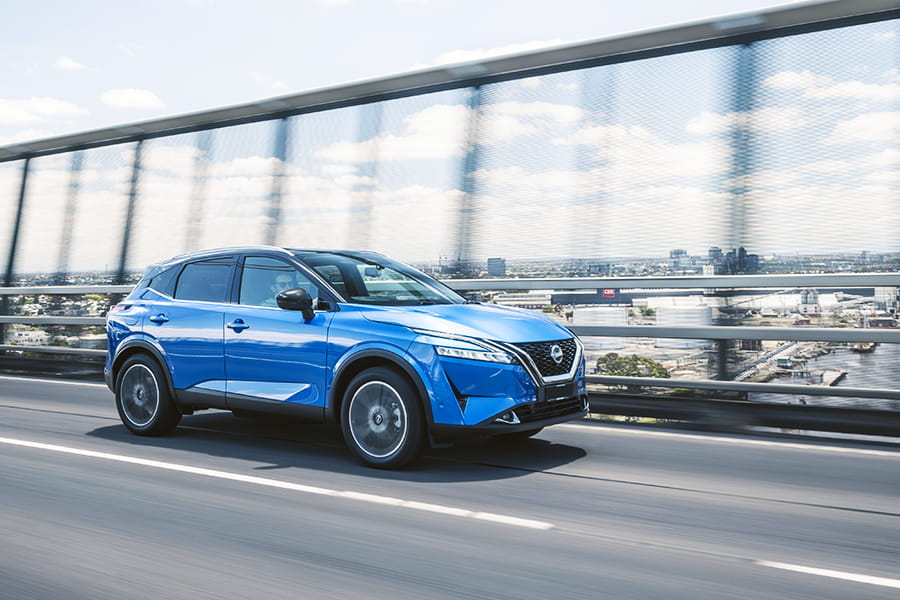 The engine feels significantly more muscular than its predecessor and moves away from standstill with reasonable haste with just two adults on board, taking advantage of its maximum torque (250Nm from 1600-3750rpm) arriving early and remaining just as strong as you rev the engine.
The updated engine – dubbed HR13DDT by Nissan internally – is also quieter and smoother, and even though the CVT is devoid of character it is effective and efficient.
It has three modes – Standard, Eco and Sport – and paddle shifters that deliver more control over engine speeds.
Nissan Australia had sought to launch a hybrid version of the Qashqai in Australia early in 2023, dubbed e-POWER and featuring an electric drivetrain and small battery with the engine acting as on-board generator. But that model has been delayed indefinitely as global supply chains continue to stymie new vehicle deliveries.
Economies of scale
The 2023 Nissan Qashqai has a reasonable 55-litre fuel tank, and if you achieve the claimed average fuel economy of 6.1L/100km you would have a theoretical cruising range of around 900km.
In the real world though, with lots of city and urban driving and several full-throttle stretches to test its acceleration on country roads, our results pushed fuel consumption out to an average of 8.2L/100km on test.
A small SUV that's also fun to drive…
Built in the UK and designed with the European market top of mind, there's no doubting the new 2023 Nissan Qashqai is more sophisticated than before with impressive gains made in refinement and cabin quietness.
However, it's the vehicle's dynamics, road holding and driver engagement levels that represent the biggest improvements.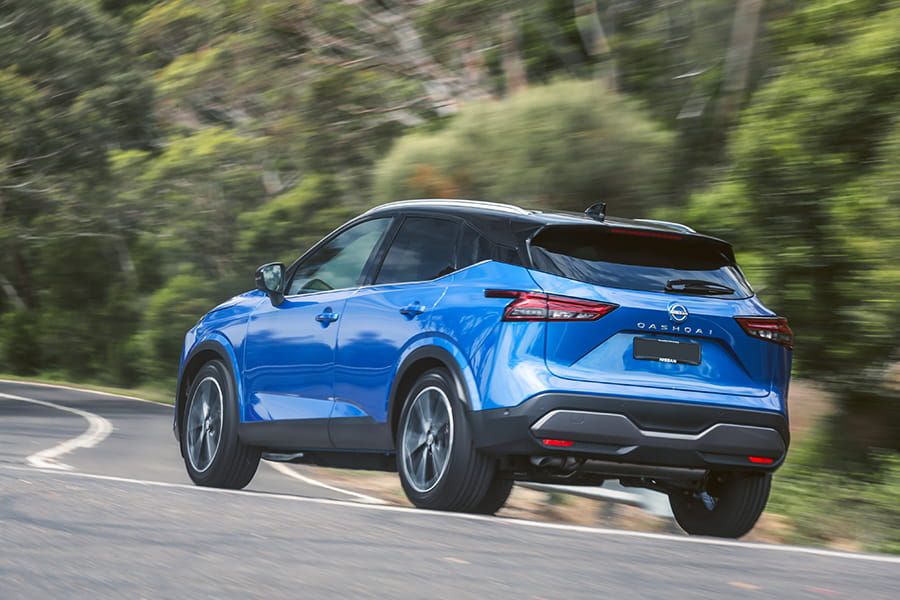 Sure, the cornering abilities of SUVs are somewhat compromised by tall bodies and added ground clearance and don't really turn crisply or deliver balanced handling on twisting country roads. Arguably, their main role is being easy to park and steer in urban situations, and in this respect the Qashqai delivers a light and easy car to navigate the urban jungle thanks to the positive steering and good sight lines.
But head out of town and the Qashqai also has a bit of spunk that makes it a fun machine to punt along should your journey take you on a challenging road.
It is also pretty comfortable over rough roads too, even with the big 19-inch alloy wheel and tyre combo. The SUV smooths out bigger hits like potholes and freeway seams with relative ease, but it does sometimes feel a little jittery on smaller bumps and over crumbly road surfaces.
By and large, the driving experience proved to be very pleasant and seamless on our first local outing, which is pretty good given the vehicle has not undergone an Aussie suspension tune-up like Kia and Hyundai vehicles.
Should I buy a Nissan QASHQAI?
The third-generation Nissan Qashqai is a massive improvement over its predecessor, and immediately propels itself to be among the leaders in a crowded class.
The lack of an immediate hybrid option and significant price hikes across the range are the only drawbacks. Otherwise, and particularly in top-spec Ti form, Nissan's new compact SUV is one of the most compelling vehicles of its type, and it should find favour with buyers looking for an upmarket, efficient and versatile small SUV.
That it is also fun to drive, full of tech and sets a new benchmark for safety ensures it is a very pleasant and refined vehicle to spend time in.
If Nissan Australia can ensure consistent vehicle supply, the new Qashqai could become a top-seller in the small SUV segment, challenging popular upmarket rivals like the Mazda CX-30 and Hyundai Kona.
2023 Nissan QASHQAI Ti at a glance:
Editor's Rating: 8.0/10
Price: 
$47,390 (plus on-road costs)
Transmission: 
Continuously variable automatic
Available: 
Now
Fuel: 
6.1L/100km (ADR Combined)
Engine: 
1.3-litre four-cylinder turbo-petrol
CO2:
138g/km (ADR Combined)
Output:
110kW/250Nm
Safety rating: 
Five-star (ANCAP 2022)
Disclaimer: Images supplied by Nissan Australia.
This article was prepared by an independent author. The information contained in this article represents the views and opinions of the original author, and is based on research carried out by the original author. The appearance of the article on Maxxia's website does not constitute an endorsement of its content by Maxxia in any way. The article has been made available for informational purposes only and should not be taken as advice. While all reasonable care has been taken to ensure that the statements made by the original author in the article are fair and accurate, Maxxia does not guarantee or warrant the accuracy or completeness of this information and will not be liable for, or in connection with, any loss or damage suffered as a result of any inaccuracies, errors or omissions or your reliance on this information. You should independently research and verify information before making any decision in respect of a vehicle.