By Feann Torr, carsales.com.au
The Mitsubishi Outlander has been a solid but not spectacular option for Australian families searching for a do-anything mid-size SUV. It has appealed to many on the strength of its value and space while tending to fall behind the class leaders when it comes to safety and technology. And it wasn't the prettiest car in the world either. Mitsubishi has addressed any shortcomings with the new second-generation Outlander which arrived in Australian showrooms earlier this year with a modern vehicle that is even more spacious than before, and challenges class leaders such as the Toyota RAV4 and Mazda CX-5 on presence and technology. But there's a still a couple of sticking points, such as its engine performance and safety credentials. Do the positives outweigh the negatives? Let's take a look…
Take two
Let's get it out of the way, right from the start: I quite like this car. Sure, it looks a bit odd at the front with two sets of headlights that are cloaked in swathes of chrome trim. It's a face only a mother could love.
But look past its bug-eyed, battered-nosed bonce and there's a lot to like about the new-generation 2022 Mitsubishi Outlander. It's bigger, smarter, more luxurious and better equipped than before. And, importantly, it feels like a generational leap in how it drives.
Not surprisingly, considering its predecessor ended its lifecycle as a cut-price bargain, all the goodies that come with the 2022 Mitsubishi Outlander means it arrived with a considerable price hike when it launched late last year.
Since then, the bean counters have used the current economic climate to put some added heat on its sticker price, with a recent further increase.
With a manufacturer's recommended retail price now set at $48,990 plus on-road costs, the high-grade Outlander Exceed model on test here extends well beyond $50,000 once you're out on the street with it.
Our particular test car took the price closer to $60k with a host of options and accessories, including the premium Red Diamond paint job, which adds another $940, a bonnet protector ($198), black 20-inch alloy wheels ($2611), a large Thule roof pod ($1363) and an adventure pack ($2845) that adds a front nudge bar, roof rack cross bars and more.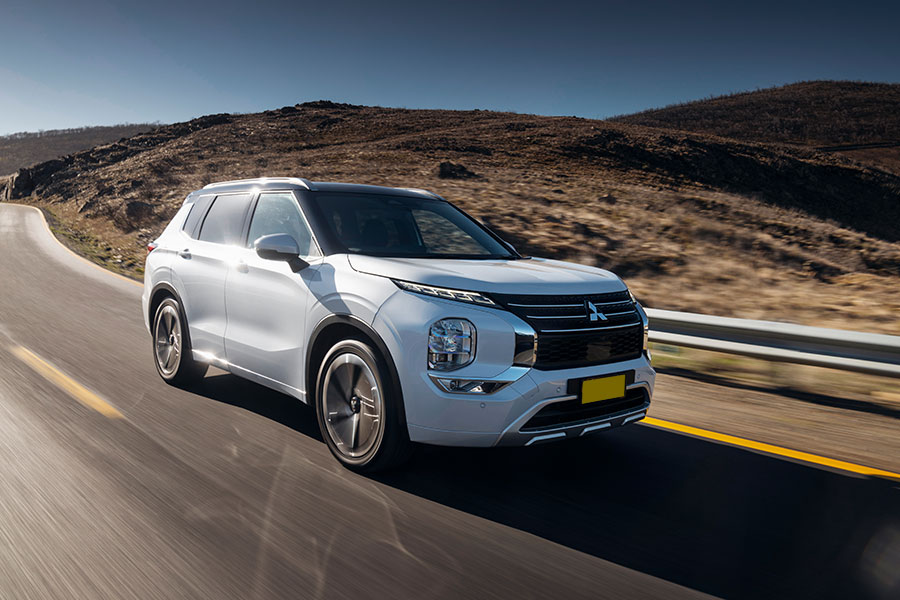 Ignoring the sticker shock for a second and looking at the Outlander objectively, it has more room than its predecessor (and many of its rivals) and all models now gain wireless Apple CarPlay and wired Android Auto within a 9.0-inch central touchscreen, as well as alloy wheels, LED lights and parking sensors at both ends, keyless entry and push-button engine start.
A hangover from the COVID-19 pandemic that has had a widespread effect on the automotive industry has been a global shortage of semiconductors, a critical element in all electronic components and computer modules. As a result, a few previously standard items have been removed from the equipment list with the latest MY22.5 changes, so check with your local dealer for more clarity.
Nonetheless, the Outlander is now a genuine contender in the mid-size SUV segment with a decent spread of conveniences, particularly in the second-from-top Exceed model grade which brings niceties such as power-adjustable and diamond-patterned leather seat trim (in black or light grey), three-zone climate control, a big panoramic sunroof with tilt and slide opening, rear seat window shades, a Bose premium sound system and a 12.3-inch fully digital instrument cluster.
That's on top of several features inherited from mid-spec Outlander grades, including a proximity key fob, wireless phone charger, powered tailgate, and so on.
All models except for the entry-level ES come standard with a seven-seat layout (a $1000 option on the ES), and class-leading aftersales provisions with a 10-year/200,000km warranty (if it is serviced within the authorised Mitsubishi dealer network).
Further to that, Mitsubishi offers an impressive 10-year/150,000km capped-priced service plan that totals $3190 over that time, or an average of $319 per annum.
Five-star safety, but not for all
The 2022 Mitsubishi Outlander scores a five-star crash protection rating by independent vehicle safety authority ANCAP.
But that doesn't tell the whole story. Even though the Outlander is equipped with eight airbags, the top mark was achieved despite it offering full airbag coverage for occupants in the third-row seats, which Mitsubishi claims are best for 'occasional use only'.
The Outlander isn't alone in this situation, as the same applies to popular larger SUVs such as the Kia Sorento and the related Hyundai Santa Fe.
ANCAP also reported that the centre front airbag – which inflates between the driver and passenger to prevent head injuries between occupants in the event of a side impact – did not meet its "coverage requirements".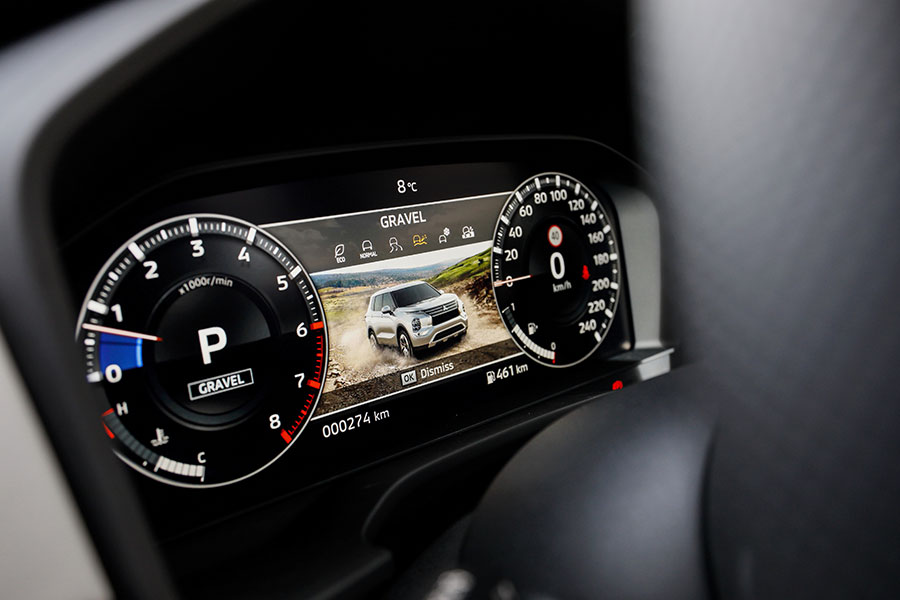 Apart from the airbags' shortcomings, all variants are equipped a comprehensive suite of advanced semi-autonomous driver aids including adaptive cruise control, traffic sign recognition, lane departure prevention, lane change alert with brake assist, autonomous emergency braking (AEB) and trailer stability assist.
The Exceed adds to this list with extra features like a 360-degree parking camera, adaptive headlights and an impressive 10.8-inch head-up display.
Add some pepper, please
We really put the Outlander to the ultimate family workout during our two-week evaluation, transporting two adults, two infants, luggage, beach gear and bikes on an 1100km road trip.
While all the tech features worked well during our time with the 2022 Mitsubishi Outlander Exceed, its engine performance was rather underwhelming.
The 2.5-litre four cylinder generates 135kW at 6000rpm and 245Nm at 3600rpm through a stepped CVT which is admittedly pretty seamless in delivering power to all four wheels. But, with the car fully laden, the engine feels gutless – especially on inclines.
Like the new Subaru Outback I recently evaluated, the engine is the weak link, as the rest of the vehicle has been thoughtfully constructed.
You can get decent economy out of it though, particularly during freeway driving. But the 10.2L/100km fuel consumption we averaged over a couple of weeks in the saddle was a far cry from the official 8.1L/100km claim.
As car makers continue to invest heavily in the future of electrified powertrains, it appears some – like Mitsubishi – will be forced to persevere with outdated combustion engines in mainstream models. But the Japanese brand is hedging its bets with plug-in hybrid technology, and the imminent arrival of the second-generation Outlander PHEV will likely address the engine's shortcomings.
Get in the groove
The lacklustre engine performance is highlighted because Mitsubishi has made significant improvements in every other area of the Outlander's driving character.
Driving the 2022 Mitsubishi Outlander Exceed is a pleasant experience as it is more refined and dynamic than ever before.
Okay, it's not pretending to be a sportscar, but it does carve its way through the corners confidently thanks to a neatly calibrated suspension system that ensures good body control.
The electric power assisted steering is super-light and makes manoeuvring through tight spaces in the urban jungle a breeze. Outward vision is pretty good too.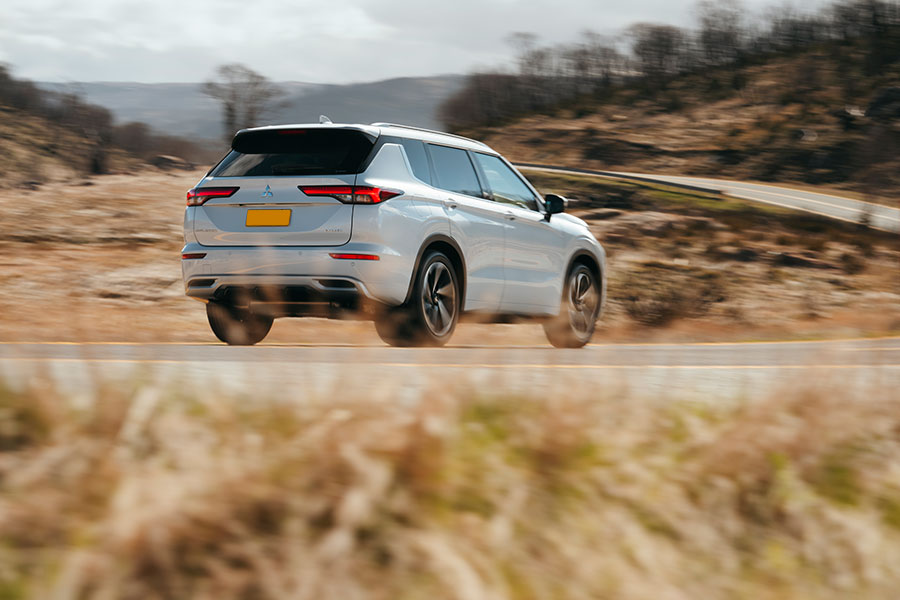 The Outlander balances its new-found agility with good comfort too, gliding easily over most cracks and bumps in the road. The only concern came when traversing sharp-edged speed humps and bigger potholes as the 20-inch alloys and low-profile tyres would thump in and over them.
Despite its on-road bias, the Outlander proved to be predictable and capable when travelling on rural gravel roads thanks to its clever all-wheel drive system (dubbed AWC-S) and above-average 210mm ground clearance.
It also handled the rigours of hauling the family on a long-distance road trip with a decently sized 55-litre fuel tank, and the comfy quilted leather seats of this Exceed model helped make the experience more luxurious and comfortable for everyone.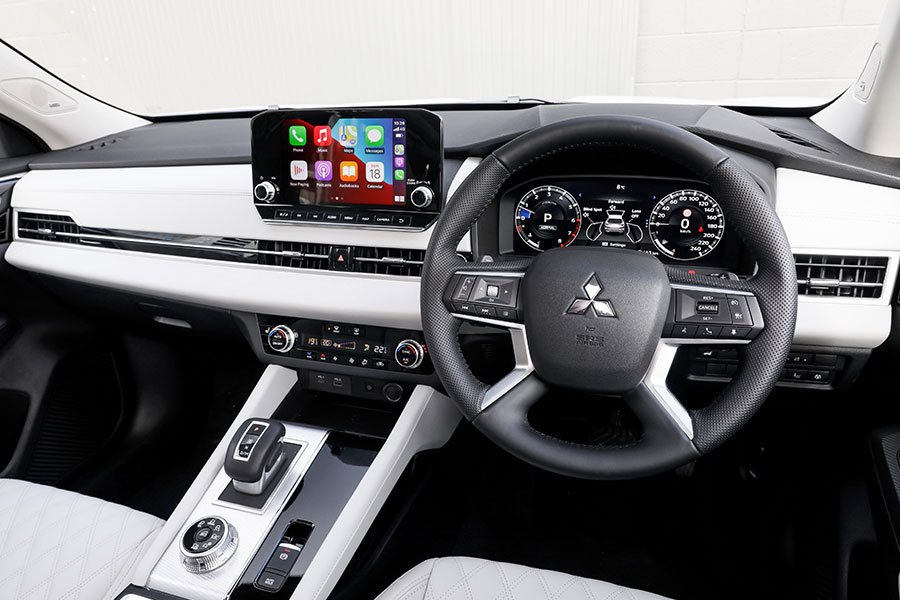 The cabin is nicely finished with high quality materials, a classy leather-bound steering wheel and gear shifter, along with carpeted floor mats. It all feels very un-Mitsubishi.
However, there are a few parts that provide a glaring contrast to that perceived quality, particularly the faux-metallic plasticky bits in the centre console. And while the large digital driver's display is clean and sharp it employs bland and boring graphics.
There's decent room in the second-row seats, which can slide fore and aft to increase legroom or extend the boot space. With 478 litres of cargo-carrying capacity at a minimum (or up to 1473L with the second and third rows folded flat) and a swift-acting powered tailgate, it quickly and easily swallowed all the gear we needed for a week away.
The built-in side window shades are a nice touch too, providing added sun protection for sleeping infants.
The third-row seats are cramped, and only recommended for small children – and even then, only when required. If you're carrying more than five occupants most of the time, I'd consider a larger SUV or a dedicated seven-seater over the Outlander.
The Outlander verdict
The 2022 Mitsubishi Outlander is a well-executed vehicle for the most part and a significant improvement over its predecessor. But its value becomes harder to justify the closer you move towards the top of the range.
While the Exceed model we tested has plenty going for it, I reckon the pick of the litter would be the more affordable mid-spec LS or Aspire.
Whichever model you choose, the strong ownership credentials and impressive list of standard equipment makes the latest Outlander stand taller in a very competitive segment. If the upcoming plug-in hybrid electric model is sharply priced it could be the more compelling option.
But to answer the question posed in our introduction: Yes, I believe the positives outweigh the negatives here. The lacklustre engine and absence of third-row curtain airbags are not deal breakers for me.
In overall terms, the new Mitsubishi Outlander should be on the shopping lists for anyone looking at a mid-sized family SUV.
How much does the 2022 Mitsubishi Outlander Exceed cost?
Price: 
$48,990 (plus on-road costs)
Transmission: 
Continuously variable automatic
Available: 
Now
Fuel: 
8.1L/100km (ADR Combined)
Engine: 
2.5-litre four-cylinder petrol
CO2: 
185g/km (ADR Combined)
Output: 
135kW/245Nm
Safety rating: 
Five-star (ANCAP 2022)
Disclaimer: Images supplied by Mitsubishi Motors Australia.
This article was prepared by an independent author. The information contained in this article represents the views and opinions of the original author, and is based on research carried out by the original author. The appearance of the article on Maxxia's website does not constitute an endorsement of its content by Maxxia in any way. The article has been made available for informational purposes only and should not be taken as advice. While all reasonable care has been taken to ensure that the statements made by the original author in the article are fair and accurate, Maxxia does not guarantee or warrant the accuracy or completeness of this information and will not be liable for, or in connection with, any loss or damage suffered as a result of any inaccuracies, errors or omissions or your reliance on this information. You should independently research and verify information before making any decision in respect of a vehicle.