By Alexandra Lawrence, carsales.com.au
Up until now, choosing an electric car has been more about making a personal statement rather than a pragmatic decision. Electric vehicles are clearly the way of the future, and early adopters have been forced to pay a premium to go green.
But MG is aiming to make choosing an EV simple by lowering the entry barrier into battery-powered vehicles, starting with its first dedicated EV, the MG4, which recently launched in Australia with a sub $40k price tag.
So, let's find out if it has done enough to entice everyday Australians to choose an electric car as an entirely rational decision.
How much does the MG4 cost?
At the moment, the 2023 MG4 is one of the most affordable electric vehicles available in Australia.
While some of its rival Chinese car makers have promised to make EVs even more accessible in the near future, the MG4 is the first with a price tag under $40,000.
The four-model range is split across two trim levels – Excite and Essence – and starts at $38,990 (plus on-road costs) for the entry-level model with a 51kWh battery pack or $44,990 (plus ORCs) with a larger capacity 64kWh battery.
The flagship Essence model, with more equipment, can be had with the same 64kWh battery for $47,990 (plus ORCs) or as a Long Range version with an even larger 77kWh battery for $55,990 (plus ORCs).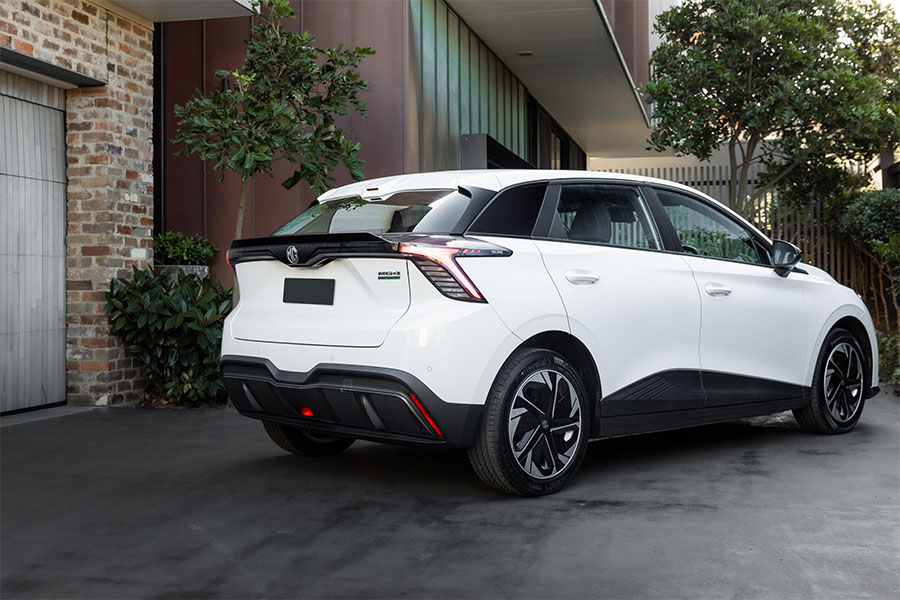 No matter which variant you choose, MG promises a sporty and fun drive thanks to 50:50 weight distribution and a low centre of gravity.
All models feature a generous list of standard equipment, including climate control air conditioning, twin digital screens (a 7.0-inch instrument cluster and a 10.25-inch touchscreen infotainment system with smartphone mirroring), keyless entry with auto start, LED headlights and taillights, a reverse camera and V2L vehicle-to-load functionality.
They also include a comprehensive array of intelligent safety systems (bundled under the banner of MG Pilot) that combines autonomous emergency braking, speed sign detection, adaptive cruise control with traffic jam assist and lane departure warning.
On top of that, the Essence models pick up five additional safety features, including a 360-degree parking display, blind spot detection, rear cross traffic alert, emergency lane keep assist and a door opening warning.
The Essence also has a premium six-speaker audio system, heated front seats, wireless phone charging, leather, and fabric trim and larger 18-inch alloy wheels.
MG covers the MG4 with a seven-year/unlimited-kilometre warranty, which extends to the battery. Any colour other than Dover White – including the bright Brixton Blue and Volcano Orange – commands a $700 premium.
Service intervals are spaced every 24 months/40,000km. Service pricing is set at $296 for the first one and $886 for the second.
MG says there have been more than 1000 pre-orders for the MG4 and the Chinese car maker has ambitious plans to sell more than 2000 units per month – a feat which would see the cut-price hatch rival the likes of Tesla for market share and push MG even further up the sales ladder, where it's already one of the leading brands.
Charged-up
For now, all versions of the 2023 MG4 are powered by a single electric motor that drives the rear wheels. But the motor produces varying levels of power depending on the size of the battery.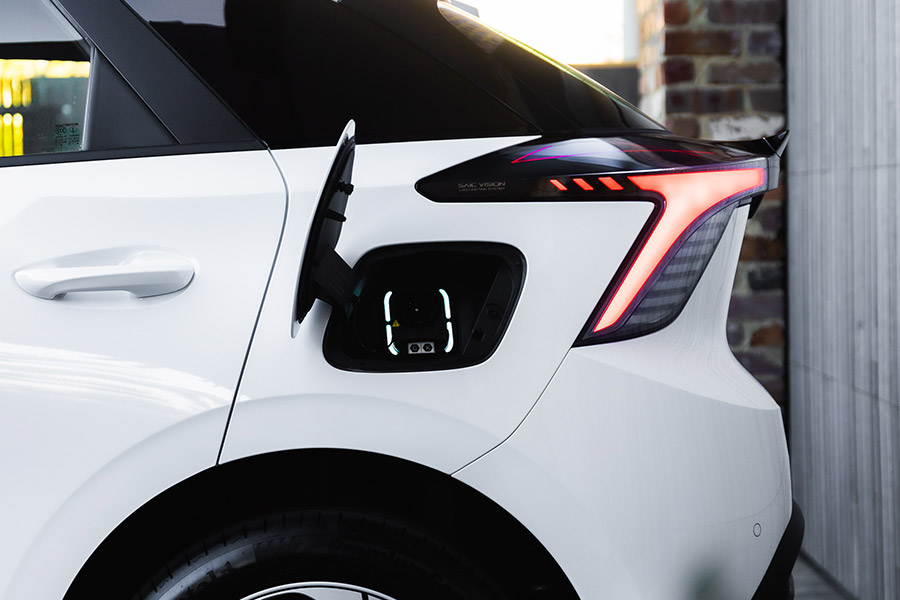 The entry-level Excite 51 delivers 125kW and 250Nm with a claimed driving range of 350km and the ability to replenish its battery between 10-80 percent on a 50kW charger in around 40 minutes.
With the 64kWh battery, both the Excite and Essence models produce more power (150kW) and drive further on a single charge (approximately 450km and 435km respectively) but take longer to recharge (approximately 60min).
The Long Range 77 can, as its name suggests, go the furthest with a claimed driving range of up to 530km but takes the longest to recharge at approximately 75mins.
It does, however, compensate with even more power (180kW and 350Nm) which makes it the most athletic model, accelerating from 0-100km/h in a claimed 6.5 seconds.
Positive electrons
There's a lot to like about the 2023 MG4 beyond its attractive starting price.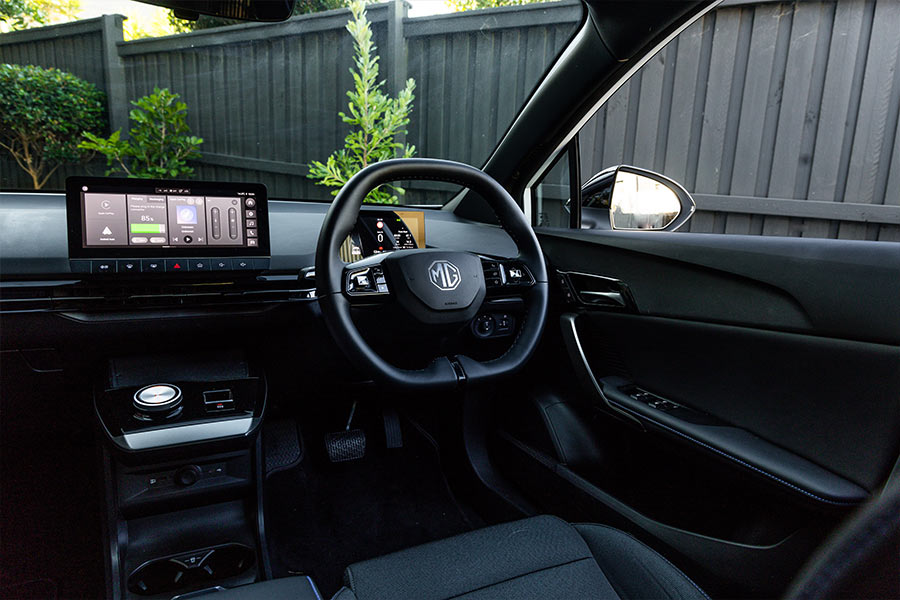 Even in the entry-level Excite guise, it doesn't feel stripped back in terms of equipment. And despite its minimalist interior featuring a conspicuous lack of physical buttons, the simplicity of its touch screen menu makes accessing often-used functions easy.
The cabin is spacious enough – thanks to its MSP (modular scalable platform) underpinnings – that you could happily cart around four large adults. While they'll have plenty of legroom (unless you've got super-tall people up front), rear passengers have to make do without air vents.
Storage, too, is impressive for a hatchback and the boot holds an okay 363 litres of gear (350L in Essence trim).
What's more, the MG4 delivers a decent driving experience, especially in the flagship Long Range 77 and mid-spec Essence 64 models.
With the entry-level Excite 51, we came away with reservations after driving a pre-production model recently and weren't able to sample a finished showroom version during the national press launch. So, we'll still hold back from giving it a full tick of approval.
But if MG has tuned it to handle like the bigger battery models, which carry more weight and deliver more power, then it has the potential to be a bit of a game changer.
Having said that, the Long Range 77 and Essence both felt more athletic and compliant on the road than the early version of the Excite 51 did thanks to their additional power and the extra weight of the bigger batteries.
A quick squirt through the Royal National Park revealed surprisingly good dynamics, with sharp steering and sure-footed handling along the tight and twisty roads. The suspension, however, felt a little firmer than we recall from the pre-production Excite 51.
Steering response felt sharpest in Sport mode, but the change in throttle response was much more noticeable.
The two bigger-battery and higher-output MG4 models were also equipped with proper one-pedal driving, unlike the 51, but the regenerative braking could provide more stopping power in its most potent setting. We still had to use the brake pedal on occasion.
Negative electrons
For all that's impressive about the way the MG4 drives, you can tell it is still built to a budget as the cabin – even in the high-grade Essence models – is littered with scratchy, hard plastics and the fabric trim elements feel a little rough.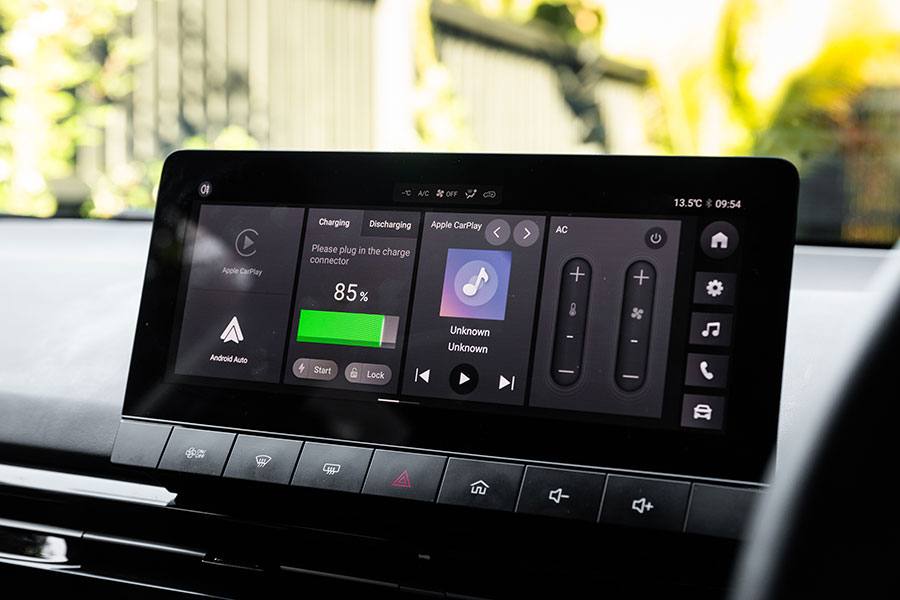 We like the driver's digital 7.0-inch instrument cluster, and while the dash and centre console layout are good, we found the central touch-screen similar to our first MG4 drive. The unit can be slow to respond to inputs and the shortcut buttons on the lower edge feel cheap.
There's also some noticeable corner cutting in sound deadening too, as we experienced a significant amount of wind noise creeping into the cabin at highway speeds, particularly from the driver's side door mirror, which might be annoying on long distance commutes. This was strangely more evident in the Excite model where the four-speaker audio system didn't have enough grunt to compensate and conceal it.
The calibration of the driver assist systems, such as autonomous emergency braking (AEB), also came into question during our drive when we came close to rear-ending another motorist when they unexpectedly stopped for an amber traffic light.
In a situation where AEB would've almost certainly activated in other vehicles, our test car instead just chimed an audible warning telling the driver to brake. We would've expected more intervention, given how close to a collision it was.
Our time on launch was too brief – and with mixed drivers – to gauge the MG4's energy efficiency. In the 64 and 77 variants we tested, we saw an average of 19-21kWh per 100km.
For reference, MG claims the 77 uses 14.0kWh/100km on a combined cycle, while the Excite 64 is tipped to be the most efficient at 13.0kWh/100km, followed by the Essence 64 (13.9kWh/100km) and base-spec Excite 51 at a much higher 18.4kWh/100km.
On the outside though, the MG4 is a real head turner with its outlandish exterior design. But some may find it a bit too edgy.
Should I buy an MG4?
There's no denying the 2023 MG4 makes a big statement and, taken at face value, it's easy to see why.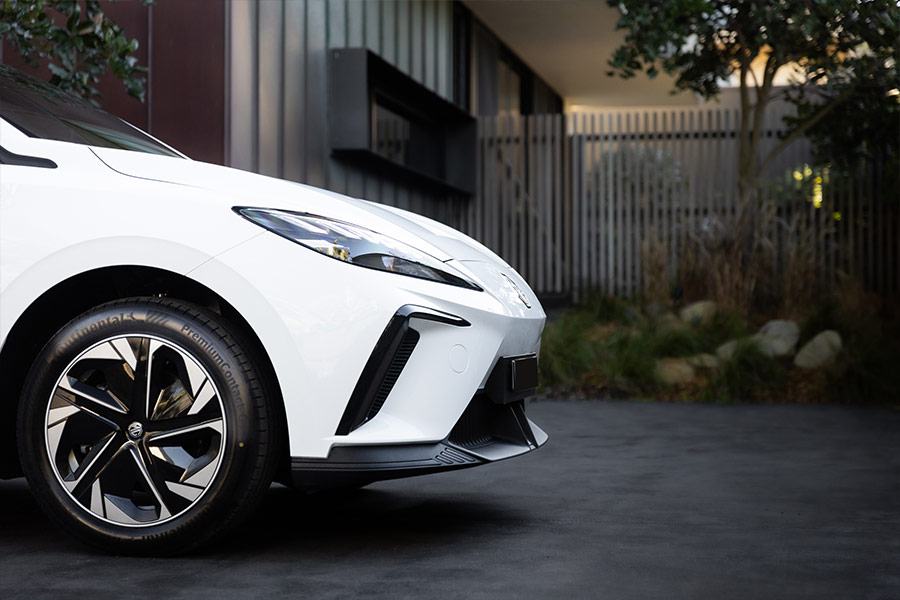 With a funky colour palette to choose from, good dynamics and a five-star ANCAP safety rating, it ticks plenty of big boxes. But the entry price is probably its most attractive attribute.
There are other EVs on the market that'll get you further between a charge, bring higher quality cabin materials and are more enjoyable to drive.
Trouble is, you need to be willing to fork out a lot more money to get into them.
MG4 2023 Long Range 77 at a glance:
Editor's Rating: 7.9/10
Price: 
$55,990 (plus on-road costs)
Battery: 
77kWh lithium-ion (NMC)
Available: 
Now
Range: 
530km (WLTP)
Powertrain: 
Permanent magnet synchronous motor
Energy consumption:
14.0kWh/100km (WLTP)
Output:
180kW/350Nm
Safety rating: 
Five-star (ANCAP 2022)
Transmission:
Single-speed reduction gear
Disclaimer: Images supplied by MG Motor Australia.
This article was prepared by an independent author. The information contained in this article represents the views and opinions of the original author, and is based on research carried out by the original author. The appearance of the article on Maxxia's website does not constitute an endorsement of its content by Maxxia in any way. The article has been made available for informational purposes only and should not be taken as advice. While all reasonable care has been taken to ensure that the statements made by the original author in the article are fair and accurate, Maxxia does not guarantee or warrant the accuracy or completeness of this information and will not be liable for, or in connection with, any loss or damage suffered as a result of any inaccuracies, errors or omissions or your reliance on this information. You should independently research and verify information before making any decision in respect of a vehicle.