By Scott Newman, carsales.com.au
Car designers have always battled between form and function. Some of the most eye-catching machines are beautiful to look at but are often flawed when it comes to practicality and everyday useability. And the opposite is generally true for vehicles that prioritise the most pragmatic elements and compromise overall style.
Small hatchbacks have traditionally fallen into the latter category, often designed from the inside out to maximise space and then cloaked in a generic exterior so that they appeal to a broad audience. They have been the backbone of mass-market motoring for generations.
But things have changed over the last decade and the SUV has replaced it as the default choice for small families, leaving the hatchback to find new niches.
Mazda recognised this trend earlier than most of its rivals and the latest-generation Mazda3 has been purposely elevated to a premium status and designed to appeal to more affluent, style-conscious urbanites and empty nesters.
Has the Japanese car maker read the tea leaves correctly, or is the Mazda3 G25 Evolve SP too compromised for its own good? Read on…
Middle ground
The 2023 Mazda3 G25 Evolve SP sits in the middle of the range but is the most affordable model with the larger 2.5-litre engine. Lower-grade versions use a less-powerful 2.0-litre engine.
It's been recently subjected to a small price bump that's lifted the starting price to $32,110 plus on-road costs (up $220) as a six-speed manual, with the automatic adding another $1000 to that.
That puts it head-to-head with the likes of the Hyundai i30 N-Line (from $30,220 plus ORCs), Kia Cerato Sport+ (from $31,440 plus ORCs) and the Toyota Corolla SX (from $31,780 plus ORCs).
Like all other Mazda products, it's covered by a five-year/unlimited-kilometre warranty and five years of capped-price servicing will cost you $1762 (valid as at date of this article), but intervals are 12 months or 10,000km and that distance will disappear quickly if you do plenty of driving.
High standards
Even though there are higher-grade versions of the Mazda3 (GT and Astina variants) with more standard equipment, the G25 Evolve SP still has a generous list of features including keyless entry and start, dual-zone climate control, a head-up display, power adjustment for the driver's seat and automatic headlights and wipers.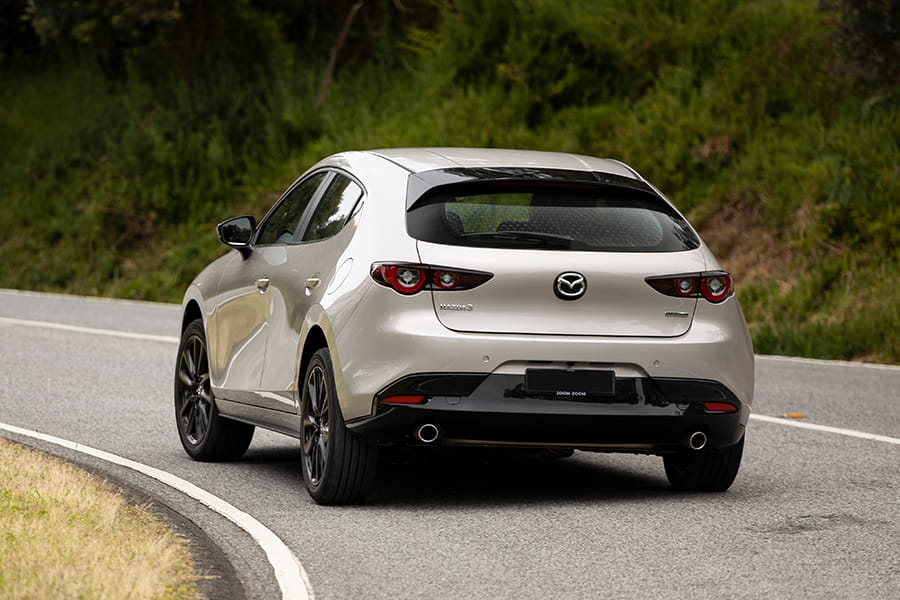 There is also full LED headlights and taillights and the SP trim features unique black 18-inch alloy wheels and darkened exterior trim highlights in the grille and wing mirrors.
On the downside the seats are cloth (though this could be personal preference), the daytime running lights are halogen and the mirrors are powered but not heated.
High five for safety
The latest-generation Mazda3 scored a five-star ANCAP safety rating when it was first introduced in 2019, ensuring it has solid safety credentials.
This is especially the case for those travelling inside with the Mazda3 scoring 98 per cent for adult occupant protection and 89 per cent for child occupant protection.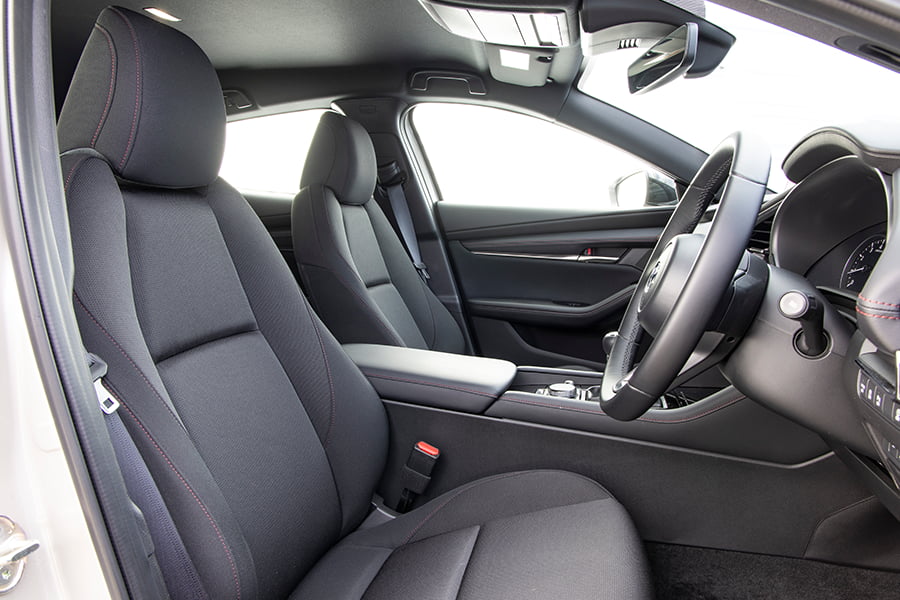 In addition to front and side airbags for the front passengers, curtain airbags (front and rear) and a driver's knee airbag, the Mazda3 G25 Evolve SP also includes most key active safety features including autonomous emergency braking (AEB) in forward and reverse, blind spot monitoring, lane keep assist, adaptive cruise control, traffic sign recognition and rear cross traffic alert.
Customers can choose to bolster the suite of driver aids with a $1500 Vision technology pack that includes a 360-degree parking monitor and front parking sensors, cruising and traffic support that operates the accelerator and brake at low speeds (automatic only), driver monitoring and front cross traffic alert.
Clever touches
Nestled in the centre of the 2023 Mazda3 G25 Evolve SP's dash is an 8.8-inch infotainment display with smartphone mirroring, AM/FM/DAB+ radio, Bluetooth, and native satellite navigation, all of which plays through an eight-speaker stereo system.
Typically, Mazda's infotainment is touch-operated when stationary but only controllable via the rotary dial once on the move. Mazda argues this leads to less driver distraction, which suggests that the 3's non-touch-operated screen should be a good solution.
It's not quite the case though. The trouble with using a rotary dial to operate a modern infotainment interface is the ability for the cursor to land on the wrong icon, especially when using smartphone mirroring.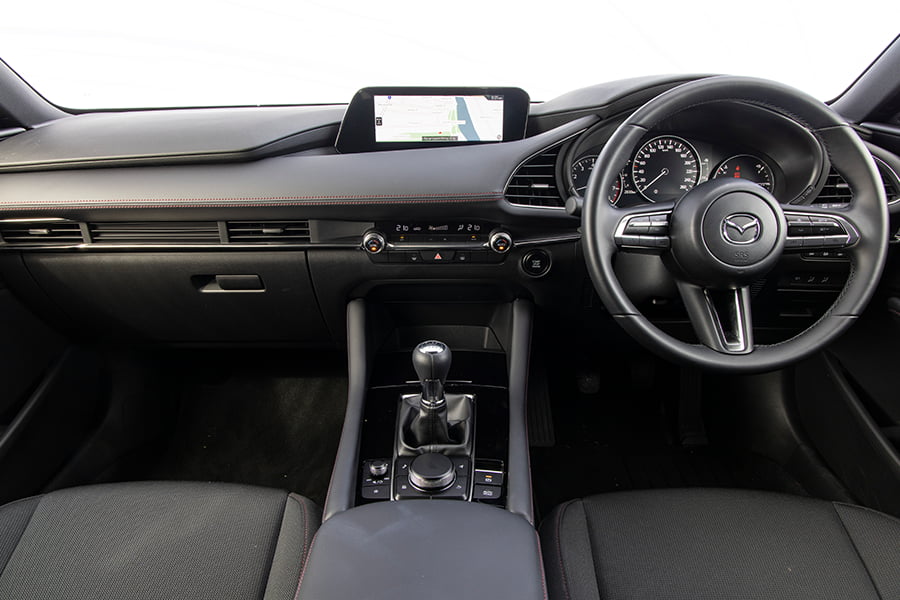 The experience improves markedly when using the shortcut buttons surrounding the dial, which allow for one-touch access to the media or sat-nav or phone even when using smartphone mirroring and means you can usually get to where you need to be in short order when you're totally familiar with the system. That can take time.
The instrument cluster is a clever mixture of analogue and digital dials that provides simple and easily read information but with neat tricks like displaying the current speed limit as a red line. Stray beyond it and the gap between your current speed and the limit will also be marked in red.
The head-up display not only shows the speed but should a car stray into your blind spot a little icon is shown on the appropriate side, a feature that's particularly helpful in the Mazda3 for reasons I'll explain shortly.
None of this is necessarily game-changing tech, but just a few clever touches that illustrate a level of thought that isn't always apparent in this segment.
Split decision
The cabin of the 2023 Mazda3 G25 Evolve SP is a tale of two halves.
Usually, small hatchbacks are designed with greater focus on the value equation of entry-level models and too often the upper-spec variants can't hide the fundamentals of a no-frills attitude and cheaper materials.
However, it's the opposite situation in the Mazda3 as the Japanese brand took a top-down philosophy with the latest-generation to give all models a premium ambience.
As such, the Evolve grade might sit in the middle of the range but the cabin could successfully carry off a higher price tag.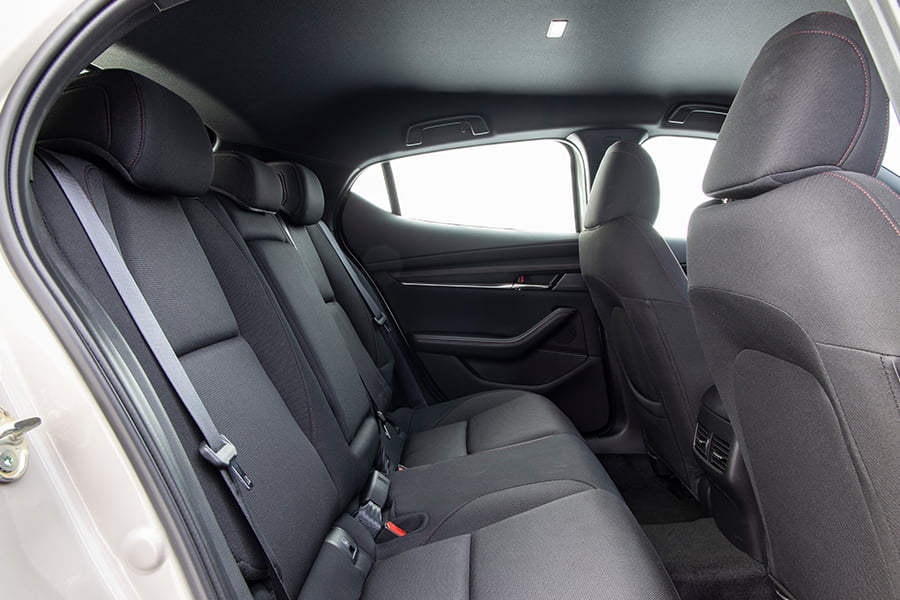 Most surfaces on the dash and door cards are covered in plush leather with contrast stitching and all the buttons and dials click in a satisfying manner. For around $35K, it would be difficult to expect much more.
On the downside, it's a dark environment, with plenty of black and dark grey that seems to swallow up the light.
The Mazda3's exterior design also doesn't help as its sleek shape causes problems in the form of massive rear-three-quarter blind spots for the driver, a cramped entry into the rear and very small windows once you're in.
Boot space also takes a hit. There's enough room (295L) for plenty of shopping or a few bags, but it's one of the smaller spaces in the segment, the Volkswagen Golf offering 374L, the Hyundai i30 395L and the Kia Cerato a whopping 428L.
In fact, the Mazda3's boot is smaller than a number of cars in the class below, such as the Kia Rio (300L) and Volkswagen Polo (351L).
Higher capacity
Equipped with the larger of the two engines, the 2023 Mazda3 G25 Evolve SP produces 139kW/252Nm from its 2.5-litre four-cylinder petrol compared to 114kW/200Nm from the smaller 2.0-litre. A reasonable bump.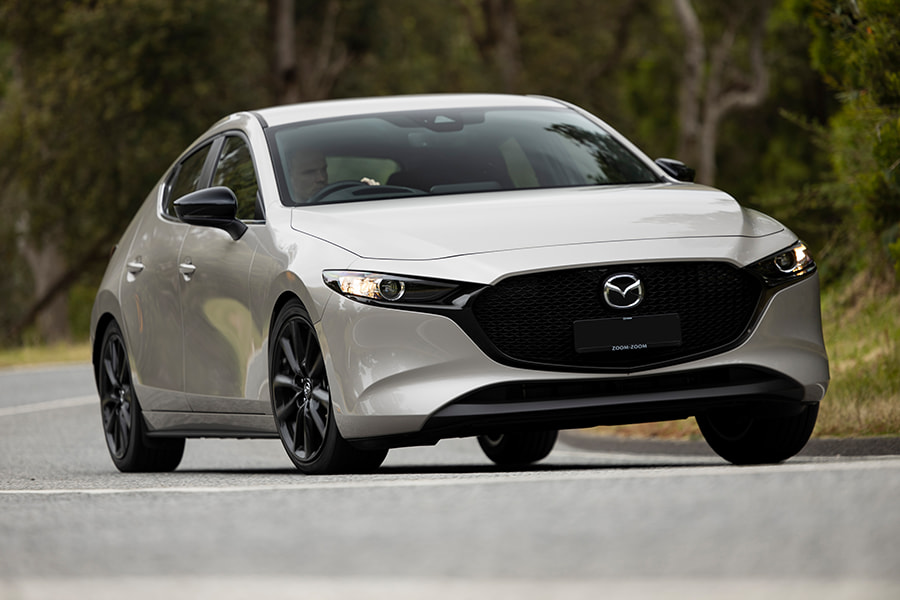 This extra performance comes without too much of a penalty in terms of fuel economy, the larger engine being a fraction more economical in manual guise at a combined 6.3L/100km compared to 6.4L/100km for the 2.0-litre.
Selecting the automatic as, let's be honest, most will, reverses the situation, with the 2.5 claiming 6.6L/100km and the 2.0 6.2L/100km.
This is in part due to the 2.5-litre having cylinder deactivation, which allows it to switch off a pair of cylinders under light loads to conserve fuel.
It's fine being fed a diet of 91 RON regular unleaded as the 51-litre fuel tank gives a theoretical range of more than 800km if you can match the combined claim. Regardless, you won't be needing to visit the pump too often.
One for the road
There are two distinct personality traits to the driving character of 2023 Mazda3 G25 Evolve SP, and which one like best will depend on how you intend the use car.
In line with Mazda's driver-focused ethos, the 3 isn't a car you drive with your brain in neutral and one finger on the wheel with a minimum of effort.
Consequently, the 3 requires the driver to be engaged, even in a day-to-day scenario. This is a relative statement, of course, and anyone from the age of unassisted steering will rightly scoff.
However, there is a bit of weight to the Mazda3's steering, the brakes are firm underfoot and the ride, while generally comfortable, isn't afraid to transmit road surface imperfections to your backside.
In a similar vein, the engine, while relatively large for a naturally aspirated unit, still needs some revs to give its best. As an example, it makes its maximum torque of 252Nm at 4000rpm, whereas the 1.6-litre turbocharged engine in the Hyundai i30 N-Line produces a similar 265Nm, but from just 1500rpm.
This means the Mazda3 doesn't have the same effortless performance as compared to the Hyundai i30 N-Line with turbo engine. In the case of our test car, which was fitted with a manual transmission, you need to either use the lever more often or hold gears a bit longer. Choose the automatic though and the computer will sort things out in response to your accelerator input on its own.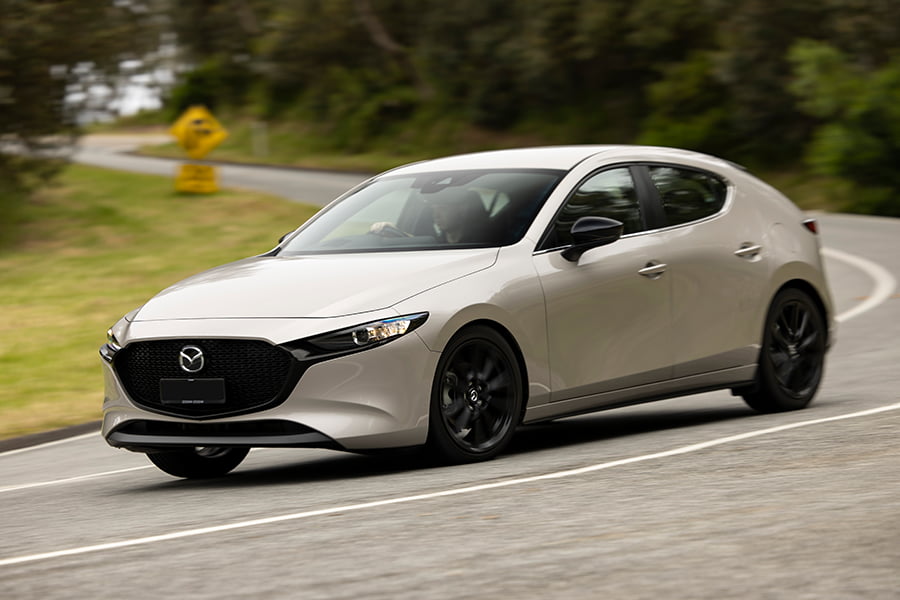 The flipside to this, and where we get into the 3's dual personality, is the 2.5-litre encourages you to rev it, accelerating with greater verve the further the needle gets around the tachometer.
Even driven in this manner, fuel consumption is unlikely to move too far north of 10L/100km, partly because, despite the 6500rpm redline, the limiter calls time at 6200rpm so it doesn't rev that high.
Thankfully, the six-speed manual is one of the best in this type of vehicle with a light yet positive action in both its clutch and lever actuation, but clearly most people will choose the automatic.
We have no problems with that, as Mazda's automatic is quite slick in its shifts and obviously much easier to use in heavy traffic.
It is illuminating how much having to constantly change gears makes you focus on the task at hand, as manual gearboxes become less common these days.
Should you venture beyond the city limits you'll find a hatchback of rare dynamic talent.
All the qualities that require a little extra effort in daily use converge to create a car that's tremendously enjoyable to drive with pace and enthusiasm.
On a twisty back road, the brakes and steering offer reassuring weight, communicating the Mazda's capabilities, and the handling is superb for a vehicle in this class with decent grip but plenty of adjustability, too, should the enthusiastic driver wish to really dig in.
It's a more enjoyable machine than many so-called performance cars.
Style over substance?
Objectively, it's difficult to make a case for the 2023 Mazda3 G25 Evolve SP as a daily runabout for a small family.
While the Mazda3 is good value and looks great inside and out, there are rivals that are easier to drive, more comfortable and much more practical.
However, if you don't need masses of space, want a hatch that isn't just a box on wheels and fancy yourself a keen driver, then the Mazda3 could be the car for you.
It's a genuinely enjoyable car to drive and a willing partner if you like a punt, and this holds true whether equipped with a manual or an auto.
Mazda has taken a slightly unusual approach in the creation of its small hatch but it's not one without merit.
2023 Mazda3 G25 Evolve SP at a glance:
Editor's Rating: 7.9/10
Price: 
$32,110 (plus on-road costs)
Transmission: 
Six-speed manual
Available: 
Now
Fuel: 
6.3L/100km (ADR Combined)
Engine: 
2.5-litre four-cylinder petrol
CO2:
150g/km (ADR Combined)
Output:
139kW/252Nm
Safety rating: 
Five-star (ANCAP 2019)
Disclaimer: Images supplied by Carsales.
This article was prepared by an independent author. The information contained in this article represents the views and opinions of the original author, and is based on research carried out by the original author. The appearance of the article on Maxxia's website does not constitute an endorsement of its content by Maxxia in any way. The article has been made available for informational purposes only and should not be taken as advice. While all reasonable care has been taken to ensure that the statements made by the original author in the article are fair and accurate, Maxxia does not guarantee or warrant the accuracy or completeness of this information and will not be liable for, or in connection with, any loss or damage suffered as a result of any inaccuracies, errors or omissions or your reliance on this information. You should independently research and verify information before making any decision in respect of a vehicle.