By Bruce Newton, carsales.com.au
The Mazda CX-5 is the best-selling model from the Japanese brand, and among the most popular mid-size SUVs in the country. Five years after the second-generation model first launched in Australia, Mazda has introduced a mid-life upgrade that refines the range, brings new features and revised styling. Now available across six model grades and 12 individual variants, it is offered with a choice of four engine options, manual or automatic transmissions and in front- or all-wheel drive configurations. Miraculously, given the economic state, there are only minor price rises for the Mazda CX-5. But that is more a reflection on the level of changes, which focusses on small details rather than wholesale upgrades.
A decade of CX-5 success
It's been 10 years since the Mazda CX-5 first launched in Australia. Over that period of time, it has been a huge success for the Japanese brand as its best-selling model in Australia, a second on the sales charts in the popular mid-size SUV segment behind the Toyota RAV4.
This second generation mid-sized SUV arrived in local showrooms in 2017 and has now received the latest in a string of mild updates aimed at keeping it fresh and competitive in one of the biggest new car market segments.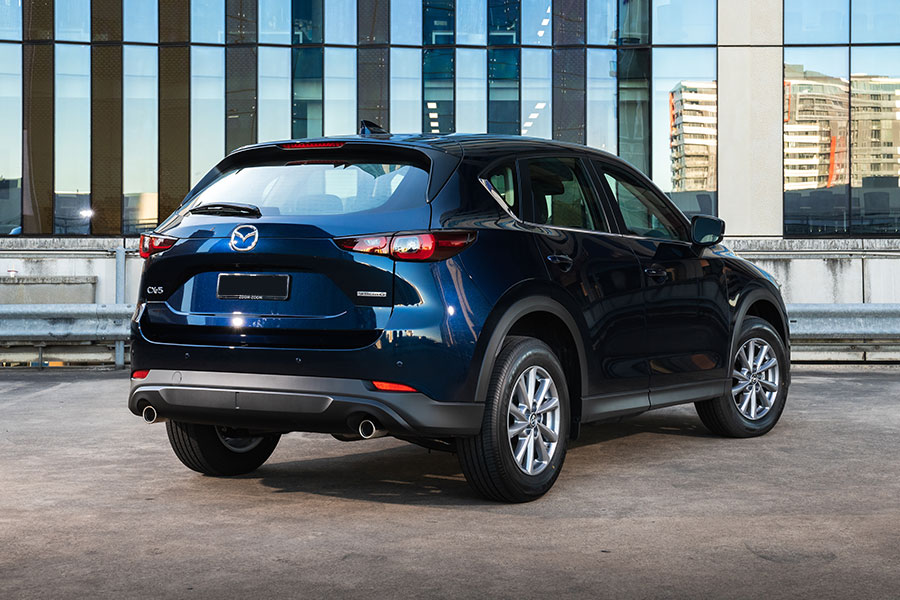 At first glance it's no big deal, with a few design tweaks the most noticeable visual changes. But Mazda needs to keep the improvements flowing and the CX-5's profile up as it fights the Toyota RAV4 for sales supremacy against a fleet of impressive new rivals, like the latest Hyundai Tucson and Kia Sportage.
Of course, the battle only gets tougher the older this generation of CX-5 gets with an all-new model due in the next few years, as well as a couple of new SUVs in the stable with the imminent arrival of the premium CX-60 and potentially the 'wide body' CX-70 and CX-90 models.
As part of the 2022 update, Mazda has rationalised its model range by reducing the line-up from 16 to 12 models. Out goes the mid-spec GT badge (although the sporty GT SP remains) and in comes a new adventure-oriented Active derivative added at the Touring level.
There continues to be a choice of four, four-cylinder engine options; 2.0- and 2.5-litre naturally aspirated motors, a 2.5-litre turbo-petrol or a 2.2-litre turbo-diesel. A six-speed manual transmission is available only with the entry-level 2.0-litre Maxx, as all other variants come fitted with the six-speed auto as standard. Two-thirds of buyers also opt for all-wheel drive rather than front-wheel drive.
Prices across the range have increased between $800 and $1100, and now starts at $32,390 (plus on-road costs) for the entry-level Maxx 2.0 manual and tops out with the new $53,880 (plus ORCs) Akera 2.5-litre turbo-diesel.
The volume-selling Maxx Sport 2.5-litre front-drive auto we're testing here starts at $38,190 (plus ORCs). This model was previously powered by the 2.0-litre engine.
The key updates across the 2022 range start with a new-look front end that includes LED headlights with oblong lamps and integrated fog lights (that were previously separate), a 3D look for the grille opening and a reshaped underside wing and bumper. There's also a new bumper at the rear.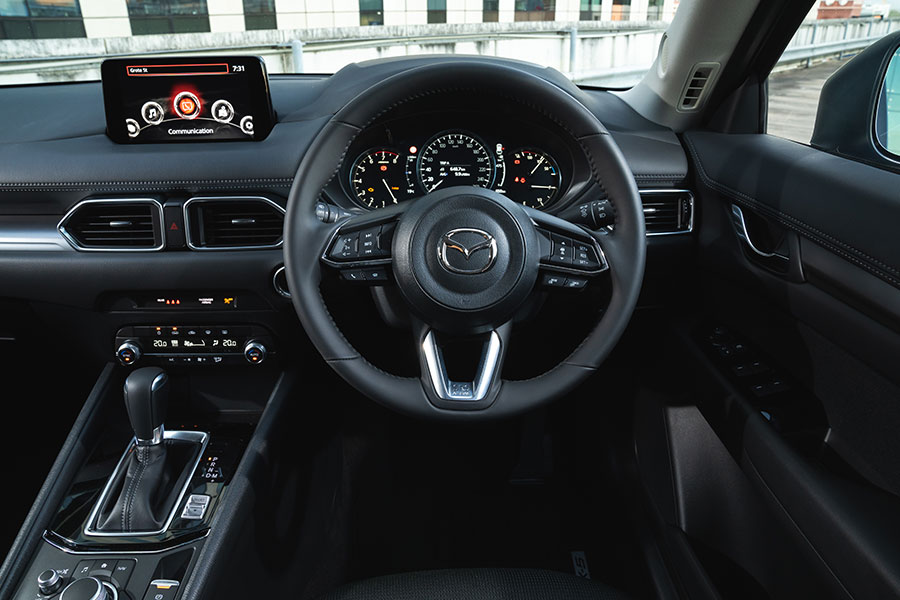 Inside the cabin, all models now come equipped with a head-up display that includes a digital speedo, as well as a 7.0-inch digital display in the instrument cluster and uprated S-shaped front seats that were first seen in the latest Mazda3.
From the Touring model grade upwards – which means the Maxx Sport misses out – the CX-5 also now gets wireless smartphone charging, while the GT SP and Akera add a powered tailgate.
There are safety and tech changes as well, which we'll get into further along.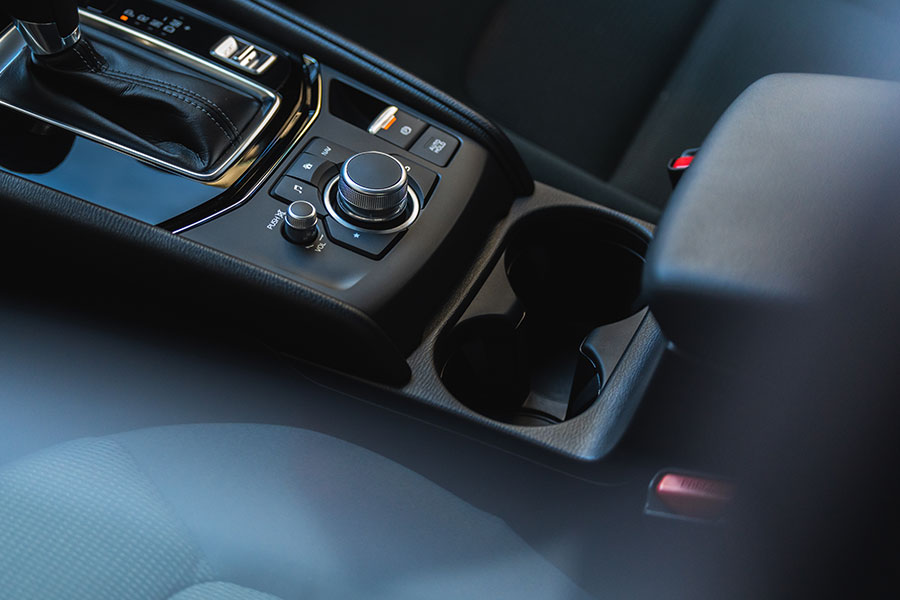 Standard equipment in the Maxx Sport includes dual-zone climate control, cloth seat trim, leather-wrapping for the gearshift knob and steering wheel, an 8.0-inch infotainment screen (only touch when stationary), sat-nav, Apple CarPlay and Android Auto wired connection, six-speaker audio, AM/FM and digital radio and USB connection front and rear. A temporary spare tyre sits under the rear floor.
The CX-5 range is covered by a five-year/unlimited-km warranty. Service intervals are at 12 months or a short 10,000km. The first five services will cost $1715 according to Mazda's helpful calculator on its website.
Safety in numbers
The 2022 Mazda CX-5 range already offered excellent safety credentials and there's very little change here compared to previous iterations.
The new HUD and LED headlights across all models are positive initiatives, while the Maxx Sport adds traffic sign recognition and the GT Sport and Akera get a semi-autonomous driving function called cruising and traffic support that assists accelerator, brake and steering functions up to 60km/h, sets a proper trailing distance when following a vehicle ahead in heavy traffic and supplements steering torque to help maintain lane position.
The flagship Akera is the only model that receives new adaptive LED headlights with 20 segments – up from 12 – that can be independently lit or extinguished to provide maximum visibility at night and prevent glare from oncoming traffic.
Importantly, all CX-5 models have a generous list of standard safety equipment that includes front, side and curtain airbags, and autonomous emergency braking with pedestrian (day and night) and cyclist (day) detection that operates in a speed range between 15-160km/h.
There's also blind spot monitoring, lane departure warning, lane keep assist, rear cross traffic alert, driver attention alert, a reversing camera and rear parking sensors. The Maxx and Maxx Sport miss out on front parking sensors.
The CX-5 comes with outboard Isofix mounting points for child seats as well as three top-tether mounts on the seatback in the second row.
The Mazda CX-5 scored a five-star ANCAP safety rating when it was tested in 2017.
It's the little things
The 2022 Mazda CX-5 is very much as you were when it comes to technical story. At its core is a monocoque frame underpinned by MacPherson strut front- and multi-link rear suspension, electrically assisted steering and disc brakes all-round.
Mazda claims it has increased the torsional rigidity and noise suppression qualities of the CX-5's to improve its driving character and overall refinement. The suspension dampers, springs and stabilisers have been retuned in search of better ride and handling and all petrol-powered CX-5s have new steering vibration countermeasures.
The engines are entirely unchanged in terms of power, torque and fuel consumption. The 2.5-litre we're focussed on here produces 140kW at 6000rpm and 252Nm at 4000rpm.
With the aid of cylinder deactivation that essentially cuts fuel to individual cylinders at cruising speeds to improve efficiency, the fuel consumption claim is 7.2L/100km (on 91 RON standard unleaded or higher) for the front-wheel drive auto combo. The driver is now alerted to when the deactivation system is operating via a new display in the instrument cluster.
A revised transmission and throttle map adjuster called Mi-Drive, accessed via a switch on the centre console, offers multiple drive modes – Normal, Sport, Tow and Off-Road - that tailors the powertrain to certain driving scenarios. The Off-Road mode is only available with AWD models.
Mazda claims the automatic gearbox is more responsive and refined than before too.
Other key features of the CX-5 remain as they were; the torque vectoring G-Vectoring Control Plus cornering aid, the on-demand i-Activ all-wheel drive system and the off-road traffic assist function introduced in 2020 that locks the rear diff to aid progress on gnarlier surfaces.
The Maxx Sport is fitted with 17-inch alloys and 225/65 R17 rubber (Yokohama Geolandars in the case of the test car) while GT Sport and Akera employ lower-profile rubber and 19-inch alloys.
In comparison to the original second-gen CX-5 that arrived in 2017, the facelift has altered some key dimensions. The revised rear bumper has reduced rear cargo space by a few cubic litres at 438/1340 litres even though the car is slightly longer at 4575mm and slightly wider at 1845mm. Height has not changed, at 1675mm for most models, and the 2700mm wheelbase is identical.
Kerb weights are up between 10 and 20kg in a range that weighs between 1521kg and 1765kg and its maximum braked towing capacity is 1800kg.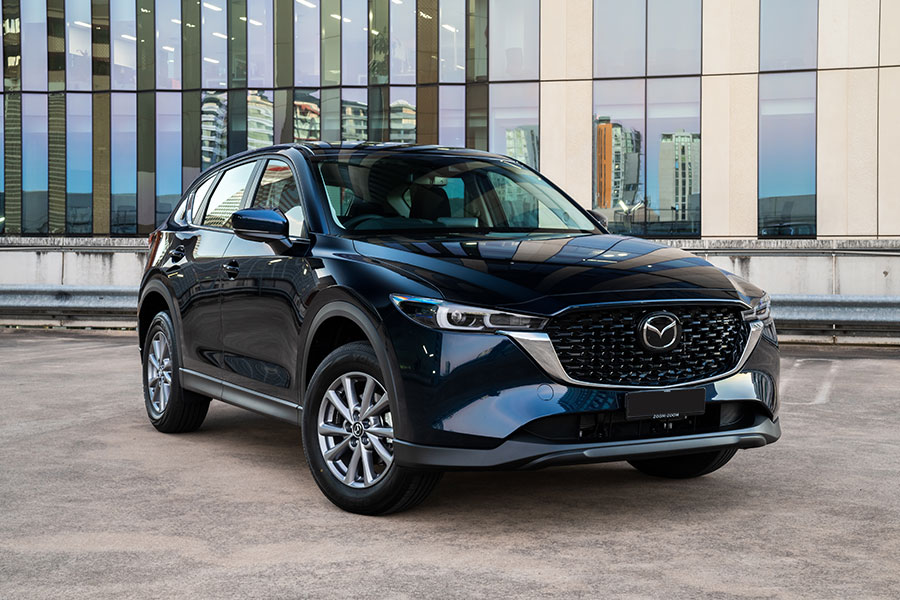 Familiar, with some surprises
For all that remains the same, there is something distinctly different about the 2022 Mazda CX-5 when you settle into the new driver's seat. And that is the seat itself.
Even though it has manual height adjustment, I couldn't adjust the cushion to sit as low as I wanted. The lack of side bolstering – especially on the base – means there's also a tendency for you to roll around a bit in corners.
But, for all that, the seat was noticeably plush and comfy, like a nicely worn-in sofa. This also applied to the Nappa leather version in the top-spec Akera.
With both telescopic and rake adjustment in the steering column, there's plenty of adjustment to help find a decent driving position.
The luxury version's seatback seemed a little bulkier than the cloth version in Maxx Sport, which reduced rear-seat kneeroom. Neither is especially generous in this regard, and there are more spacious mid-size SUVs – the Tucson for one – when it comes to carrying lankier people in the back.
The CX-5 does cater to its occupants well in terms of interior storage though, with plenty of handy cubby holes and bottle holders in all four doors.
The boot is not the biggest in class but does have a lowerable floor that can eke out slightly more room.
The driver gets the newest experience of anyone thanks to the addition of the HUD and digital readout in the middle of the three-dial analogue instrument pod. These are positive improvements, although they still can't hide the familiarity and age of the overall design.
The infotainment display is relatively small compared to rivals in this class and only acts as a touchscreen when the vehicle is stationary. When driving, it's controlled by a dial and buttons. The GT Sport and Akera get a bigger screen and eschew the touch function altogether.
Look, it works, but next-generation big screens are far more impressive and sophisticated.
While the cabin seems a bit aged in places, the interior of the CX-5 Maxx Sport is built to a high perceived quality, uses decent materials and appears well bolted together. To this day, no-one does a better job of assembling affordable vehicles than the Japanese.
Speaking from personal experience based on the ownership of multiple Mazdas, your chances of buying an utter lemon are lower than with many other brands.
And so, to the driving experience. The Maxx Sport lives up to its pricing and specification by nailing what a mid-size family-oriented SUV should be all about.
Its engine and gearbox combination is capable without being exceptional, or excessively thirsty (using between 9-10L/100km in the real world). It revs cleanly and willingly and isn't too noisy even at the top end of the tacho.
Thankfully, because the needle needs to swing up there often, especially when overtaking at highway speeds, climbing ascents and just getting on with the cut and thrust of urban motoring.
Sport mode improves the transmission's responsiveness by dropping into a lower gear earlier and holding gears for longer, although it always stays in the background. Using the flappy paddles and changing gears manually is the best solution to get the most from the engine.
If you want a more effortless driving experience, then opt for one of the diesel-powered models. But be prepared to pay at least an extra $7690 for the privilege (the cheapest option is the $45,680 Touring Active diesel).
The Sport Maxx's ride and handling balance is typical from Mazda in that it delivers a slightly firm set-up at low speeds in return for better body control through corners on the open road. The steering becomes lighter, less rubbery and more accurate once you turn off lane assist and its artificial resistance.
All up, it's a dynamic combination that is comfortable and yet delivers a confident and sure-footed driving experience.
Certainly, the Maxx offers a better compromise than the Akera on its 19s with lower-profile tyres, which banged and crashed across lateral and sharp-edged bumps and holes around town. It settled down as speeds increased but the overall character continued to be busy. The lower-priced CX-5 is definitely the nicer car to travel in.
The MaxxSport verdict
To be frank, the 2022 Mazda CX-5 hasn't moved the needle very far. When the press kit devotes as much space to the movement of the seat heater buttons from the door to the centre console as it does about any oily bits that much becomes obvious.
But the small changes are worthwhile, and it doesn't change the fundamentals of the car or its competitiveness in the mid-size SUV segment.
Ultimately, the CX-5 Maxx Sport emphasises its value. At a time when new-vehicle prices are trending upwards by thousands of dollars, the CX-5 Maxx Sport is now better equipped, safer and a little more stylish than it was before while still remaining affordable and a sensibly enjoyable car to drive.
How much does the 2022 Mazda CX-5 Maxx Sport cost?
Price: 
$38,190 (plus on-road costs)
Transmission: 
Six-speed automatic
Available: 
Now
Fuel: 
7.2L/100km (ADR combined)
Engine: 
2.5-litre four-cylinder turbo-petrol mild-hybrid
CO2: 
167g/100km (ADR combined)
Output: 
140kW/252Nm
Safety rating: 
Five-star (ANCAP 2017)
Disclaimer: Images supplied by Mazda Australia.
This article was prepared by an independent author. The information contained in this article represents the views and opinions of the original author, and is based on research carried out by the original author. The appearance of the article on Maxxia's website does not constitute an endorsement of its content by Maxxia in any way. The article has been made available for informational purposes only and should not be taken as advice. While all reasonable care has been taken to ensure that the statements made by the original author in the article are fair and accurate, Maxxia does not guarantee or warrant the accuracy or completeness of this information and will not be liable for, or in connection with, any loss or damage suffered as a result of any inaccuracies, errors or omissions or your reliance on this information. You should independently research and verify information before making any decision in respect of a vehicle.