By Bruce Newton, carsales.com.au
Moving metal gets harder over time. That's not a definitive physical formula that would be endorsed by Isaac Newton or Albert Einstein, but it rings true when talking about cars.
See, once the novelty of a vehicle's newness has died down and the headlines start to fade, it becomes harder for car companies to maintain high levels of demand and keep the order books filled.
So, it's not unusual for brands to create a bit more buzz with small batches of limited or special edition models, which is exactly what we have here with the Mazda BT-50 LE.
Basically, it's a dressed-up mid-spec BT-50 XTR with a few accessories from the Mazda catalogue the brand says offers $2500 of value if you ordered them separately from the dealer despite it costing $5165 more than the standard version.
Fundamentally though, nothing here changes the character of Mazda's work-and-play truck. Like every other current-generation BT-50, the LE is a technical clone of the Isuzu D-MAX with bespoke exterior styling overlaid.
That's no bad thing given the Isuzu's excellent reputation for reliability, but let's find out if it is actually special.
More for more…
Based on the XTR dual-cab 4x4 3.0-litre turbodiesel six-speed auto, the 2023 Mazda BT-50 LE is priced at $64,295 plus on-road costs.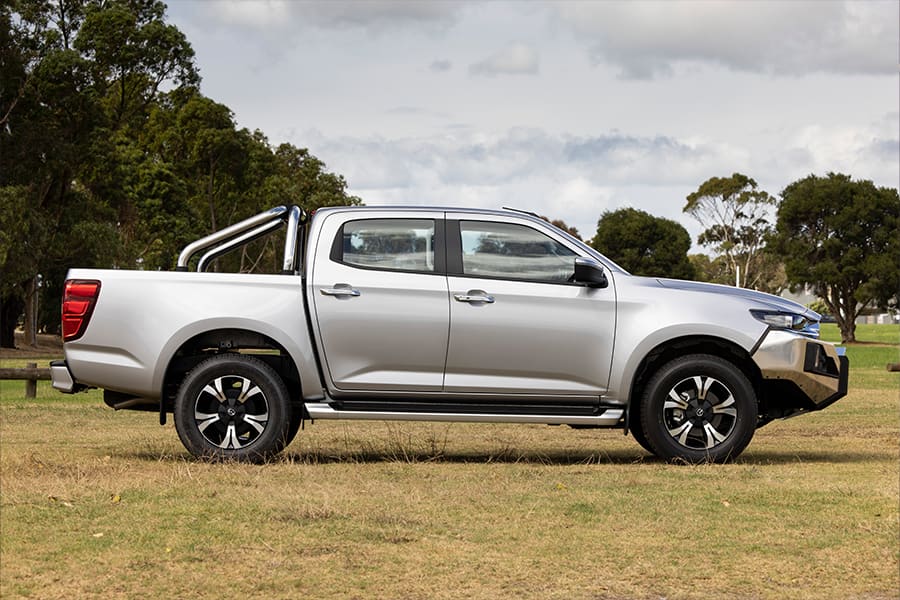 That puts it near the top of the BT-50 line-up, slotting in above the GT ($62,510 plus ORCs) and below the SP ($68,510 plus ORCs) and the flagship Thunder ($73,410 plus ORCs).
The LE's pricing pitches it against the likes of the Ford Ranger XLT and Sport and the Isuzu D-MAX LS-U+. It's more expensive than any Mitsubishi Triton or Nissan Navara apart from the PRO-4X Warrior, and slots into white space within the Toyota HiLux range between the SR5 and Rogue.
While dubbed the LE, the reality is this is one special-edition for which there is no limited build number. It all depends on buyer interest.
Accessorising
Key to the 2023 Mazda BT-50 LE is the standard fitment of three accessories plucked from the Mazda parts bin: a hooped alloy bull bar, a sports bar, and a drop-in tub liner.
While the LE asks a hefty $5165 whack on top of a standard XTR auto, Mazda says specifying the same accessories separately when buying a BT-50 would cost an extra $2500 over the LE's price.
The bull bar and sports bar are polished versions of the ones used by the BT-50 Thunder, albeit without the sailplane the latter has.
There are a couple of things to note here; the approach angle of the LE (and Thunder) is reduced compared to the standard BT-50 bumper, while the combination of accessories reduces total payload compared to the XTR.
So, in a way you're paying more for less.
The XTR comes standard with 18-inch alloy wheels, silver side steps, daytime running lamps and body-coloured power-folding mirrors.
Inside the cabin, it features dual-zone climate control with rear vents, a leather-wrapped steering wheel and gear knob, black cloth seat trim with smatterings of leather-y stuff, keyless entry with push-button start and a carpeted floor (replacing vinyl in cheaper models).
The front seats miss out on power adjustment, which is disappointing at this price.
Like all BT-50s, the LE comes with a five-year/unlimited-kilometre warranty. Service intervals are 12 months/15,000km and add up to $2404 for the first five workshop visits according to Mazda's online maintenance guide.
Same space
The 2023 Mazda BT-50 LE is unchanged from the XTR it is based on internally and that's no bad thing.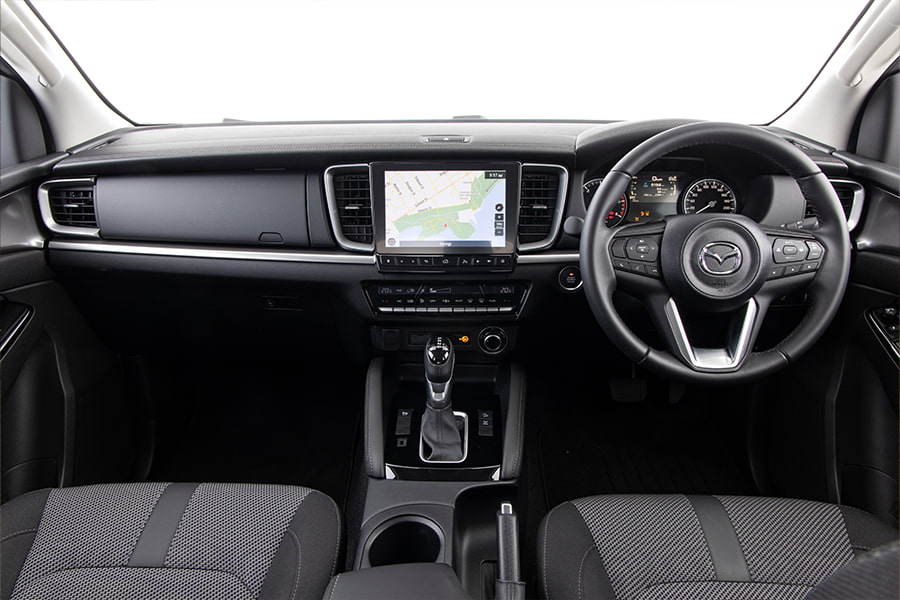 The driver's seat is comfortable, quite generous in size and has some supportive bolstering. The steering wheel is adjustable for reach and rake.
Interaction with the touch screen is uncomplicated. But push buttons rule the roost for things like audio volume when dials are actually quicker and easier. Thankfully, the air-con gets its own set of buttons.
Most people will quickly choose to plug in Apple CarPlay or Android Auto rather than stick with the standard infotainment system. The smartphone apps are just so much easier and clearer to use.
Space in the rear seat is adequate for a 180cm-tall passenger behind a similarly sized driver, although they will have to sit with their knees-up because of the high floor, which is typical of a ladder-frame vehicle.
There are numerous storage options including a double glove box and a lidded bin up front, door bins front and rear, a fold-down rear armrest that includes two cup holders and even a curry hook on the back of the front passenger seat.
The rear seat base split-folds upward and has storage underneath.
Notably missing compared to the D-MAX is a lidded bin tucked into the flat dash-top.
The trim presentation is pretty dour, enlivened by some dash-top faux stitching and piano black around the centre console.
Padding on the door armrest and lidded bin are both appreciated. Too often in utes those surfaces are elbow-bruisingly hard.
Safe as houses
The 2023 Mazda BT-50 LE comes with a five-star ANCAP rating based on 2022 guidelines.
The LE includes a comprehensive amount of driver assist safety kit. The starting point is autonomous emergency braking (AEB) that operates between 5-160km/h and includes pedestrian and cyclist detection. That teams with adaptive cruise that includes a stop-and-go function, as well as blind spot monitoring, lane keep assist, lane departure warning and prevention, rear cross traffic alert and a secondary collision function that slams on the brakes when the airbag sensors detect a collision.
The BT-50 LE also includes driver attention monitoring, hill descent control and launch assist, roll-over protection, traffic sign recognition and tyre pressure monitoring.
A reversing camera and rear parking sensors are fitted, but there are no front parking sensors. LED headlights are standard, as are front, curtain, centre, and driver's knee airbags.
There are two ISOFIX and two top tether restraints in the rear seat.
Mazda says the new bull bar has been designed to integrate fully with the safety systems of the BT-50 LE, "ensuring crumple zones, airbag and assistance systems are unhindered".
Techno-cratic
There is nothing new in terms of cabin tech between the 2023 Mazda BT-50 LE and the donor XTR.
A 9.0-inch infotainment touch-screen juts from the dashboard through which Apple CarPlay (wireless and USB connection), Android Auto (USB only), Bluetooth phone and audio, DAB+, AM and FM radio sources and satellite navigation are accessed.
The LE's audio system includes eight speakers, which can be prone to distortion at high volumes.
A 4.2-inch information display is housed between the analogue dials in the instrument cluster and includes a digital speedo.
There are steering wheel-mounted audio controls, and USB connection points are fitted in the front and back seat.
Smooth operator
As mentioned, the Mazda BT-50 is the Isuzu D-MAX's non-identical technical twin. That includes the 3.0-litre four-cylinder turbodiesel that powers the 2023 Mazda BT-50 LE.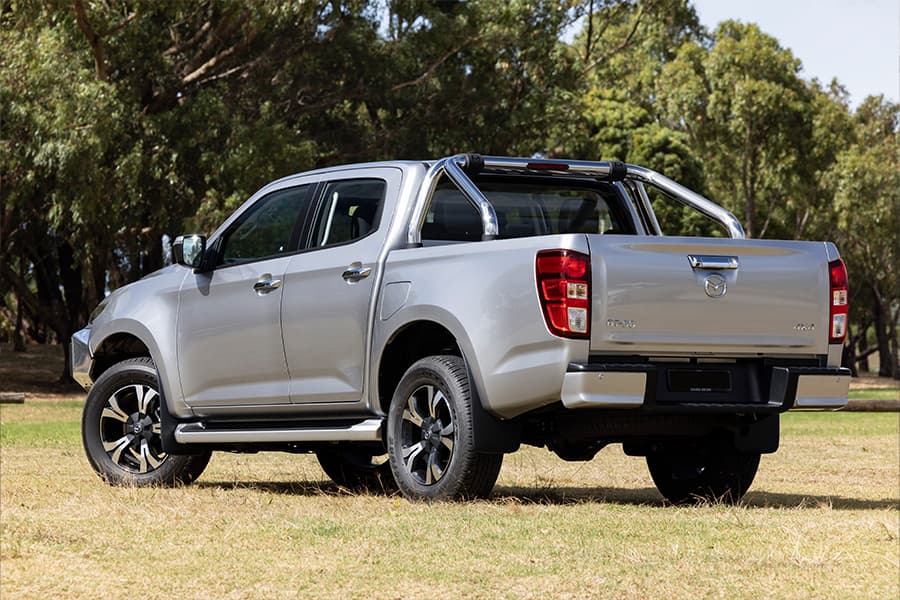 Unchanged from any other model in the range, the engine makes 140kW of power at 3600rpm and 450Nm of torque at 1600-2600rpm.
It hooks up exclusively to a six-speed auto in the LE and drives via a part-time four-wheel drive transmission with low range and a locking rear diff.
The engine includes chain-driven double overhead camshafts, four valves per cylinder, common-rail fuel injection, a single variable-geometry turbocharger, a cast-iron block, and aluminium-alloy cylinder head.
There are no on- or off-road modes to tailor the powertrain characteristics to specific driving conditions.
To the nines
Mazda claims the 2023 BT-50 LE has an average fuel consumption figure of 8.0L/100km. However, our real-world results indicated that is more likely to sit in the mid-to-high nines.
That's in the ballpark for these types of vehicles, although as we found last year it can steeple higher.
Simple pleasures
The 2023 Mazda BT-50 LE is a classic ute design: a simple ladder-frame chassis is at its core, combined with double-wishbone front suspension and a live-axle leaf-spring rear-end.
The steering system is an electrically assisted rack and pinion, and the brakes are a front disc/rear drum combination. The latter is starting to look a bit outmoded as other ute makers evolve to an all-disc setup.
Anyone who has spent time in a current BT-50 or D-MAX will find driving the LE is a familiar experience.
The engine is earnest, strong and a bit rough and noisy around the edges. It's a slow revver, which makes it feel a bit lethargic. But its deep torque reserves of pulling power helps it hold taller gears and chew less fuel.
It melds well with its automatic gearbox to deliver – by ute standards – a pretty smooth experience. The auto can also be commendably proactive, changing down into corners to provide braking support. Manual changing is available by the lever but isn't really needed.
Similarly, the chassis set-up is competent. Steering is accurate for a ute and even provides some feedback through the wheel. It handles corners in dry conditions without getting too sloppy, slidey and loose.
On greasier bitumen though, there were some wayward moments from the rear-end when left in rear-drive.
Carrying only minimal loads in the tray during our test, the ride was a bit sharp and stiff and there was some agricultural clunks and bangs from the unloaded inside rear wheel in bumpy corners.
Under-floor noise dampening is good, with little gravel and rock spatter seeping through on gravel roads.
To be honest, if the Ford Ranger hadn't set such a high watermark, then the LE would get better reviews for both its ride and handling. But the Ford has arrived and reset the bar for utes.
As a result, this vehicle feels like the best of the rest, but a generation behind the best.
The LE suffers from the same over-active lane keeping interference as the rest of the BT and D-MAX ranges. Thankfully it's a simple job to switch it off via a button on the steering wheel.
The LE has the same 3500kg braked towing capacity as most of the BT-50 range. It weighs in at 2111kg, has a 3100kg gross vehicle mass, a 6000kg gross combined mass and a 989kg payload. That compares to the XTR's 1070kg payload.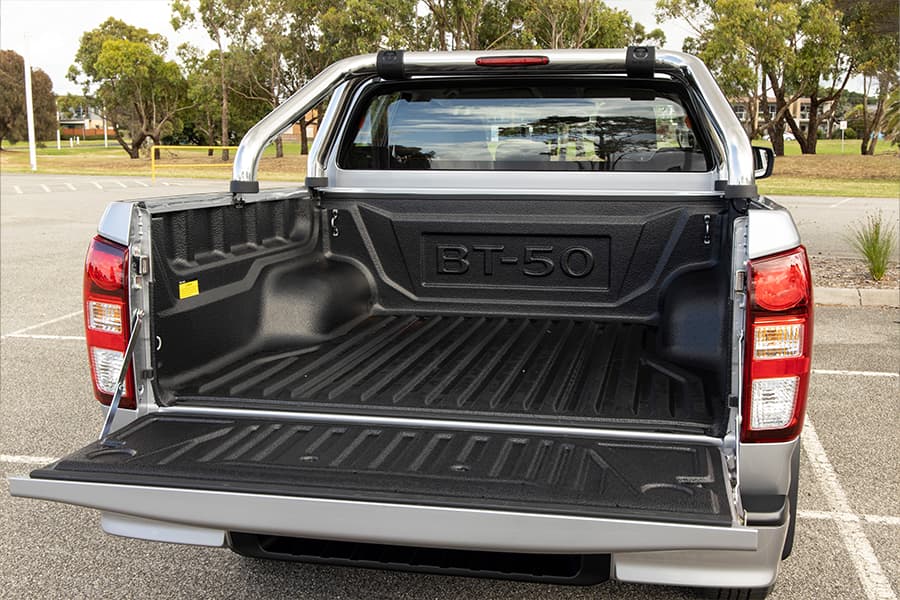 The rear box measures 490mm high x 1571mm long x 1531mm wide (1120mm between the arches) and access is via a heavy tailgate that has no dampening and clangs jarringly if not lowered by hand. There are hooks for tie-down points but no lights in the cargo area.
The LE's sports bar comes without any lights and is mounted on metal plates that protrude into the box in a way that appears to be an afterthought.
Off the beaten path
With its 4x4 system backed up by low range, a locking rear diff, decent 240mm ground clearance and 800mm wading depth, the 2023 Mazda BT-50 LE is a capable off-road adventurer.
Its gearing and throttle modulation is also helpful in off-road situations.
The question is does the new bull bar help or compromise its abilities? The approach angle for the Thunder (and therefore the LE) is officially given at 25.8 degrees compared to 30 degrees for the standard BT-50 fascia.
However, Mazda argues the practical driving experience is improved because the taper on the bull bar means more clearance when approaching obstacles at an angle. That certainly makes sense when judged via the naked eye.
The standard Bridgestone Duelers are a quality tyre for all-round conditions. But if you want to get serious with your off-road work then you may want to consider upgrading the rubber.
You will also graunch the side steps in the gnarlier stuff as well, so maybe a shift to rock rails would also be recommended.
Still going strong
The 2023 Mazda BT-50 LE doesn't alter our opinion of the BT-50 as one of the best dual-cab 4x4 utes going around.
The added accessories have some plus and minus points as we've mentioned. Personally, I'd rather have the security of a lockable tonneau cover than a sports bar.
If you do fancy the combination of accessories the LE adds to an XTR and want to save a bit of money, then it will appeal.
If it doesn't, then the standard XTR will be more than adequate. And you'll have $5k spare change.
2023 Mazda BT-50 XTR LE at a glance:
Editor's Rating: 7.5/10
Price: 
$64,295 (plus on-road costs)
Transmission: 
Six-speed automatic
Available: 
Now
Fuel: 
8.0L/100km (ADR Combined)
Engine: 
3.0-litre four-cylinder turbodiesel
CO2:
206g/km (ADR Combined)
Output:
140kW/450Nm
Safety rating: 
Five-star (ANCAP 2022)
Disclaimer: Images supplied by Carsales.
This article was prepared by an independent author. The information contained in this article represents the views and opinions of the original author, and is based on research carried out by the original author. The appearance of the article on Maxxia's website does not constitute an endorsement of its content by Maxxia in any way. The article has been made available for informational purposes only and should not be taken as advice. While all reasonable care has been taken to ensure that the statements made by the original author in the article are fair and accurate, Maxxia does not guarantee or warrant the accuracy or completeness of this information and will not be liable for, or in connection with, any loss or damage suffered as a result of any inaccuracies, errors or omissions or your reliance on this information. You should independently research and verify information before making any decision in respect of a vehicle.