By Bruce Newton, carsales.com.au
Hyundai has used the past to move the electric car forward. The South Korean car maker has borrowed from the earliest innovations in aerodynamics with the second model from its Ioniq dedicated electric car sub-brand, the Ioniq 6, featuring a sleek and slippery body that takes inspiration from the streamliners of the 1920s and 1930s.
While looking radically different to the retro-futuristic Ioniq 5, the four-door sedan uses the same E-GMP platform, as well as hardware, software, and powertrains, to create a totally unique alternative to the popular Tesla Model 3.
The problem is – for both Hyundai and consumers – that only 1300 examples are headed our way in 2023, and it costs significantly more than Australia's best-selling EV.
So, let's take it for a spin to see if it's a worthy challenger.
Single or double
Hyundai offers the Ioniq 6 in three different specifications, starting with the entry-level Dynamiq at $74,000 (plus on-road costs) which is the only variant with a single motor driving the rear axle.
Both the mid-level Techniq ($83,500 plus ORCs) and range-topping Epiq ($88,000 plus ORCs) feature a dual-motor set-up with all-wheel drive.
That positions all three Ioniq 6 variants outside any of the various state and territory government rebates, but the Dynamiq and Techniq fall under the threshold to access the federal government's FBT exemption for company cars.
Naturally, the Ioniq 6 will be shopped against the Tesla Model 3, which has a significantly cheaper starting price at $64,300 (plus ORCs) for the single motor, rear drive model. Things even up in the middle of the range, while the Tesla Model 3 Performance stretches beyond the range topping Ioniq 6.
Alternatively, the Polestar 2 also undercuts the Ioniq 6, while the base-model BMW i4 isn't that far up the pricing ladder.
If you're not wedded to buying an electric passenger car then there are SUV options such as the Tesla Model Y, the Kia EV6 and the Hyundai Ioniq 5 – the latter two share their Hyundai Group E-GMP technical underpinnings with the Ioniq 6.
Full of fruit
The 2023 Hyundai Ioniq 6 line-up has a comprehensive equipment list and the flagship Epiq we're testing here cops the lot.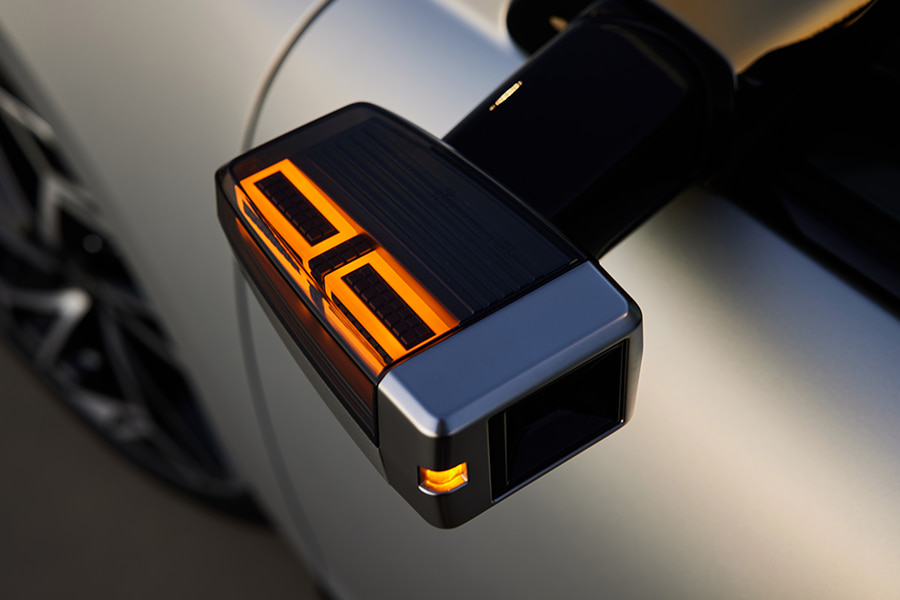 It alone includes digital side mirrors that display imagery on screens tucked into either end of the dashboard, a heat pump for more efficient cabin climate control and battery conditioning for faster DC charging.
It also comes with 20-inch alloy wheels fitted with EV-specific Pirelli P Zero rubber (as does the mid-grade Techniq) whereas the base model Dynamiq has smaller 18-inch wheels with Hankook Ventus tyres.
The Techniq and Dynamiq also get ventilated front seats that recline fully flat, steering wheel and rear seat heating and a full-width powered sunroof.
All three models include dual-zone climate control with rear vents, a new slimline design for front seats with heating, eco-processed leather seat trim, leather steering wheel trim, alloy pedals, alloy scuff plates, an electric park brake, powered flush-fitting door handles, keyless entry/start and a power tailgate. There is no spare tyre, only a mobility kit.
New two-colour ambient interior lighting can be adjusted through six themes to reflect your mood and can change intensity as road speeds vary.
There are eight exterior paint choices and four interior trims they can be paired with. The only Ioniq 6 option is matte Gravity Gold paint for $1000.
Hyundai doesn't offer free charging or wall box installation to go with the Ioniq 6, which seems a bit of a miss for a car in this price range. It does come with an emergency trickle-charging cable.
The Ioniq 6 comes with a five-year/unlimited-kilometre warranty and an eight-year/160,000km high-voltage battery warranty.
Service intervals are every 24 months and 30,000km, reflecting the reduced maintenance requirements EVs need. The scheduled service charge for each of the first two visits is $560.
Familiar spaces
The interior of the 2023 Hyundai Ioniq 6 is not as original and striking as the exterior. It's more like the Ioniq 5 with occasional switchgear bits and bobs evident from the wider Hyundai/Kia/Genesis range as well.
The darker trim we spent most of our time with was a bit drab. Lighter trims work better.
Some trims are made from stuff like recycled fishing nets and sugar cane waste. Happily, you can't tell.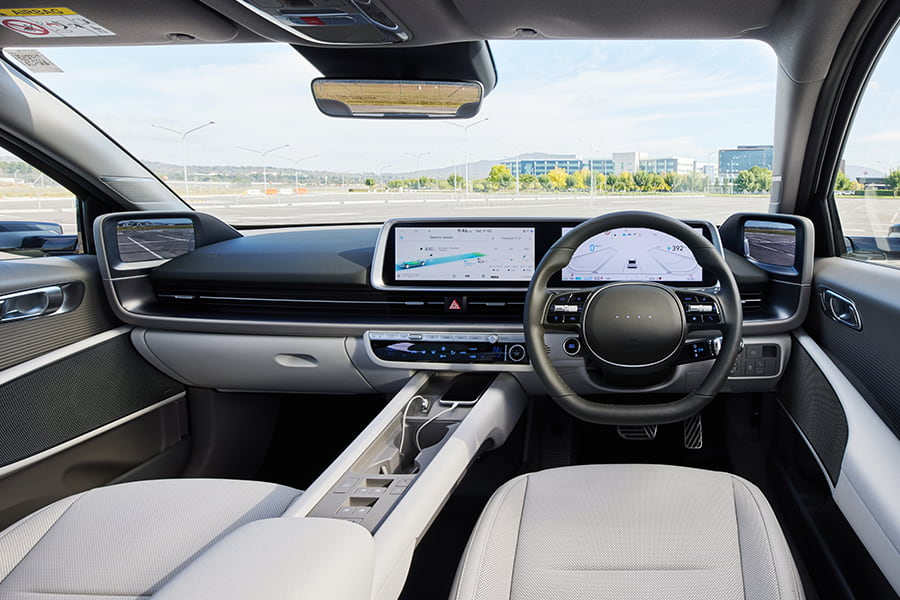 The presentation is simple and spacious, with much of the complexity hidden from view in the sub-menus of the infotainment and instrument screens. You have to drill into the touch screen to turn off the climate control.
Having said that, this is not as complex as these systems can get. There are simple ways to access controls such as air-con settings and basic audio functions without dabbing at screens.
Being able to set the speedo to the centre of in the instrument panel would be an improvement as it sits to the left and can be obscured by the turning steering wheel.
That, by the way, has only two spokes and a flat bottom, as well as four-pixel mood lights in the boss that change colour depending on what function is engaged. Interesting but rarely noticed, to be honest.
The steering wheel adjusts for reach and rake, which is as it should be. There is a big left footrest, and the front seats offer plenty of adjustment, even if they lack side support in the cushion. The backrest does that job better.
The digital rear-view cameras in the Epiq don't adjust wide enough or high enough for me. Too much of the screen is occupied by tarmac and the side of the car.
Hyundai has also moved all the power window controls from the driver's door to the centre console. It makes for a thinner, stylish look and provides easier access to door pockets although it takes some getting used to.
When assessing the rear seat, you'll encounter a stupendous amount of leg space. The new slimline front seats help with that as does the E-GMP platform, which provides a flat floor.
Headroom isn't as generous, but it isn't too bad for adults up to 180cm tall. Just keep your bouffant under control.
The pillars and shallow side and rear windows create vision blind spots. The sloping roofline and conventional ride height makes it feel like you are diving into a cave entering the rear seat.
The 401L boot is relatively small because of all the e-motor gubbins under the floor. But you can fold down the rear seats to expand the space. There's also a tiny frunk in the AWD models and a slightly larger one in the Dynamiq.
Cabin storage is generous as the flying bridge centre console liberates lots of space for your junk, and the drawer-type glove box also offers plenty of room. There are door bins all-round and seat-back pockets as well.
Top shelf safety
All three Hyundai Ioniq 6 models feature the same comprehensive suite of safety features and a five-star ANCAP rating based on the latest 2023 protocols.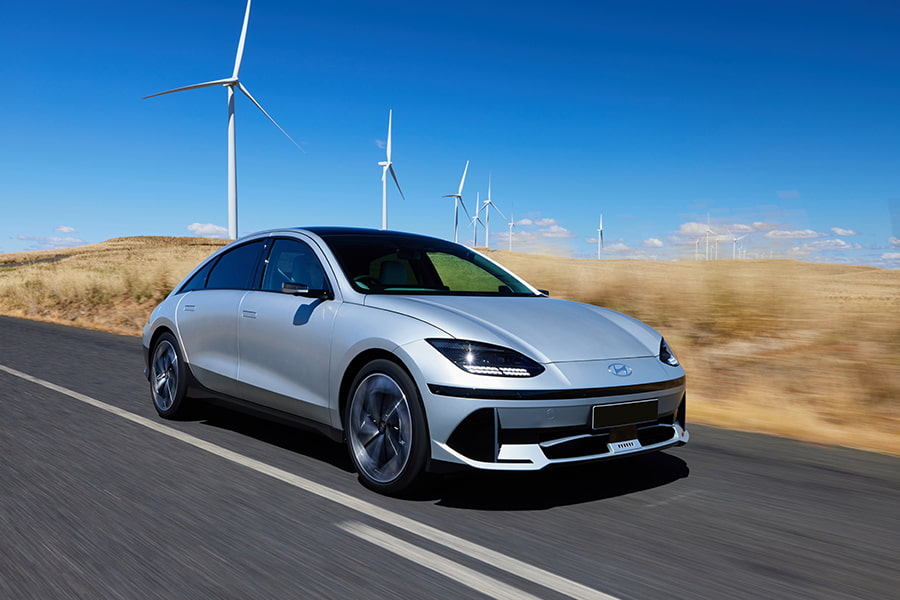 It also introduces several new safety features to the Hyundai line-up in Australia, including Intelligent Front Lighting that adjusts the LED light beam to avoid blinding oncoming traffic.
The forward collision avoidance assist reacts in more emergency scenarios too, such as added low-speed parking assist collision avoidance parameters and the reverse parking system can now operate in more situations including diagonal spaces.
As per Ioniq 5, the system also operates remotely from outside the car.
These updates are part of a long list of driver assistance systems (DAS) led by autonomous emergency braking (AEB) that can detect vehicles, pedestrians, or cyclists.
It can attempt to brake for vehicles between 10km/h and 200km/h and pedestrians and cyclists up to 75km/h.
Other DAS includes evasive steering assist and crash avoidance systems for junctions, oncoming traffic, lane changing, reversing and when vehicles are in the blind spot on the road or when exiting a parking spot.
The Ioniq 6 can also emit an audible warning when it detects oncoming traffic while a door is being opened. And, when the indicator stalk is activated, vision of the blind spot is displayed in the digital dash.
Other features include driver tiredness monitoring, speed limit monitoring, lane keeping and following and adaptive cruise control with stop-and-go that issues an alert when the vehicle in front moves off.
The safety suite is rounded off by a 360-degree camera, front and rear parking sensors and seven airbags including a front-centre airbag.
There are two outboard ISOFIX mounts in the rear seat and three child seat top tethers.
Cutting edge tech
The 2023 Hyundai Ioniq 6 is the first Hyundai in Australia capable of accepting over-the-air (OTA) updates and the first of the company's electric vehicles to feature Bluelink connected car access.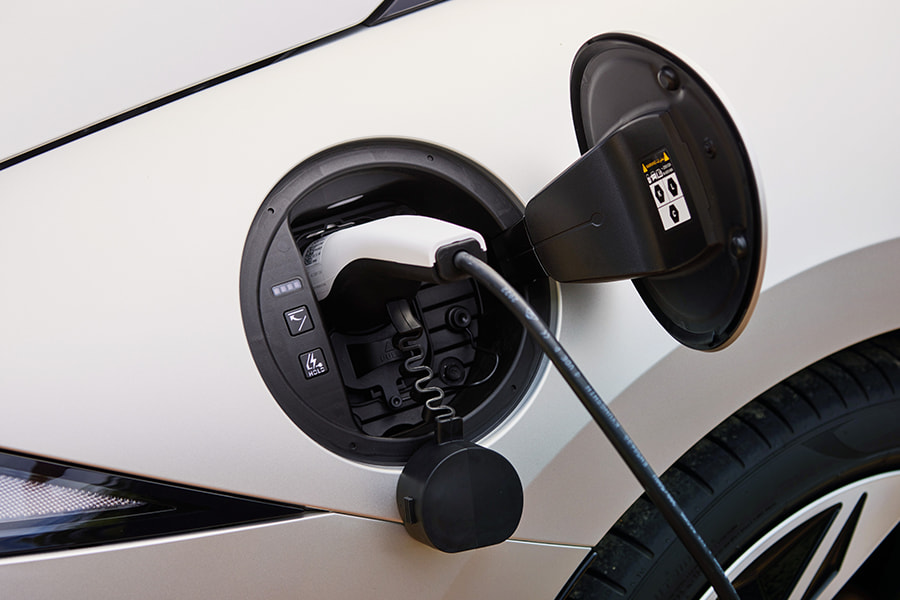 OTA allows navigation systems and performance features like charging to be refreshed and improved without having to visit a dealership while Bluelink is complimentary for IONIQ 6 owners for five years and is transferrable with the car to a new owner.
Services accessible through the Bluelink app include snapshots of the vehicle surrounds via the 360-degree camera, remote start, and climate control operation, lock/unlock, car finding and much more.
EV-specific settings that debut with Ioniq 6's version of the Bluelink app include charge scheduling, energy consumption monitoring and driving distance limits.
Beyond those, Ioniq 6 tech is very similar to Ioniq 5 with all three models featuring two digital 12.3-inch screens on the dashboard – one acting as an instrument panel with a very clear head-up display in the windscreen above it, and the other as an infotainment touch screen.
Apple CarPlay and Android Auto are standard but are connected by cable rather than wireless as per the usual Hyundai Group settings. However, there is wireless smartphone charging.
The Ioniq 6 has one USB-A multimedia port in the centre console, two USB-C charging ports in the centre lidded bin and two USB-C charging ports for rear seat passengers.
The Ioniq 6 also comes standard with embedded sat-nav, multi-Bluetooth connectivity, AM/FM, and DAB+ radio and a Bose eight-speaker audio system.
Power and Magnetism
The 2023 Hyundai Ioniq 6 is a dedicated battery electric vehicle available with either a single motor in the base-model Dynamiq or dual motors in the Techniq and Epiq variants.
All models use permanent magnetic synchronous e-motors with single-speed reduction gears, with the former producing 168kW and 350Nm while the latter has 239kW and 605Nm.
The Dynamiq can accelerate from 0-100km/h in 7.4 seconds and the all-wheel drive models in an impressive – if not outlandish these days – 5.1 seconds.
Hyundai says max power, and therefore acceleration rates, can only be tapped in Sport mode, which is selectable via a button on the steering wheel.
The other modes are Eco (which dulls responses noticeably), Normal (which doesn't) and Custom. The latter allows the driver to vary throttle sensitivity, steering weight and – in Techniq and Epiq – all-wheel drive tune. It has no impact on the passive MacPherson strut/multi-link suspension set-up.
Separately, regenerative braking response can be tuned to Normal or Sport modes, the latter designed to provide sharper response to pedal pressure.
Slipping through the air
Whether you love or loathe the Ioniq 6's styling, it serves a functional as well as emotional purpose.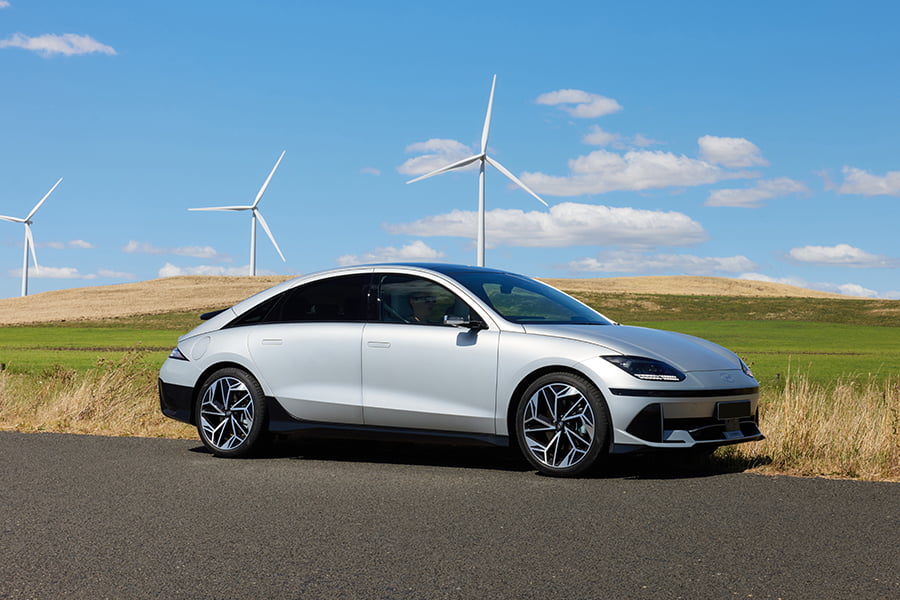 Its slippery shape provides a 0.217Cd drag coefficient figure, making the Ioniq 6 the second-most aerodynamic production car today behind the Mercedes-Benz EQE.
What that means is that the Ioniq 6 uses loses less energy from its 77kWh lithium-ion battery to push it through the air, resulting in extended driving range between charges.
As a result, the Ioniq 6 Dynamiq claims an excellent 614km range based on the WLTP testing regime.
The Dynamiq also claims an ultra-efficient 14.3kWh/100km consumption rate, which outdoes the frugal rear-wheel drive Tesla Model 3, which manages 14.9kWh/100km.
On bigger wheels and with more power and weight to manage, the Techniq and Epiq claim identical 519km and a 16.9kWh/100km averages. A Long Range dual-motor Tesla Model 3 does better at 602km and 16kWh/100km.
Those Ioniq 6 numbers are better than the bulky Ioniq 5, which says something considering they share the same powertrain.
Recharging is aided by the E-GMP platform's clever electric architecture that can operate at the orthodox 400 volts or ramp up to the faster 800 volts.
As a result, the Ioniq 6 can take as little as 18 minutes for a 10-80 per cent refill using an ultra-fast DC charger.
While Hyundai is proud about its DC 350kW charging rate, the reality is it can achieve a best rate of around 230kW. This is still pretty darn good.
A 7kW AC wall box recharge will take 11 hours and 45 minutes to go from zero to 100 per cent, while a 230V trickle recharger would take 34 hours and 20 minutes. Hope you've got a good book.
The Ioniq 6 can regenerate energy on the run via braking. It has flappy paddles on the steering wheel to manipulate the amount of regen from zero to full-on one-pedal braking.
It can also automatically judge the amount of regen based on the speed of the vehicle ahead, following distance and navigation data.
Sporty driving character
The 2023 Hyundai Ioniq 6 builds on its unique exterior design with an equally individual driving character.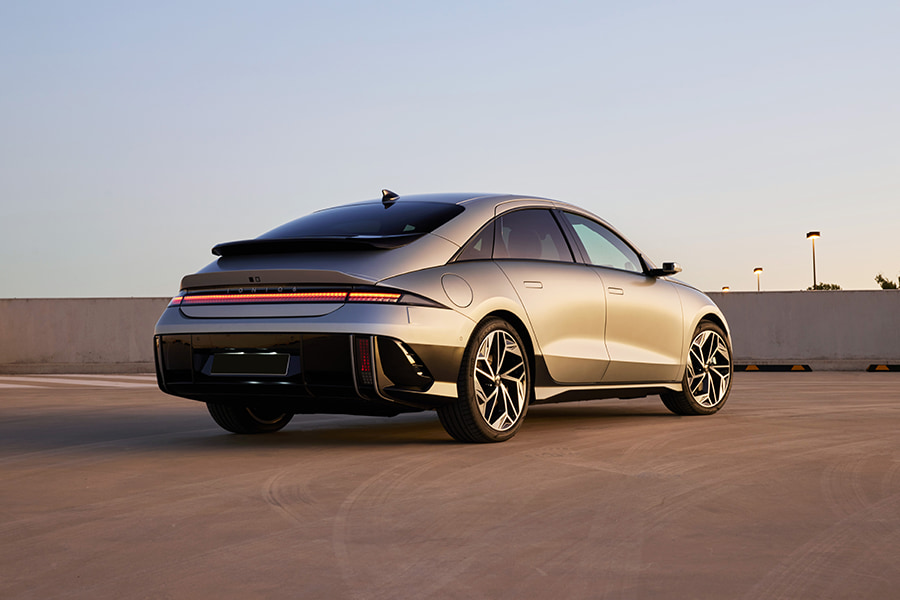 The longer and lower, three-box body style is stiffer than the Ioniq 5, which subsequently results in revised suspension and steering settings that makes the Ioniq 6 feel tauter, sharper, and more responsive.
Those 245/40 R20 Pirelli P Zeros no doubt help the Epiq reinforce that, as they grip up and help point and shoot the Ioniq 6 between corners, exploiting that consistently fabulous dual e-motor grunt.
But let's be clear, the Epiq is hardly a gymnast. Measuring 4855mm long, 1885mm wide, 1495mm high, and riding on a long 2950mm wheelbase it also weighs in at a substantial 2078kg (tare).
Even with the battery positioned low in the chassis and between the axles to help centre of gravity, it feels more at home in big sweeping bends than it does in a series of ridge-climbing hairpins.
The primary downside of this more sporting nature is a rougher ride. It rarely gets downright ugly, but on the lower-profile Pirellis you are aware of small-bump patter as well as coarse-chip roar.
There is an argument here for a greater dynamic range through adaptive dampers, especially considering the money being spent.
The Ioniq 6 Epiq isn't quite as compelling braking into and steering through a corner as blasting between them on the straights. In one test car I found it difficult to modulate the brake as smoothly as I wanted to, while the electric assist steering consistently felt too distant and inert to be truly communicative.
There is no doubt it's still a fun car to drive on a winding road – and we drove some beauties during the launch in the Victorian high country – but if there was a Kia EV6 GT on offer as well there would have been a fight for its driver's seat.
At a more relaxed pace, the Ioniq 6 is a quiet, flexible, smooth, and refined cruiser in the way EVs are just so well suited to being.
You can amp up some artificial noise to make the powertrain more visceral, but it seems just a manufactured waste of energy.
The ride harshness might get a bit irritating if you're daily commute is on a patchy road, but otherwise it's easy to imagine plenty of people handing over their cash based on the style and then coming to enjoy the pleasant driving characteristics later.
In fact, by far the most annoying thing about driving the Ioniq 6 is its desire to bing and bong warnings for speeding and steering out of lane. The speed warning – and therefore traffic sign recognition – must be turned off via laborious multi-step drill into touch-screen menus every time the car is turned on.
It's the result of some bureaucratic bulldust in Europe that washes over onto us here. Come on Hyundai, just give us a button on the dashboard that turns it off permanently.
Because we spent so much time during this drive on flowing country roads, the regenerative braking didn't get a big workout. But we know from experience the Hyundai system is effective. The one-pedal function does pull you up.
A longer drive test in more typical circumstances will deliver a more realistic verdict on real-world economy than the 20-plus kWh/100km we were averaging.
Uniquely compelling
With only 1300 examples of the 2023 Hyundai Ioniq 6 headed to Australia this year, and 300 of them already accounted for, it's less about whether you should buy one than can you find one to buy?
There are surely enough people in Australia attracted by its unique style to fill that order book.
The styling is backed up by a convincing driving experience if you like a sports-tinged flavour, lots of safety gear, tech wizardry and based on Hyundai's claims – more than our less-than-indicative experience – range-anxiety-beating economy as well.
It's all pretty compelling apart from the pricing.
Gee, it would have been good if Hyundai had pitched the Ioniq 6 head-to-head with Tesla Model 3 and given the many buyers flocking to the all-conquering Musk-mobile something more to ponder.
But it isn't so they won't. The Ioniq 6 is a decent car destined to remain a bit player unless pricing becomes more competitive and supply frees up.
2023 Hyundai IONIQ 6 Epiq at a glance:
Editor's Rating: 7.9/10
Price: 
from $88,000 (plus on-road costs)
Battery: 
77.4kWh lithium-ion
Available: 
Now
Range: 
519km (WLTP)
Powertrain: 
Dual permanent magnet synchronous motors
Energy consumption:
16.9kWh/100km (WLTP)
Output:
239kW/605Nm
Safety rating: 
Five-star (ANCAP 2023)
Transmission:
Single-speed reduction gears
Disclaimer: Images supplied by Hyundai Australia.
This article was prepared by an independent author. The information contained in this article represents the views and opinions of the original author, and is based on research carried out by the original author. The appearance of the article on Maxxia's website does not constitute an endorsement of its content by Maxxia in any way. The article has been made available for informational purposes only and should not be taken as advice. While all reasonable care has been taken to ensure that the statements made by the original author in the article are fair and accurate, Maxxia does not guarantee or warrant the accuracy or completeness of this information and will not be liable for, or in connection with, any loss or damage suffered as a result of any inaccuracies, errors or omissions or your reliance on this information. You should independently research and verify information before making any decision in respect of a vehicle.