By Bruce Newton, carsales.com.au
The name says it all. One of Australia's fastest-growing car brands, GWM, is aiming to take advantage of the booming popularity for adventurous four-wheel drives with a sub-brand of rugged off-roaders called Tank.
The first model from the Chinese car maker is the 300 Hybrid, which is a boxy-bodied, mid-sized, five-door, five-seat wagon that boasts a combination of go-anywhere tech, luxury equipment and an affordable price tag that starts at $55,990 drive-away.
We only had a brief introduction during a media preview, but it happily left us wanting more.
Let's find out why.
Tank tops
The 2023 GWM Tank 300 Hybrid is in Australian showrooms now and available in two model grades, the entry-level Lux (at $55,990 drive-away) and the flagship Ultra (at $60,990 drive-away).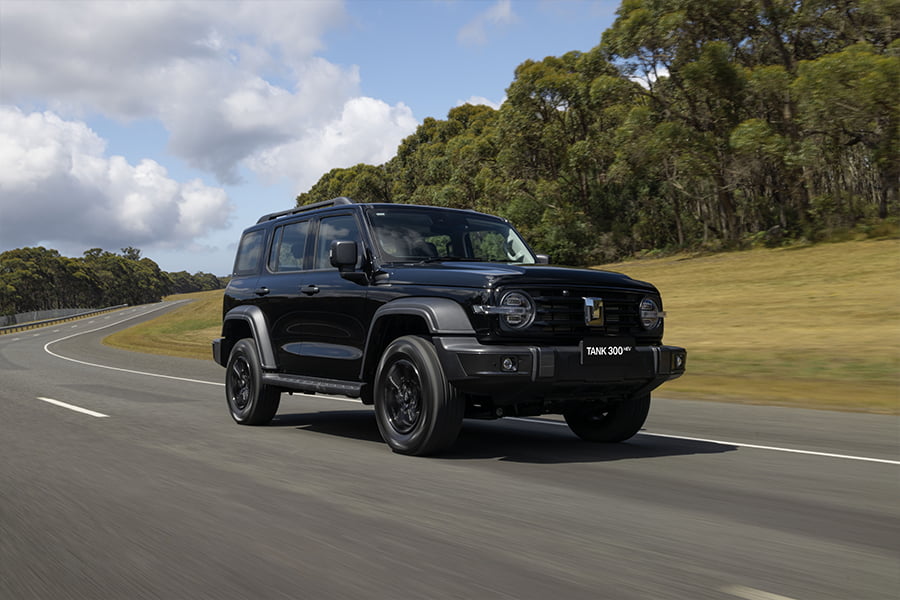 Both models share the same fundamental mechanical backbone with a ladder-frame chassis and sophisticated torque-on-demand 4x4 system similar to the GWM Ute, low-range gearing, plenty of ground clearance and an appropriately boxy body with suggestions of Jeep, Jimny and G-Wagen about it.
Where it deviates from the Ute is under the bonnet, where GWM has fitted a petrol-electric hybrid drivetrain rather than the usual turbo diesel.
As such, there is nothing in the market that quite matches up with the Tank 300. The Jeep Wrangler and Toyota LandCruiser 76 Series are similarly hard-core, but more expensive and not as well equipped.
More meaningful opposition could come from the ever-growing league of ute-based wagons such as the Ford Everest and Isuzu MU-X.
Tanks for everything
The 2023 GWM Tank 300 Lux Hybrid is very well equipped for the substantial amount of money being charged for it.
Externally, you'll find LED headlights with intelligent high beam, a sunroof, roof rails, side steps, 17-inch alloy wheels and a side-opening (left to right) barn door at the rear.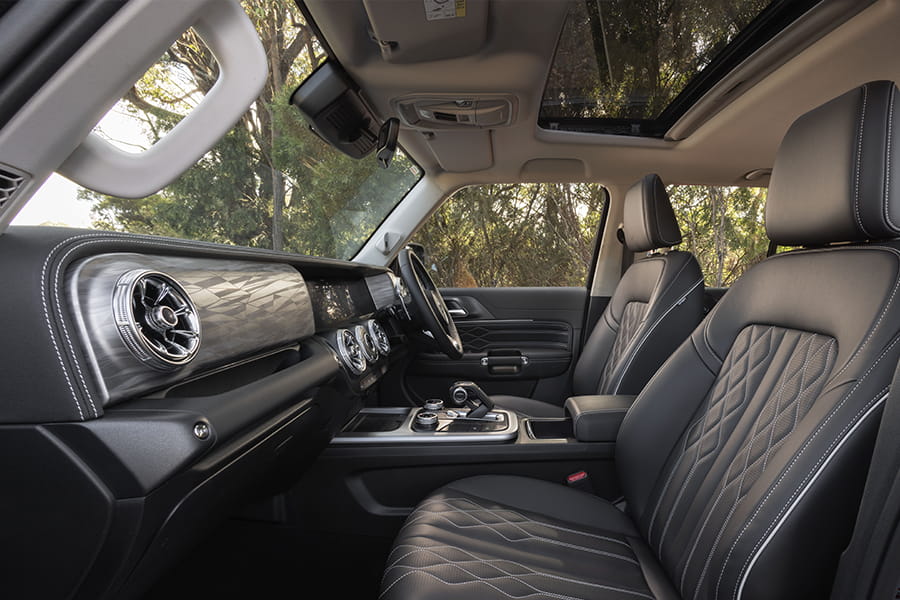 Inside the cabin, there is dual-zone air-conditioning, a six-way powered driver's seat trimmed in faux leather, steering wheel heating, seven-colour ambient lighting, keyless entry and push-button start and no less than 46 storage spaces (or so GWM says – we didn't count them all).
For the additional premium commanded by the Ultra, it includes larger 18-inch alloys, heated and cooled front seats with massage function and eight-way power adjustment for the driver, Nappa Leather interior trim and 64-colour ambient lighting.
Most colour choices, other than the standard Fossil Grey, add a $595 premium.
The Tank 300 Hybrid is covered by GWM Australia's seven-year/unlimited-kilometre warranty and comes with five years' roadside assistance.
It will also have a capped-price servicing plan, which GWM has yet to confirm in terms of pricing and timings.
Tough as nails
As you'd expect for a car called Tank, the 300 Hybrid achieved a maximum five-star ANCAP safety rating based on the latest 2022 testing regime and scored above 80 per cent in all four criteria, which is pretty impressive.
Included as standard equipment is a comprehensive suite of driver assist systems, such as autonomous emergency braking (AEB) with an operating range from 5-150km/h that is capable of detecting pedestrians and cyclists in daylight and most night-time conditions.
Adaptive cruise control is also part of the package, along with lane departure warning, lane keep assist, rear cross traffic alert (with braking), traffic sign recognition and tyre pressure monitoring.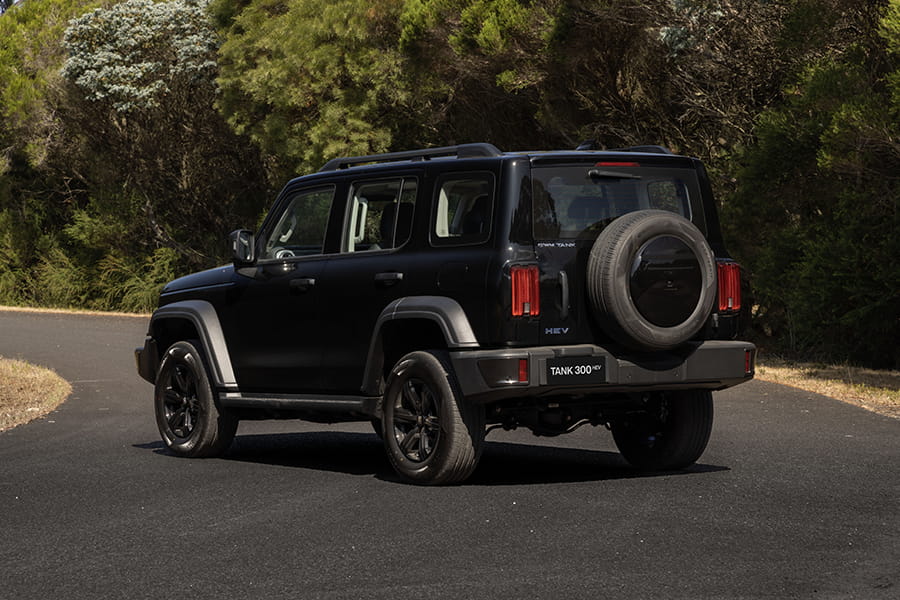 The Tank 300 Hybrid comes with front and rear parking sensors and a 360-degree view monitor. The Ultra adds auto parking and auto reverse.
The Tank 300 also includes various off-road camera views including one that effectively makes the vehicle invisible to show the surface underneath.
There are seven airbags fitted, including front, front-side, curtain and a middle-front airbag to prevent head knocks.
Inside job
The 2023 GWM Tank 300 Lux Hybrid makes a heck of an interior statement with its dual 12.3-inch digital screens stitched together and embedded in more than half the dashboard.
The screen in front of the driver covers off key information such as speed, trip computer and safety settings. It can be dialled through three different fundamental presentations, while scrollable sub-menus sit to the side.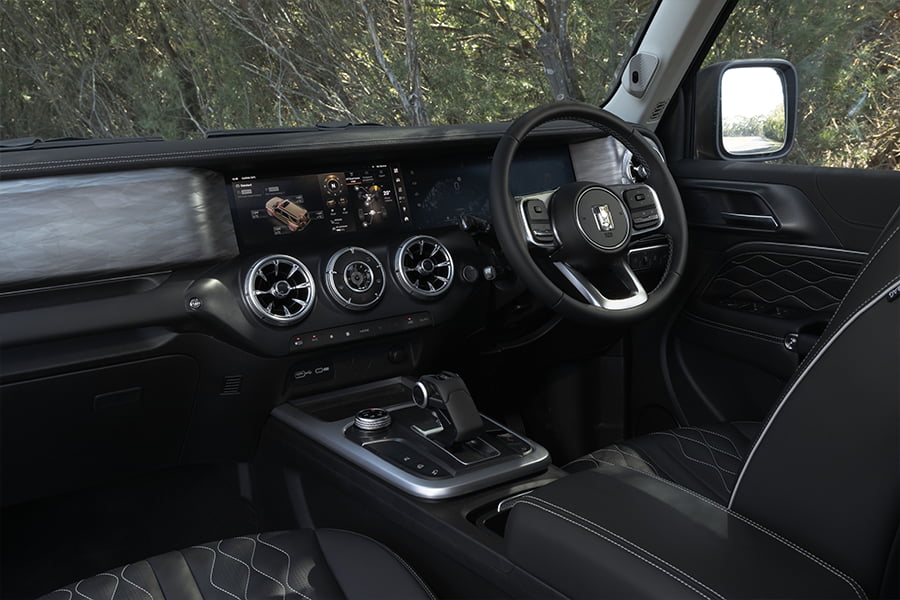 The centre touchscreen covers off the infotainment essentials such as radio – AM, FM and DAB+ – as well as smartphone streaming, sat-nav, time and date and battery energy information. It also displays a heap of apps in a smartphone-style face.
Physical air-conditioning buttons are retained.
There is Apple CarPlay and Android Auto connection, multiple USB connectors front and rear, 12V outlets up front and in the boot and a nine-speaker audio system.
The Ultra adds wireless charging and upgrades to a higher-spec Infinity sound system.
Utilitarian on the outside, luxury on the inside
In stark contrast to its boxy, utilitarian exterior, the opulence of the 2023 GWM Tank 300 Lux Hybrid is something of a shock.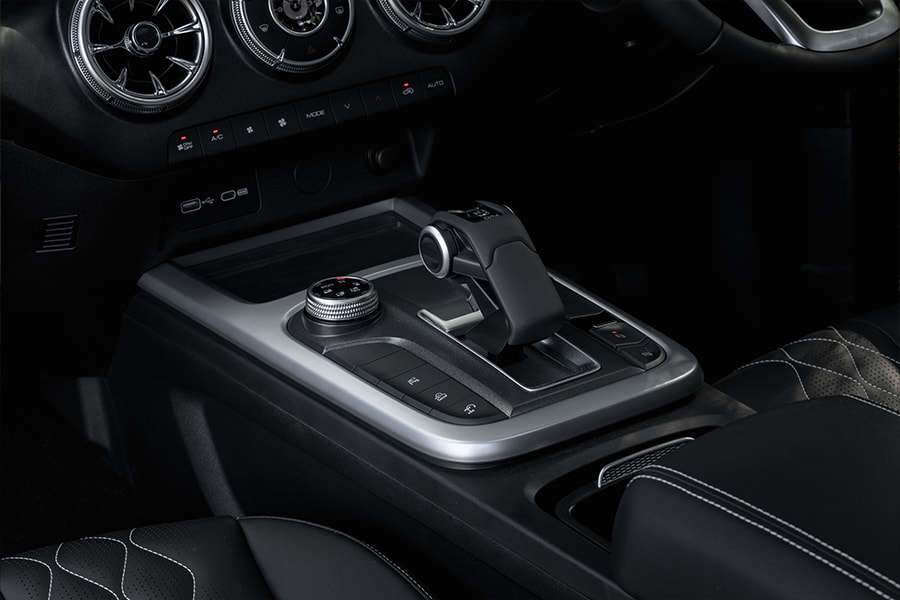 The big screens are a statement, but so is the polished metal-look trim that completes the dashboard, the quilting in the seats and doors, the large, round Benz-like air vents and the huge gear selector that is meant to look like something out of an aeroplane – I'm not sure what, maybe an undercarriage.
The steering wheel adjusts for reach and rake and there are manual gear selector paddles mounted behind it.
The seats are soft and well bolstered up front and there is no shortage of storage choices including a sizable centre lidded bin, door pockets and glove box.
There are overhead and pillar grab handles for all passengers (bar the driver) and a grab rail on the dashboard for the front seat passenger.
In the rear there is a truly generous amount of space in all directions for two adult passengers. There are also air-con vents, USB points, a fold-down arm rest and storage pockets in the seats and doors.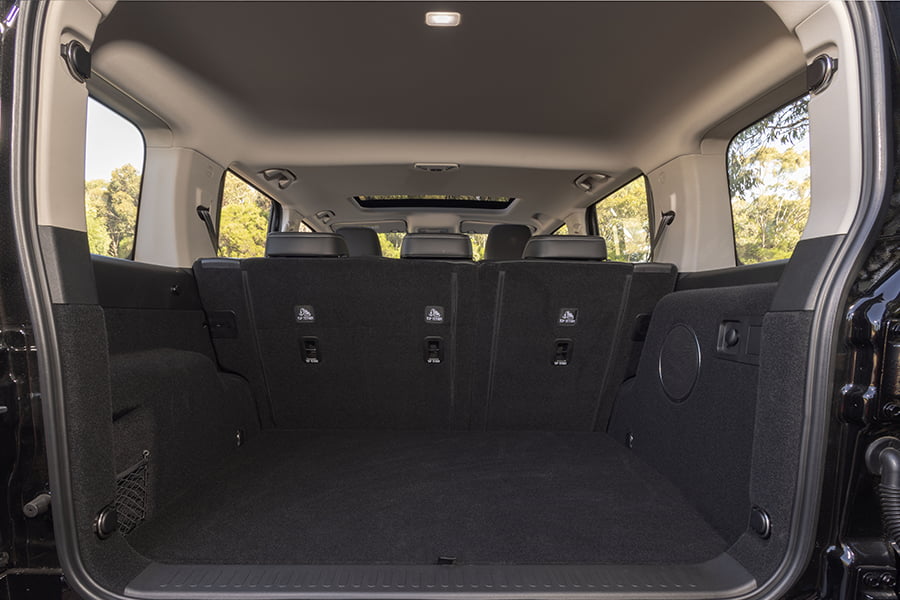 With the full-size spare tyre mounted on the barn door, it's a bit of a heave to open. But once you get into the boot, you'll find adequate rather than impressive space.
Lift up the floor and you'll soon figure out why, as that houses the hybrid system's substantial high-voltage battery.
All torque
The 2023 GWM Tank 300 Hybrid is powered by petrol-electric drivetrain that combines a direct-injection 2.0-litre turbocharged four-cylinder engine with an electric motor and lithium-ion battery pack.
In isolation, the petrol engine produces 180kW and 350Nm while the electric motor generates 78kW and 268Nm. When used together, GWM claims the Tank 300 Hybrid has a combined power output of 258kW and a show-stopping 615Nm.
If you're wondering, GWM assures us this measurement is at the crank and not multiplied by being measured at the wheels.
The Tank 300 Hybrid has the ability to drive on just the electric motor at low speeds, predominantly using its petrol engine at medium to high speeds and combining both engine and e-motor off-road and under heavy acceleration.
It recovers energy to its small 1.8kWh NMC/ternary lithium battery using regenerative braking. It is not a plug-in hybrid and therefore cannot be recharged externally.
The Tank 300 uses a nine-speed automatic gearbox and a BorgWarner four-wheel drive system that allows it to run in 4x4 auto mode at all times. It can also be deployed in low range.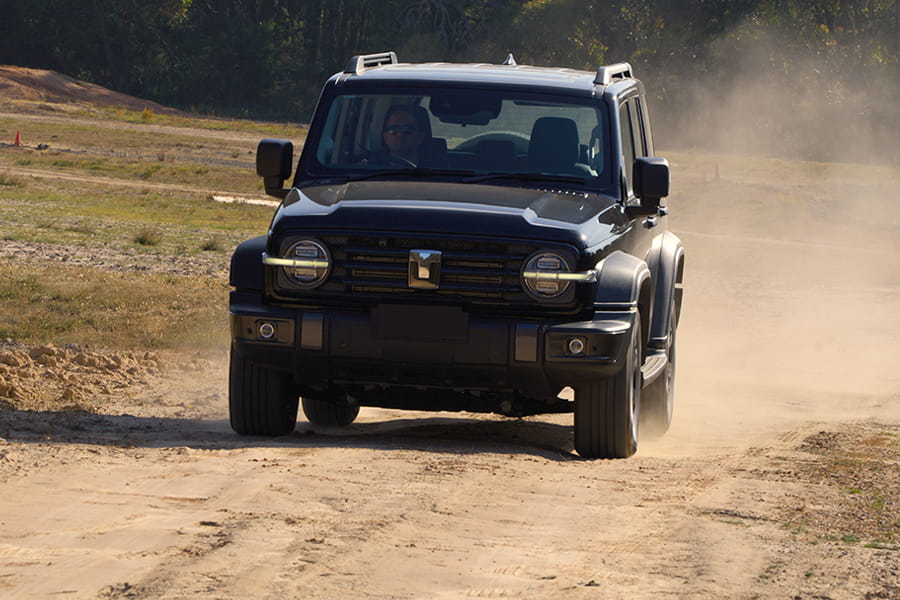 There are multiple on- and off-road modes to set the drivetrain for different conditions including mud and sand.
The rear diff is lockable to assist with serious off-road work and there's also hill descent control, crawl control and 'tank turn' (which we didn't test out). The Ultra adds a front diff lock for even more off-road traction in slippery or rugged, low-speed environments.
Economy under review
We don't know the official fuel consumption for the GWM Tank 300 Hybrid yet, as the Chinese brand is in the process of re-testing it for certification.
At the moment, the official claim is 10.3L/100km but GWM is confident that can be reduced to around 8.5L/100km.
Either way, it says the hybrid system is more about generating torque for better off-roading rather than to aid fuel economy.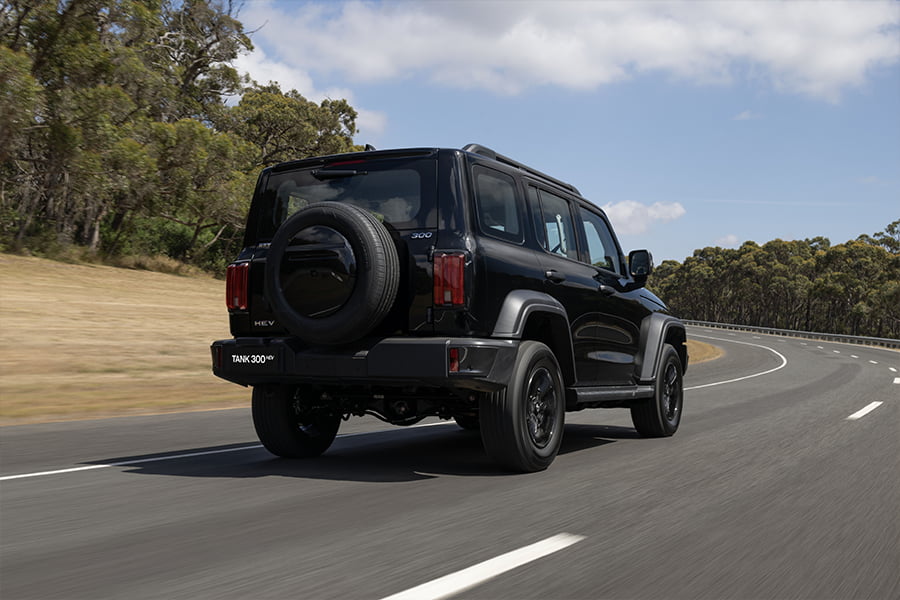 The Tank 300 has a 75-litre fuel tank that would potentially equate to a driving range of about 600km – which is a tad on short for serious outback venturing.
The good news is the Tank 300 Hybrid consumes standard 91 RON fuel.
Our drive was so brief and almost entirely off-road so there was no point us measuring fuel economy.
Brief but believable first taste
First up, let's just check off a few more basic 2023 GWM Tank 300 Lux Hybrid stats. It measures 4760mm long, 1930mm wide, 1903mm high and has a 2750mm wheelbase.
According to official homologation data it weighs in at a porky 2331kg (tare) and has a 2725kg GVM. It is mandated to tow up to 2500kg. So that's competitive in its segment.
Our drive of the Tank 300 Hybrid comprised of about seven minutes, which were all off-road and included some low range moguls and the successful navigation of a water bath.
So, we cannot give you a full assessment of its behaviour on bitumen roads, be they bumpy, smooth, straight or winding, or in a city or urban environment.
But there were a few things worth noting. The ride at rock crawling speeds is plush enough on its coil-sprung double-wishbone front and live-axle rear suspension to leave any dual-cab ute passengers this side of a Ford Ranger envious.
Of course, we don't know what the implications are for body control at higher speeds.
The steering is also light and direct at low speeds and perhaps the pick of any GWM yet sampled. Admittedly, not a high bar.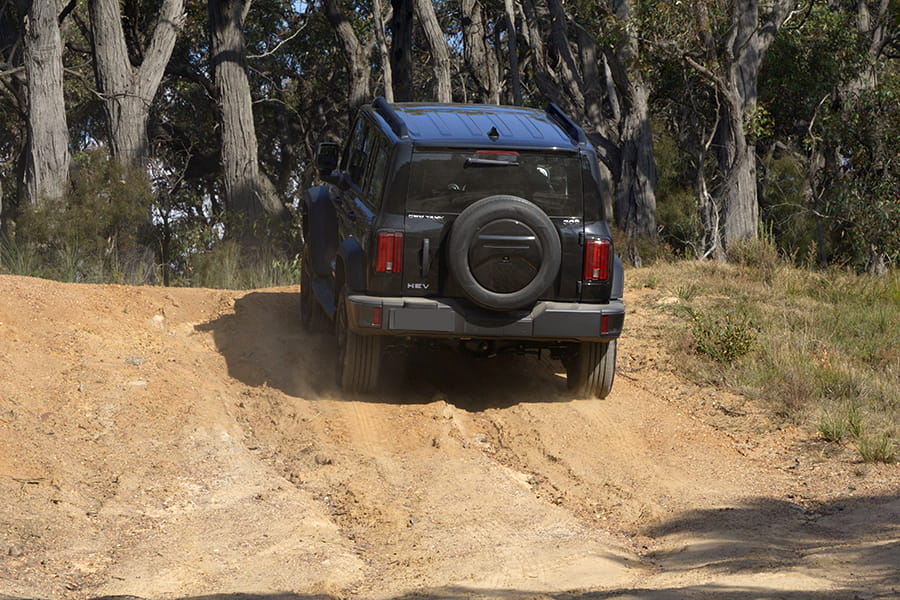 The sole real chance for the engine to show off its torque capabilities was a steep climb up a rutted track, which it achieved without breaking a sweat. The chassis also did it without breaking traction.
Swapping into Sand mode produces an obvious change in drivetrain settings. Gears are held longer and the throttle becomes sharper.
Ground clearance is decent enough at 224mm and there were only a couple of scrapes as a result. The approach angle is a generous 33 degrees, the departure angle 34 degrees and the ramp angle 23.1 degrees. It has a 700mm wading depth and a maximum climbing angle of 70 per cent.
The aftermarket is going to have an interesting job figuring out how to attach a snorkel to the free-standing air inlet, and there is no space for a second battery under the bonnet.
The Lux comes with two-piece underbody protection and the Ultra three-piece.
Disconcertingly, the one time the Tank 300 was accelerated to any sort of speed on a gravel road it promptly jumped on the anchors and activated its hazard lights. Its AEB camera seemed to have misread a dust cloud as something ominous.
This is not a good sign, as GWM driver assist system calibration is a brand weakness.
The Tank 300 is also prone to admonishing its driver for not paying enough attention to the road. It also makes an annoying doof-doof noise when the indicators are activated and whooshes like a rocket when different modes are selected.
That can all be binned thanks.
Should I buy a GWM Tank 300 Hybrid?
Based on this all-too-brief drive and inspection, the final judgement is still out on the 2023 GWM Tank 300 Hybrid.
We need to spend a lot more time behind the wheel and living with it to truly deliver a confident verdict.
But this much is obvious: The price, the equipment, the technical spec and this first taste test do indicate a vehicle with positive potential.
If in the longer term the GWM Tank 300 turns out to be as rugged, durable and capable as its name suggests, then it will undoubtedly secure a following among those who like to off-road and those who just like to look like they do.
2023 GWM Tank 300 Lux Hybrid at a glance:
Editor's Rating: 8.2/10
Price: 
$55,990 (drive-away)
Transmission: 
Nine-speed automatic
Available: 
Now
Fuel: 
10.3L/100km (ADR Combined)
Powertrain: 
2.0-litre four-cylinder turbo petrol-electric
CO2:
239g/km (ADR Combined)
Output:
180kW/350Nm (electric motor: 78kW/268Nm)
Safety rating: 
Five-star (ANCAP 2022)
Combined output:
258kW/615Nm
 
Disclaimer: Images supplied by GWM.
This article was prepared by an independent author. The information contained in this article represents the views and opinions of the original author, and is based on research carried out by the original author. The appearance of the article on Maxxia's website does not constitute an endorsement of its content by Maxxia in any way. The article has been made available for informational purposes only and should not be taken as advice. While all reasonable care has been taken to ensure that the statements made by the original author in the article are fair and accurate, Maxxia does not guarantee or warrant the accuracy or completeness of this information and will not be liable for, or in connection with, any loss or damage suffered as a result of any inaccuracies, errors or omissions or your reliance on this information. You should independently research and verify information before making any decision in respect of a vehicle.