By Bruce Newton, carsales.com.au
Patience has become a standard feature for new car buyers with long wait times for in-demand new models like the Ford Ranger Wildtrak with its grunty new V6 turbo diesel engine.
But there are options that can help you skip the 12-month-long Wildtrak queue, such as choosing the four-cylinder twin-turbo model.
Sure, it's not the headline act of Ford's all-new dual-cab ute range, and it's not as powerful as the V6, but it's not as expensive and the wait list is not as long – thereby saving you both time and money.
To find out whether the Ranger Wildtrak 2.0 Bi-Turbo is a good choice, we spent an extended amount of time with one. Consider this more of a road trip rather than just a road test.
Premium price
The 2023 Ford Ranger Wildtrak 2.0 Bi-Turbo is the most expensive Ranger model without a V6 engine and will set you back $67,990 plus on-road costs. That's a saving of $3200 in comparison to the Wildtrak V6 – if you can get one.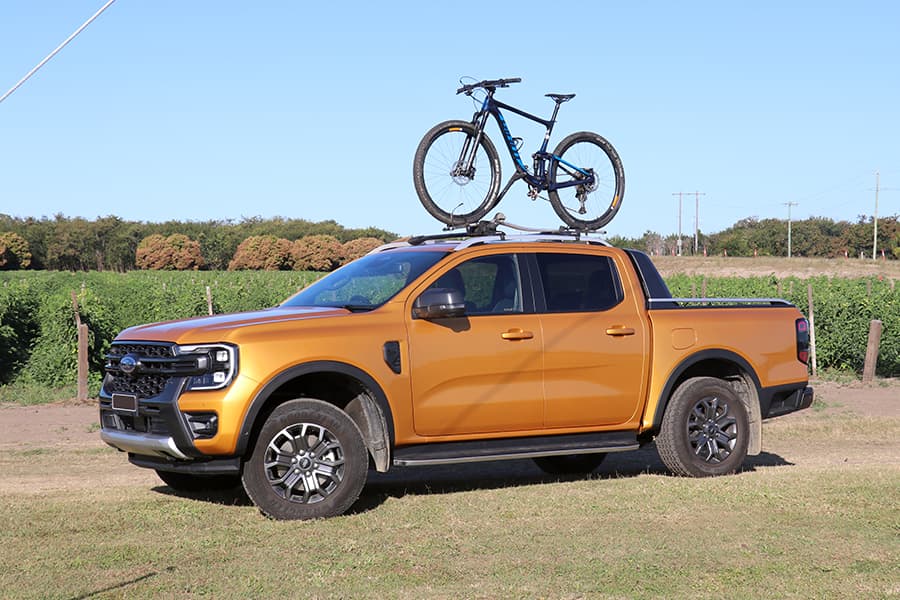 Available exclusive with a dual-cab body style, it is powered by the familiar 154kW/500Nm 2.0-litre four-cylinder twin-turbo diesel engine introduced late in the previous model's lifecycle with a 10-speed automatic transmission and part-time 4x4 system.
It is built more as a flexible lifestyle vehicle rather than solely designed as a tool-of-trade vehicle, and, as such, it is equally capable of dressing up for a night out on the town, getting muddy on the weekends and rolling up its sleeves at the work site during the week, or trekking up the east coast of Australia with the family as we've done for this review.
Ford isn't alone in creating a jack-of-all-trades ute, with plenty of alternatives to the Ranger Wildtrak including the Isuzu D-Max X-Terrain, Mazda BT-50 Thunder, Nissan Navara Pro-4X and the Toyota HiLux Rogue.
Distinguishing features
The Wildtrak is easily distinguished from lower-grade Ranger models with its unique grille design and 18-inch alloy wheels wrapped in Goodyear Wrangler all-terrain rubber as well as standard side steps, roof rails and a sports bar with integrated tie-down points, plus a drop-in bedliner and a powered roller shutter for the tray.
There are also full LED headlights with C-clamp driving lights, exterior mirrors with puddle lamps and illumination in the rear load box.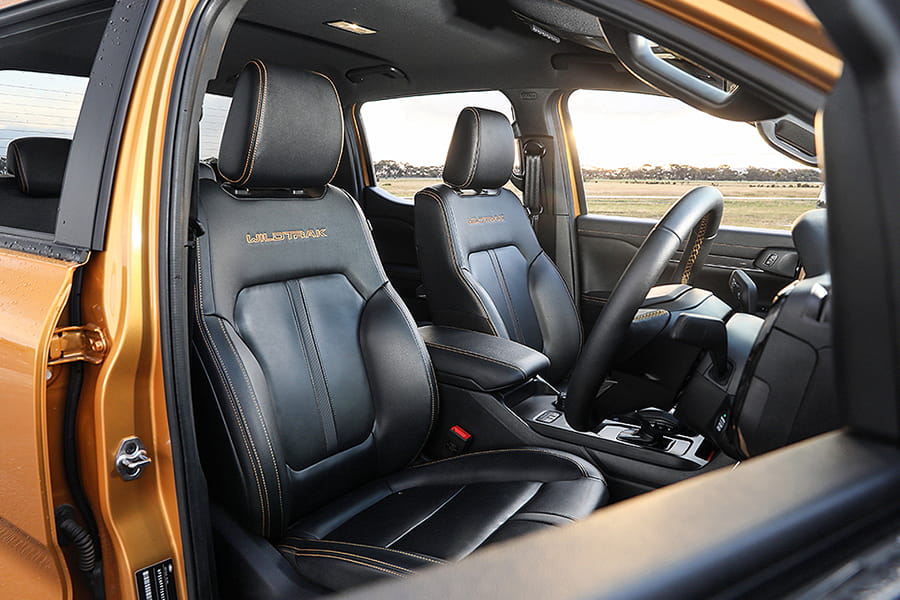 Inside the cabin, the Wildtrak is equipped with dual-zone climate control (with rear vents), pull-out cupholders, eight-way power adjustment for the heated front seats with leather accented trim and contrasting orange stitching as well as the Wildtrak logo embossed in the headrest.
The driver is treated to both rake and reach adjustment in the steering wheel for the first time, allowing more flexibility to suit a wide range of driving positions, while there is a new e-shifter design for the gear lever and an electronic park brake.
There's also an embedded modem that enables the FordPass smartphone app which allows owners to monitor critical elements such as the fuel level and tyre pressures, as well as remotely start and stop the engine, lock and unlock the doors and identify its precise location.
The Ranger comes protected by Ford's five-year/unlimited-kilometre warranty. It has 12 months/15,000km service intervals, with the cost of each of the first four scheduled visits capped at $329. It goes up from there, spiking over $700 twice.
New safety standard
The Ford Ranger Wildtrak sets the benchmark in its class for safety with a comprehensive array of new driver assist systems.
The autonomous emergency braking (AEB) system now includes cyclist detection and intersection assist. The adaptive cruise control adds stop-and-go and an intelligent function paired with traffic sign recognition that can automatically adjust your speed to the legal limit.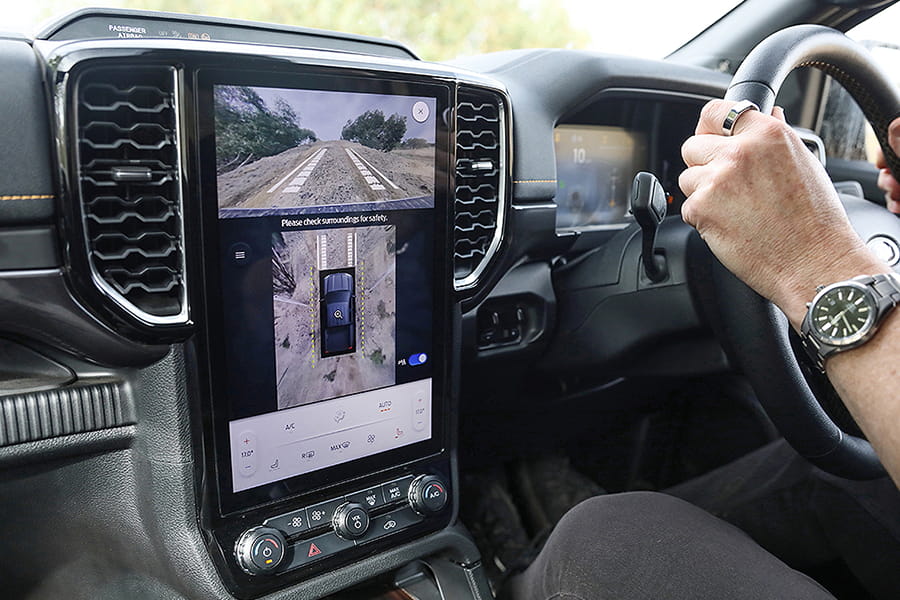 Other new features include blind spot detection that takes your trailer into account if you are towing. There is also rear cross traffic alert with reverse brake assist, lane departure warning and centring, a basic steer assist, road edge detection, post-impact braking and a split-screen 360-degree camera.
Active parking assist is now fully automated and the Wildtrak continues to have front and rear parking sensors.
The Wildtrak is fitted with an integrated trailer brake controller in the dashboard for towing. It links into an enhanced trailer sway control system that will automatically brake individual wheels to keep the vehicle and trailer stable.
The new Ranger achieves a five-star ANCAP rating, achieving high scores (above 80%) in some of the adult and child occupant impact protection tests. However, it didn't do so well in the compatibility test, with the safety assessors stating that there's a high risk to occupants of other vehicles involved in a crash with the Ranger.
ANCAP also points out the Ranger dual-cab is only fitted with child seat top tethers in the outboard rear seats, so child seats cannot be fitted legally in the middle pew of the bench seat.
The Ranger now comes equipped with dual front, side chest-protecting and side head-protecting curtain airbags, as well as driver and passenger knee airbags.
There's also a new centre airbag which provides added protection for front seat occupants in side-impact crashes.
Not so humble anymore
The latest Ford Ranger Wildtrak is perfect proof of how quickly the humble ute has changed lanes in recent years.
In the past, ute owners were lucky if they got air conditioning and an AM/FM radio as standard equipment. And now… well, you only have to peer into the cabin of the Ranger Wildtrak to see how far it has come.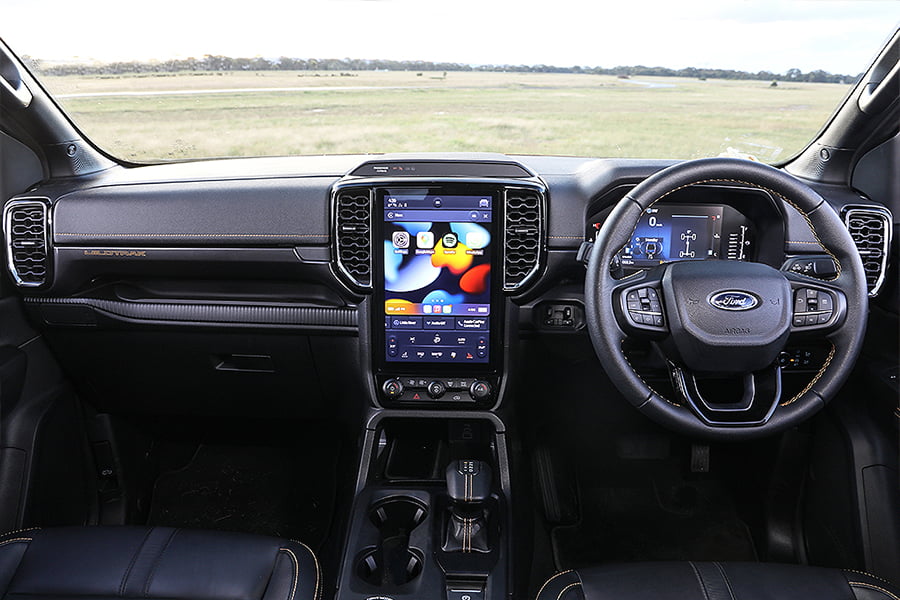 The 12.0-inch infotainment touchscreen in the centre of the dashboard is the headline act in a vast technology upgrade.
Running Ford's latest-generation SYNC 4A operating system, it features embedded sat nav with voice assistant, wireless smartphone mirroring for Apple CarPlay and Android Auto, a six-speaker audio system, controls for the climate control and a screen specifically for off-roading that displays important vehicle information such as roll and pitch angles.
The Wildtrak also comes with wireless phone charging and USB-A and USB-C points front and rear.
Sadly, it misses out on the widescreen 12.4-inch digital instrument cluster that's reserved for the Ford Ranger Raptor and the new V6-only Platinum. Instead, it makes do with the smaller 8.0-inch panel that means the tacho still gets scrunched up in the corner.
Everyone comfortable?
The 2023 Ford Ranger Wildtrak 2.0 Bi-Turbo's capability as a long-distance tourer isn't only due to its refined driving behaviour. A top-notch cabin helps as well.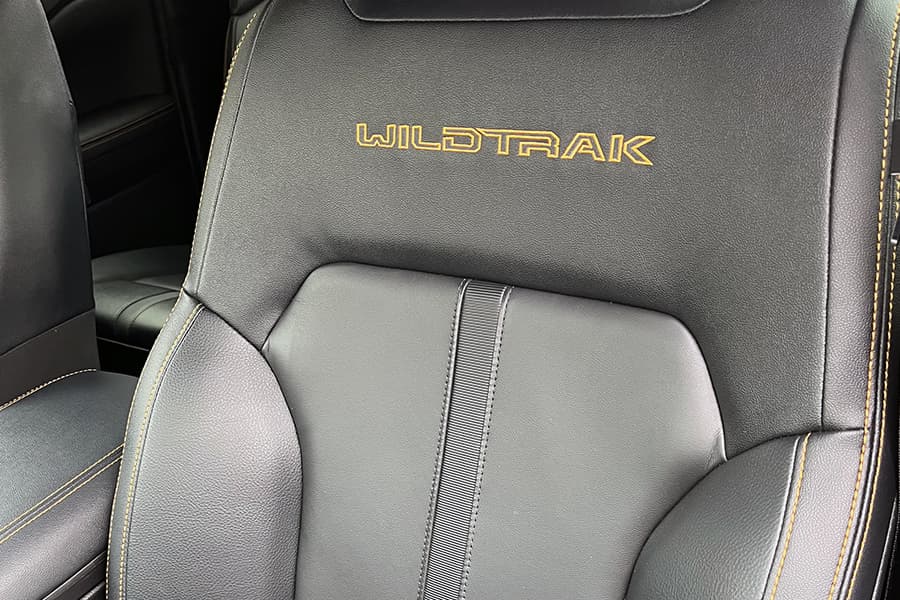 The front seats are excellent and the ability for the driver to get comfortable is aided by the improved steering column adjustment and sizeable pedal box with left footrest.
Storage in the cabin is pretty generous, reflecting the Ranger's core tradie brief. There are big door bins in the front and back, dual glove boxes, a sizable centre lidded bin and some other storage holes tucked away.
In the back there are dual seatback pockets and a fold-down centre arm rest with a double cup holder.
As per the previous generation, the rear seat backrest folds down and the base flips up to aid versatility. Most utes only do one or the other.
The huge touchscreen sits a bit low for my taste. I'd also prefer it to be slightly angled toward the driver.
It is commendable Ford has retained physical buttons for temperature and volume controls but being at the bottom of the screen they are too far away. Some of the identifiers on buttons and controls on the dash and steering wheel are also a bit small to decipher with ageing eyes.
The embedded sat-nav map isn't as distinct as the ones on offer through CarPlay either.
Trying to navigate around the cluster and the touchscreen menus and sub-menus also takes some learning as well. The back button gets a hefty workout! As we've already said, the digital instrument cluster is also a little underwhelming.
And then there's the stubby e-shifter. It just doesn't work as comfortably and easily as it should. It requires a fully stretched hand to clasp it, press the detente and move through the gears.
The resistance of the shift is not pronounced enough. Overshooting when shifting from drive into reverse and ending up in park happens too often.
There's no manual shifting by the lever or by flappy paddles either. The only way to manipulate the gearing is via push buttons on the side of the e-shifter, which is clumsy and awkward.
A sport mode would sharpen up the transmission and make manual changes less needed. But that is only offered with Raptor for some reason.
The load box of the Ranger gets a big thumbs up. The hard cover provides excellent security and it meant we didn't have to unpack at overnight stops. Swim gear and beach chairs stayed onboard the whole five weeks.
It would be great if Ford added better overhead lighting to the load box, perhaps in the sports bar. There is lighting inside but it's low down and can get covered over easily.
If you don't have a torch, searching around in there at night can be a clumsy affair.
Panther power
The 'Panther' 2.0-litre twin-turbocharged diesel engine in the 2023 Ford Ranger Wildtrak 2.0 Bi-Turbo is an evolution of the DOHC 16-valve four-cylinder introduced to the previous-generation pick-up back in 2018.
Claimed power output actually drops by 3kW compared to the old model to 154kW (at 3750rpm), but the 500Nm torque rating (at 1750-2000rpm) remains the same.
Bolted to the back of the Panther is an updated version of Ford's 10R80 10-speed automatic transmission with closer gear ratios.
Capping it off is the familiar part-time 4x4 system with a low range transfer case, a locking rear diff and electronic aids such as hill descent control.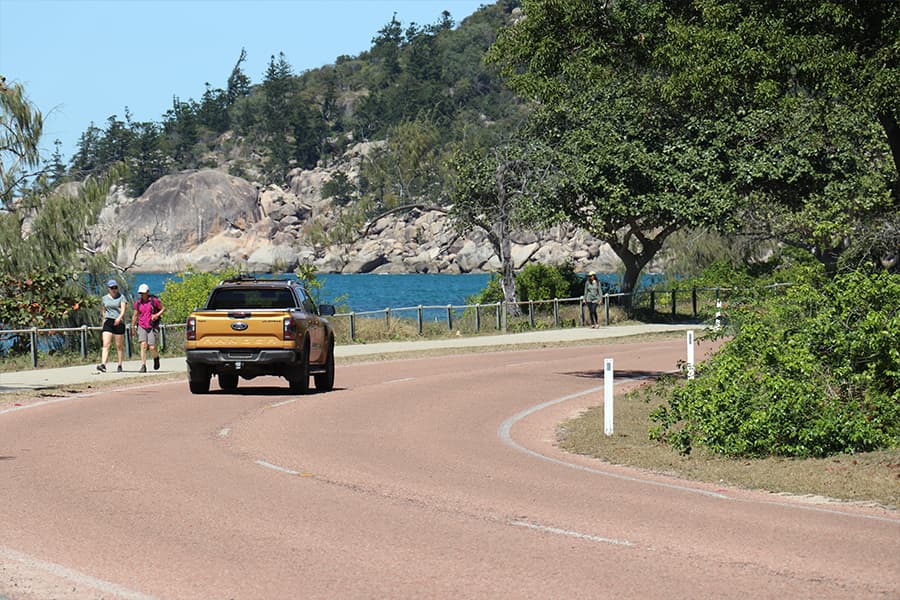 For the first time, Ranger Wildtrak comes with a Terrain Management System that tailors the throttle response, gear shift programming and stability control parameters across six modes: Eco, Normal, Tow/Haul, Slippery, Sand and Mud and Ruts.
Fuel for thought
The 2023 Ford Ranger Wildtrak 2.0 Bi-Turbo claims a 7.6L/100km average fuel consumption on the ADR combined cycle, while the same model with the larger 3.0-litre V6 turbo diesel has a claimed consumption of 8.4L/100km.
Over the five weeks and 8000-odd kilometres we drove the Ranger, the fuel consumption came out higher than both at 9.4L/100km – and it tallied with the trip computer so you can have faith in what the Ford software is telling you and expect the V6 to have a similar discrepancy in real-world situations.
Not your average ute
The 2023 Ford Ranger Wildtrak 2.0 Bi-Turbo is the most capable, quiet and comfortable dual-cab ute I've had the pleasure to spend an extended amount of time riding in and driving.
It goes closer to bridging the gap between ute and SUV than any load-lugger before it. In fact, it shames some current rivals such is its superiority.
It's a big wrap, and driving from Melbourne to Far North Queensland and back helped solidify my opinion.
While the drivetrain is familiar, it also feels smoother and more responsive than before, mostly because the 10-speed is now better sorted.
Yep, you can still sense it jumping about in the low gears but not as much. Once up and running it's darn good, combining with a willing engine to deliver solid performance.
At tip-in throttle there is the occasional touch of lag as engine and transmission try to get rolling. Very occasionally, the gear-change clunked home uncouthly as well.
We weren't heavily loaded – two adults, two dogs and about 80-100kg of gear at most – so how the Panther responds with a full payload or a caravan behind we couldn't assess.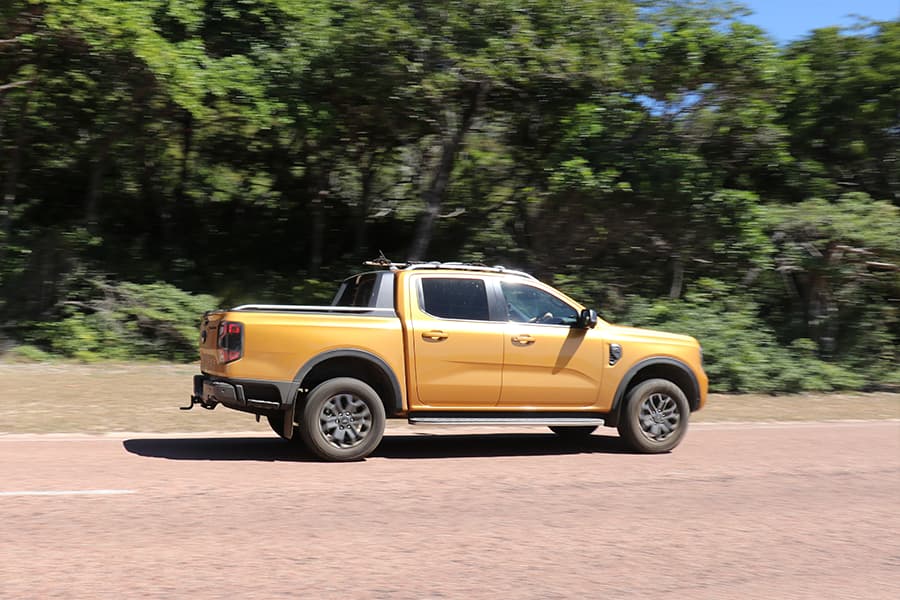 The new chassis with its wider tracks, longer wheelbase and outboard rear shocks delivers a more stable and comfortable driving and riding experience than before. Its old-school 4x4 system means it runs in two-wheel drive at highway speeds and in urban areas, but for the most part it retains its poise.
Typical of modern Ford, the electrically assisted power steering is well tuned and light which makes it easy to manoeuvre such a big vehicle in tight confines. And it is a surprisingly how accurately it changes direction on a winding road. Okay, it's not a sports car, but it is pretty keen for a ute.
The ride quality is exceptional for a load-hauler, only really becoming intrusive on rugged roads with no load onboard. Then it dances and jiggles a bit, but not really badly. A less aggressive, more road-biased tyre might also sooth this aspect of its behaviour if you are not that interested in off-roading.
The Ranger's driver assistants add up to a very effective semi-autonomous driving system. The Wildtrak stays centred in its lane on freeways and highways and the adaptive cruise's ability to adjust its speed by reading speed signs is mostly effective.
During one evening as dusk turned to darkness on the Bruce Highway in Queensland, the adaptive cruise did insist on reading off-ramp limits and slowing down to 80km/h rather than the digital signs on gantries on the freeway that advised it was full steam ahead at 110km/h.
The Wildtrak also has a habit of warning the driver to put hands back on the steering wheel when they are already there. Apparently, there's a software fix Ford has already instituted for this.
The only real question after all these kays is whether the V6 Ranger would have done the trip with even more poise. It says a lot about the Ranger that I'd happily do the trip again to find out.
Off the beaten track
The 2023 Ford Ranger Wildtrak 2.0 Bi-Turbo is very capable off-road. That's known from previous experiences rather than from this trip.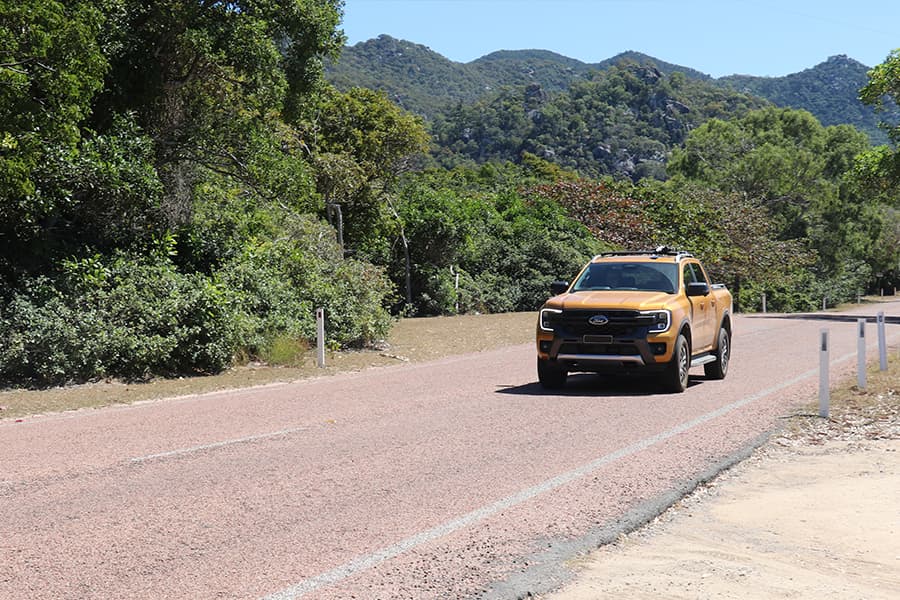 We grappled with some gravel roads, a bit of sand and some very low-key water crossings, but nothing that challenged the Ranger's capabilities in any way.
But pondering this question does remind me the V6 Ranger gets the more sophisticated set-and-forget 4x4 system that can run in all-wheel drive on the highway.
Considering it's already fitted to Bi-Turbo 4x4 versions of the closely related Ford Everest SUV, it's a surprise it's not in the Wildtrak four-cylinder as well. It's a logical upgrade.
Should I buy a Ford Ranger Wildtrak 2.0 Bi-Turbo?
Yep, absolutely. If you want a top-spec Ranger and can live without the V6 then the 2023 Ford Ranger Wildtrak 2.0 Bi-Turbo is a heartily recommended buy.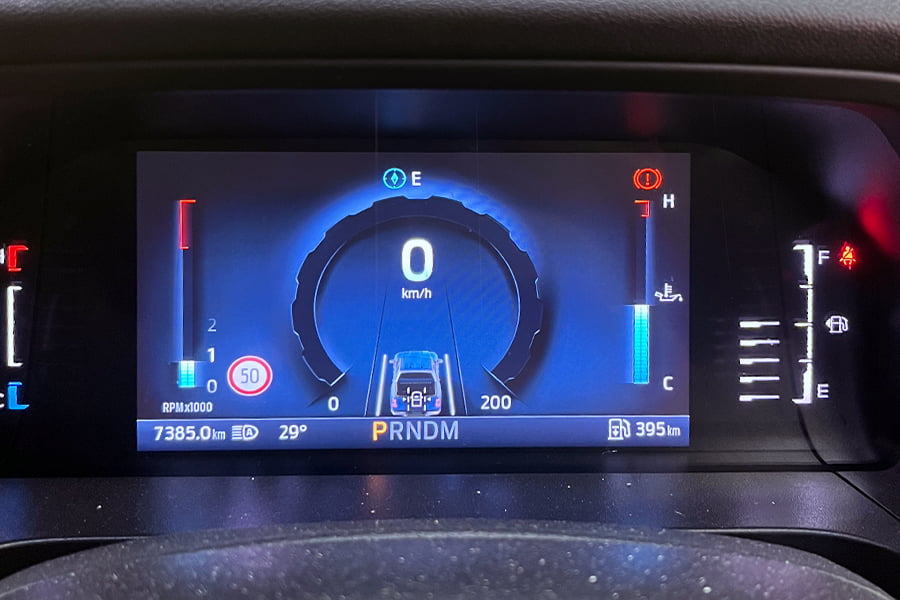 Sure, the smaller engine isn't as convincing as the V6, but it's only marginally inferior and by no means a dud.
It's also competitive against any other four-cylinder dual-cab ute engine out there.
And the rest of the package trumps any other dual-cab rival.
It's one of the more expensive examples of the breed, but driving it, sitting in it, and appreciating the high-tech equipment list you can see where the money was spent.
It all adds up to a great vehicle for any trip, whether it's a quick spin to the shops or a month on the road to top of the country.
2023 Ford Ranger Wildtrak 2.0 Bi-Turbo at a glance:
Editor's Rating: 8.6/10
Price: 
$67,990 (plus on-road costs)
Transmission: 
10-speed automatic
Available: 
Now
Fuel: 
7.6L/100km (ADR Combined)
Engine: 
2.0-litre four-cylinder twin-turbo diesel
CO2:
201g/km (ADR Combined)
Output:
154kW/500Nm
Safety rating: 
Five-star (ANCAP 2022)
Disclaimer: Images supplied by Bruce Newton.
This article was prepared by an independent author. The information contained in this article represents the views and opinions of the original author, and is based on research carried out by the original author. The appearance of the article on Maxxia's website does not constitute an endorsement of its content by Maxxia in any way. The article has been made available for informational purposes only and should not be taken as advice. While all reasonable care has been taken to ensure that the statements made by the original author in the article are fair and accurate, Maxxia does not guarantee or warrant the accuracy or completeness of this information and will not be liable for, or in connection with, any loss or damage suffered as a result of any inaccuracies, errors or omissions or your reliance on this information. You should independently research and verify information before making any decision in respect of a vehicle.