By Feann Torr, carsales.com.au
BMW's all-new iX3 highlights a problem with the German's brand naming convention. If you didn't know what it physically looked like, the iX3 could easily be forgiven for assuming it is either a mid-range of the new iX dedicated EV, or a high-riding version of the ground-breaking i3 city commuter. Or, exactly what it is, an electrified version of the popular of the X3 mid-sized SUV.
Based on the German car-maker's top-selling model in Australia, the battery-powered iX3's $114,900 price tag makes it considerably cheaper than similar European e-SUVs, such as the dedicated-electric Audi e-tron, Jaguar i-PACE, Mercedes-MENZ EQC and even BMW's own larger iX.
With a claimed 460km range and a strong feature list, is it a better option? Let's find out...
Electric convention
There's nothing fancy about the BMW iX3. At first glance, it looks just like any other version of the popular soft roader. Is that a good thing? It depends on how you want the world to see you.
If you want to make a visual statement with an electric car, the iX is certainly more appealing. If you just want a practical, classy, well-equipped vehicle that happens to be electrified, then the iX3 does just that.
Priced from $104,900 plus on-road costs, it might sound expensive but compared to the dedicated-electric Mercedes-Benz EQC ($124,300 plus ORCs) and larger luxury e-SUVs such as the Audi e-tron ($137,100 plus ORCs) and Jaguar I-PACE ($137,832 plus ORCs), it's already off to a good start. And that's compared to the 'entry-level' model grades of its rivals.
You get quite a bit of EV juice for your money, starting with a solid 460km claimed range (WLTP) – more than the Mercedes and Audi, but slightly less than the Jaguar.
Available only in a single specification, it comes loaded with standard equipment, including twin 12.3-inch screens that are some of the prettiest you'll see in a modern car today. The head-up display is likewise crisp, clear, and useful.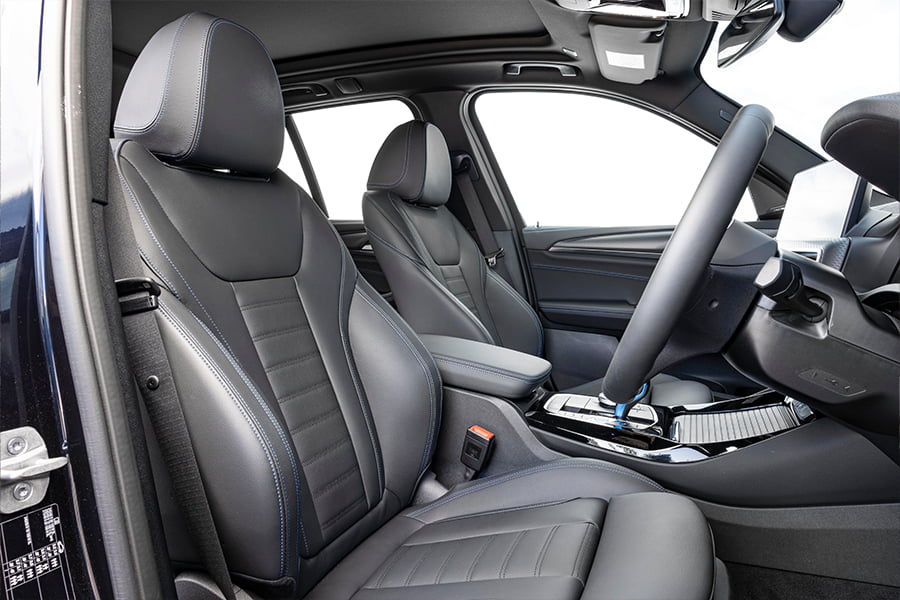 Other standard features include a wireless phone charger, heated and electrically adjustable front seats, with lumbar and side bolster adjustment for the driver, leather trim, 20-inch alloy wheels, adaptive suspension, a large panoramic glass sunroof and three-zone automatic climate control.
You also get a very tasty 16-speaker Harman Kardon stereo, along with the latest BMW Cockpit Professional 7 operating system, which features wireless Apple CarPlay, wireless Android Auto, digital radio and internet updates for news, weather and so on.
It does miss out on a few niceties though, such as ventilated/cooled seats and the ability to power household appliances (V2L), like with the Hyundai IONIQ 5 and Kia EV6.
Five years of free access to the ChargeFox recharging network is a nice sweetener, although the standard three-year/unlimited-km warranty is insulting when its rivals offer almost double that.
The battery warranty is more respectable at eight years or 160,000km and capped-price servicing costs vary from $1200/$1650 (for four or six years respectively with unlimited kilometres) for basic coverage to $4605/$5500 (for four or six years respectively with unlimited kilometres) for the Plus package that includes consumable items such as brake pads and discs.
Service intervals are undefined. Instead, BMW uses a condition-based servicing system that monitors individual components and notifies owners in advance when a service is due.
Impressive features
The 2022 BMW iX3 is an exceptionally pleasant vehicle to drive in all conditions not just because of its solid fundamentals and smooth, silent powertrain, but also due to a range of proactive semi-autonomous driving assistants fitted as standard.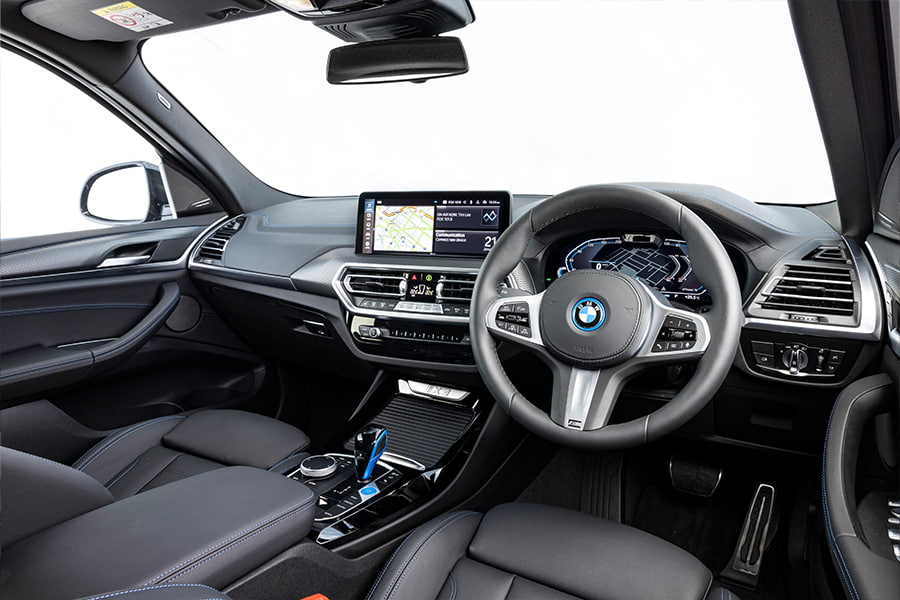 Active cruise control with stop-and-go function, steering and lane control assist with active lane guidance and lane keeping assist with active side collision protection deliver impressive levels of automated steering, braking and acceleration on freeways and roads with good lane markings.
Safety features such as autonomous emergency braking, front and rear cross traffic alert, crossroads warning, speed limit assist and an evasion assistant are also nice-to-haves, and the 360-degree parking camera system, front and rear parking sensors and autonomous parking systems got a good workout during this test, working well to take the stress out of city parking.
The BMW iX3 even comes with 'acoustic pedestrian protection' that makes a sound between zero and 30km/h to warn pedestrians and cyclists of its presence.
It's fitted with six airbags covering front and rear passengers and retains a top five-star safety rating from independent safety authority ANCAP. However, that rating is based on the 2017 BMW X3's and today's scoring regime is much stricter.
In terms of tech, the wireless phone charger works well but when running wireless Apple CarPlay and charging the phone at the same time, it gets so hot the charger often has to switch off. Also, running wireless CarPlay creates a delay on phone calls, which is a disincentive to use it.
Other than that, the infotainment systems work well, and the gesture control function is much more intuitive than earlier iterations for adjusting volume and pausing music, for example.
Convincing adaptation
The 2022 BMW iX3 adapts the conventional underpinnings designed to use internal combustion engines to fit the electric powertrain, which differs from the similar sized iX which is built on a dedicated EV platform.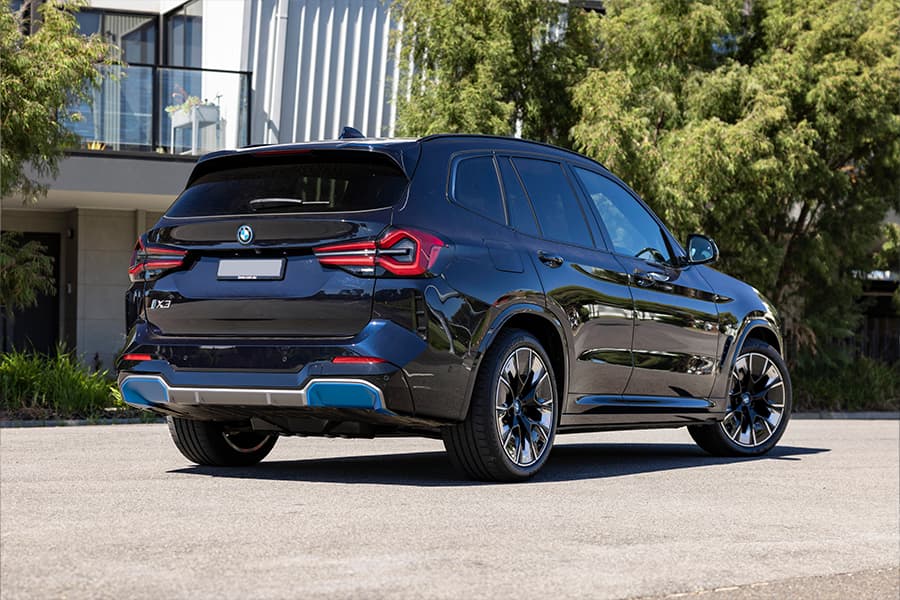 But it doesn't compromise the iX3 in any way. With a single electric motor on the rear axle that produces 210kW and 400Nm, it's not as beefy as some rival twin-motor EVs yet throttle response is instant and persuasive, shifting the 2.2-tonne German SUV's chubby mass with charismatic ease.
The e-motor consumes electrical power at a claimed rate of 18.4kWh per 100km (delivering a 460km on the WLTP cycle, factoring in regenerative braking) which is almost achievable in real-world scenarios.
During our testing, with most days above 30 degrees centigrade and requiring heavy and sustained blasts of cool air-conditioning, the BMW iX3 range dropped by almost 100km so you'd be looking at a range of under 400km in hot weather.
It's not as efficient as a Tesla Model 3, Australia's most popular EV, which has a smaller 50kWh battery pack and manages 13.2kWh/100km.
The iX3 also isn't as rapid off the mark either, although its feels much quicker than the claimed 0-100km/h time (6.8sec), squeezing your chest into the seat under full throttle acceleration.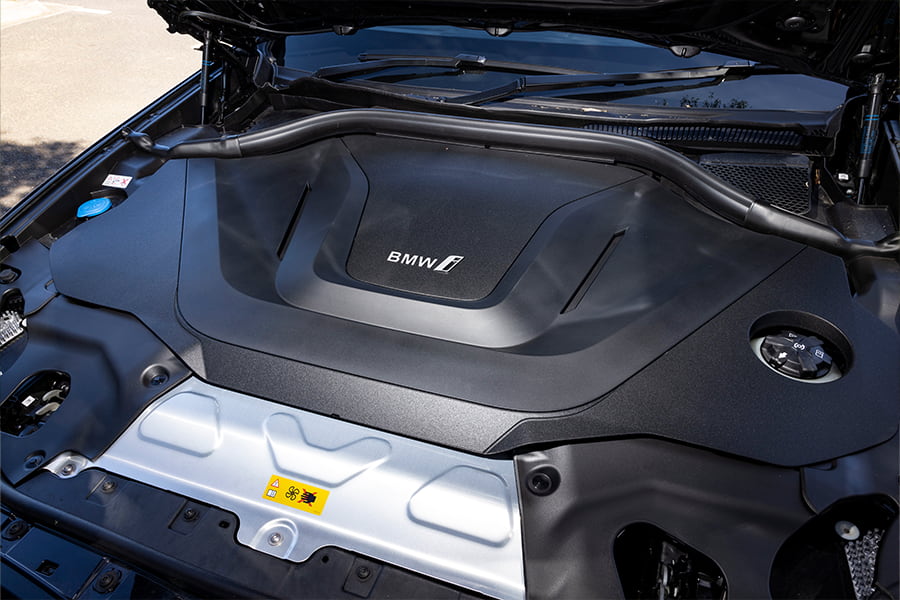 BMW's fifth generation eDrive powertrain is a very suave operator and cleverly engineered too. It combines the single-speed transmission, the charging and driving units, high-voltage battery, and generator for energy recuperation in one housing, which is fed energy from a 74kWh lithium-ion battery.
Another boon of the BMW iX3's electric motor, which is not the usual permanent magnet type but rather a current-excited synchronous electric unit, is that it doesn't use as much rare earth material.
That BMW is attempting to acquire cobalt and lithium supplies semi-sustainably – including from Aussie sources – should be seen as another win for those chasing more sustainable modes of transport.
The Bavarian carmaker also reckons it can recycle 96 per cent of the battery cell material at the end of its lifecycle. Question is, will it?
Battery charge times are competitive, although unlike new Porsche, Audi, Hyundai, and Kia vehicles with 800V electric architecture, the BMW iX3 has a 150kW charging ceiling.
On a 150kW fast-charger, which ChargeFox offers around Australia at shopping centres and the like, it takes a claimed 32 minutes to charge the battery from 10 to 80 per cent. On an 11kW charger – typically a three-phase AC wall box – it'll take seven and half hours to go from zero to 100 per cent.
If the only option is a domestic AC outlet, the sort of regular power point you'd find in your home, it'll take 44 hours to charge the battery from zero to 100 per cent.
A better drive
Squeezing a new-generation – and heavy – EV powertrain into a conventional platform is usually fraught with compromises, but BMW has delivered a beautifully resolved dynamic package.
The BMW iX3 offers what is arguably one of the best blends of ride comfort and driving dynamics of any X3 to date, and part of that is because BMW's chassis boffins had to soften the suspension to deal with the extra weight that a giant battery pack brings.
A supple ride quality is initially quite a shock, given the taut ride of traditional X3s and the iX3's sporty 20-inch alloy wheels. But like Barry Manilow, the German luxury SUV is smooth and sophisticated, gliding over speed bumps and cruddy roads with nonchalant ease.
Despite the added weight it also somehow manages to be adept at scything through bends, the rear-drive layout creating a decisive front-end and the adaptive suspension ensuring a flat cornering attitude with plenty of grip. I wasn't expecting this vehicle to be so enjoyable to drive at higher velocities.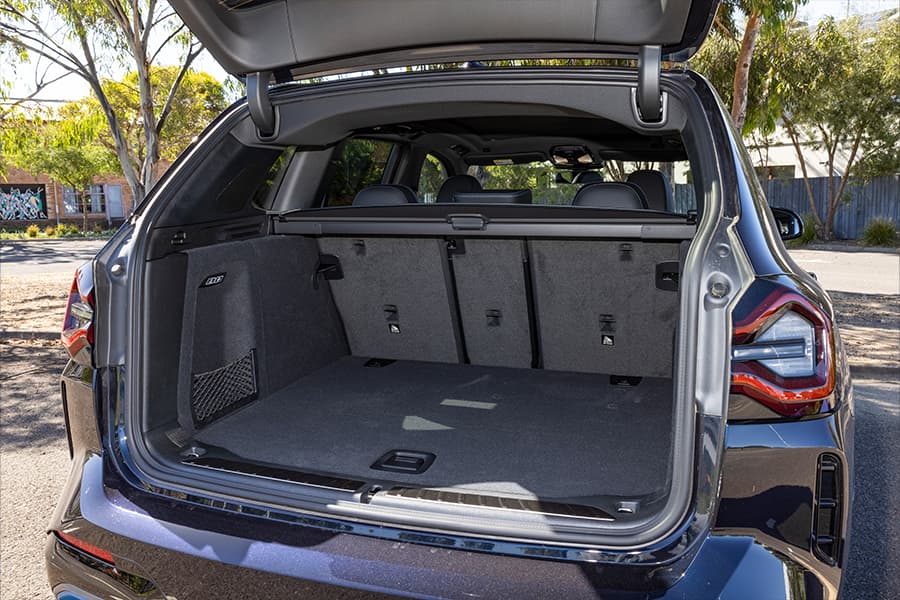 There's plenty of room for four adult passengers – five at a pinch – and the boot doesn't lose too much cargo space over the regular BMW X3 (40 litres less), despite the massive underfloor battery pack. As a bonus, it can tow up to 750kg and has a roof load limit of 100kg.
The BMW iX3 is a comfortable, quiet, and superbly refined vehicle, but it's not perfect in every sense. The Vernasca leather upholstery doesn't have the supple quality of some competitors and part of me wishes there were a few more unique touches in the cabin. Instead, you only get a few blue highlights here and there to denote its unique electrified configuration.
Look twice
The 2022 BMW iX3 is not a game-changing EV and it may be overlooked or even ignored by virtue of its conventional design. But the more I drove this vehicle the more impressed I was with its all-round capabilities and polished execution.
Those who decide to sign on the dotted line won't be disappointed.
Sure, you could go for any number of premium rivals that have been designed from the ground-up as electric SUVs, including the bigger and pricier BMW iX EV, which starts at $135,900 plus ORCs.
But the sales charts suggest consumers prefer the convention and cost advantage of the iX3 as BMW has sold almost twice as many than its iX over the last couple of months.
It might not scream EV, but the BMW iX3 proves you can teach an old dog new tricks and, right now, it's the cheapest and best model in its class.
2022 BMW iX3 at a glance:
Editor's Rating: 8.1/10
Price: 
$104,900 (plus on-road costs)
Battery: 
74kWh lithium-ion polymer
Available: 
Now
Range: 
460km (WLTP)
Powertrain: 
Single electrically excited synchronous motor
Energy consumption:
18.4kWh/100km (WLTP)
Output:
210kW/400Nm
Safety rating: 
Five-star (ANCAP 2017)
Transmission:
Single-speed reduction gear
Disclaimer: Images supplied by Carsales.
This article was prepared by an independent author. The information contained in this article represents the views and opinions of the original author, and is based on research carried out by the original author. The appearance of the article on Maxxia's website does not constitute an endorsement of its content by Maxxia in any way. The article has been made available for informational purposes only and should not be taken as advice. While all reasonable care has been taken to ensure that the statements made by the original author in the article are fair and accurate, Maxxia does not guarantee or warrant the accuracy or completeness of this information and will not be liable for, or in connection with, any loss or damage suffered as a result of any inaccuracies, errors or omissions or your reliance on this information. You should independently research and verify information before making any decision in respect of a vehicle.