By Bruce Newton, carsales.com.au
This is the sort of car that BMW's reputation as the Ultimate Driving Machine was built on; an accessible yet sporty, two-door coupe.
The 2023 BMW 230i has arrived in Australian showrooms to plug a gap in the 2-Series range between the entry-level 220i and the M240i xDrive, and has the potential to be all the turbo-petrol, rear-wheel drive, two-door you'll ever need when it comes to driving fun.
Let's see if that's the case…
The middle point
Like the other 2-Series models, the 230i is a compact two-door, four-seat coupe that will appeal to upwardly mobile urbanites. One thing it isn't is a genuine family car.
As it with all other BMW variants, what delineates it from the 220i and M240i is the performance of the engine under its bonnet, which we'll explain further into this review.
For now, its $73,200 (plus on-road costs) sticker is $5500 more than the entry-level model and a significant $21,700 cheaper than the M240i xDrive.
There are few direct rear-drive rivals for the 2.0-litre turbo-petrol 230i. The burly Nissan Z starts off only a few thousand dollars more expensive, while the Toyota Supra GT is into the $80K bracket as a starting point.
Disappointingly, there's a real dearth of semi-affordable rear-wheel drive two doors from BMW's premium German rivals.
But if you think a little laterally then something like the all-wheel drive Audi S3 hot hatch might appeal as an alternative.
Box ticking
Thankfully, the face of the 2023 BMW 230i Coupe features classic kidney grilles and not the new oversized 'wombat nose' we've seen dominating the larger 4 Series.
Adaptive LED headlights (with high beam assist) and taillights are standard, and the 230i rolls on 18-inch alloy wheels. However, our test car was upgraded to optional 19s fitted with staggered Pirelli P Zero rubber.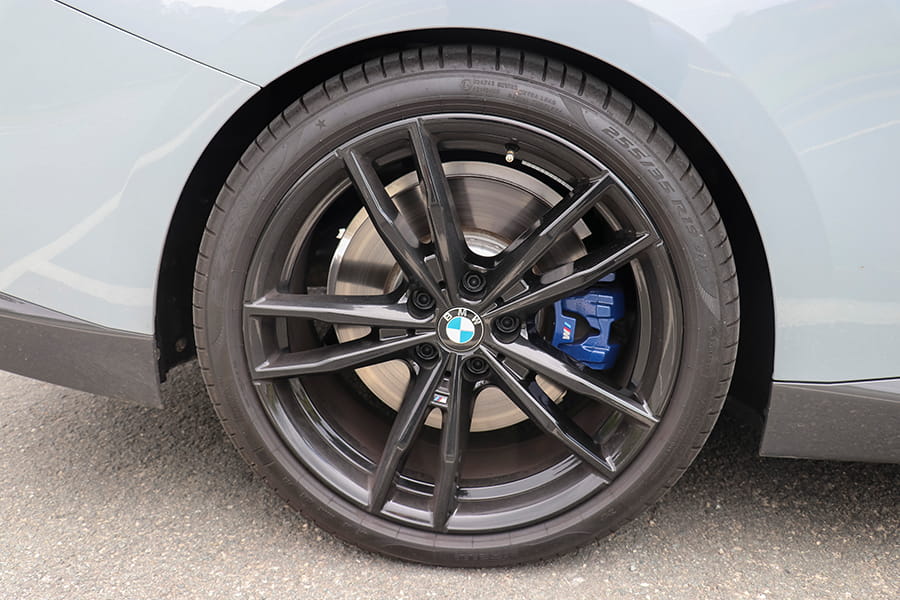 The bigger wheels are part of an enhancement package that also includes a powered glass roof and metallic paint for $3900.
The 230i comes standard in Australia with an M Sport Package that includes a multifunction steering wheel, sport front seats with power and driver memory, Alcantara/Sensatec upholstery and a BMW Individual headliner in Anthracite.
Other standard interior equipment includes keyless entry, tri-zone climate control and ambient lighting.
A $1400 interior comfort pack that adds steering wheel heating, driver/front passenger lumbar support and seat heating was also fitted to our test car.
An options bundle our car didn't include is the $3300 Executive Package, which offers sophisticated features such as engine remote start. Disconcertingly, that pack includes tyre pressure monitoring, which should be standard on a car with no spare.
A head-up display also seems to be an obvious miss at this price.
BMW caught up with the rest of the automotive industry late in 2022, announcing its vehicles would from that point come to Australia with a five-year/unlimited-kilometre warranty. Roadside assistance is complimentary for three years.
Service intervals are conditions-based. That means the harder you drive your 230i the more often you will be visiting a dealer. A basic service package will set you back $2050 over five years or 80,000km.
All for one
The cabin of the 2023 BMW 320i clearly prioritises the driver over passengers. The instruments and controls are clear and simple, the steering wheel adjusts manually for rake and reach while the deeply bolstered seat is properly supportive and adjusts so the driver can be positioned nice and low – as you should in a car like this.
Emphasising the sports focus, there are pages you can scroll to in the instrument cluster showing such things as a live G-meter and power and torque outputs.
Unlike some rival brands' screens – like Mercedes-Benz, for instance – there isn't a whole lot of retuning of the instrument panel's fundamental appearance available.
As for others in the car, the front passenger is looked after with a similarly supportive seat and decent leg room, but rear seat passengers get a pretty raw deal.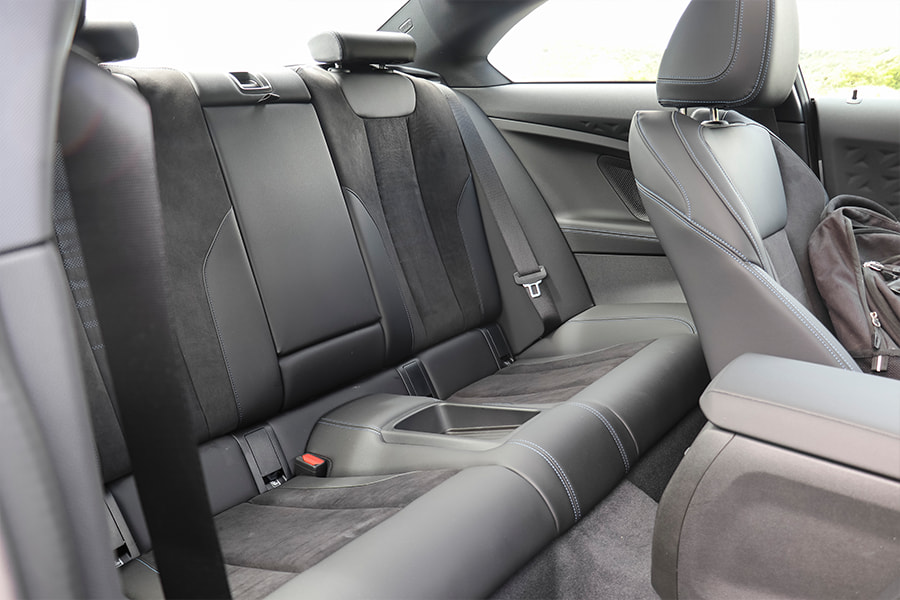 Access to the rear seat is typically two-door challenging. Once accessed, there's just not enough legroom or headroom for adults. Kids would find it liveable but claustrophobic.
The rear climate controls and USB-C points are a rare show of compassion.
As this is a true coupe with a separate boot rather than a hatch, the 230i isn't much of a load carrier either. The claimed boot size is 390 litres, which is in the ballpark of a city runabout hatchback.
The rear seats will fold down to expand space and there is a ski-port as well.
The overall ambience of the 230i is dark, but there are some lighter trims through the dashboard and centre console to give some relief.
Storage up front includes large front door bins, cup holders hidden under a roll-door, a glove box and a small, lidded centre bin. Rear seat passengers get a tray between them, a fold-down arm rest with cup holders and seatback string nets.
And one gripe about what the 230i is like outside. The door handles seem expressly shaped so your fingers slip off at the peril of fingernails. Redesign please.
Misaligned stars
Don't bother going to ANCAP looking for a safety rating for the 2023 BMW 230i as it hasn't been assessed locally. But there is a rating on the aligned Euro NCAP website, which gives the BMW 2 Series Coupe four stars out of a possible five.
The car performs well when it comes to adult and child occupant protection, but not so well when it comes vulnerable road users and safety assist.
Standard 230i safety equipment includes front and front side airbags and head airbags for all four passengers.
Camera and radar-based autonomous emergency braking (AEB) reacts to vehicles ahead in a speed range from 5-200km/h, to cyclists and pedestrians from 5-85km/h and to stationary targets up to 85km/h. BMW says the AEB works day and night and in all weather conditions.
Other driver assists include adaptive cruise control with a stop-and-go function, lane departure and change warning and rear cross traffic warning and prevention.
It doesn't have active lane keeping assistance, so if the safety features remain activated the 230i lazily meanders from side-to-side as it progresses. The aids are easily switched off, either individually or as a group.
The cruise control system can adjust the set speed to obey traffic signs. It can also be simplified by shutting off the follow function that specifies the gap to the car in front.
The 230i will provide parking assistance via a reversing camera, front and rear sensors and reversing sensors. Automated parking and reversing is standard.
Via the BMW ConnectedDrive service, the 230i will make an emergency call if it detects the car has been in an accident.
Today's technology
While BMW previewed a radical future instrumentation concept at recent Consumer Electronics Show in Las Vegas, the 2023 BMW 230i Coupe sticks to more familiar fare.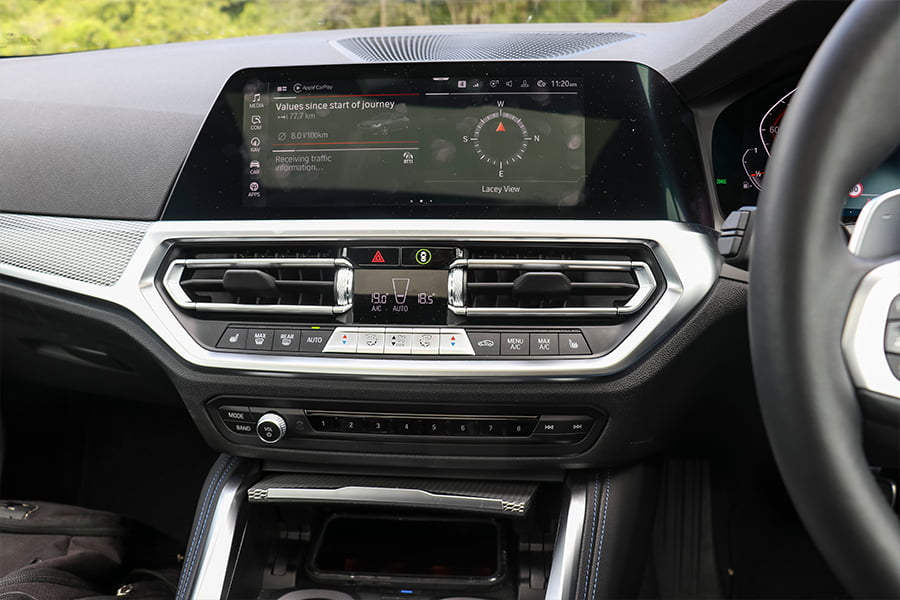 The 12.3-inch digital instrument cluster includes a proper speedo and tacho, while a 10.25-inch touchscreen sits atop the dashboard and provides access to sat-nav and audio options.
It can be controlled by is the familiar iDrive dial in the centre console, or via touch and voice controls. Menus it supports includes media, communications, internet, map, sat-nav and a very helpful back button.
Android Auto and Apple CarPlay connection is available via wireless or cable. Wireless smartphone charging, Bluetooth streaming and FM and digital radio tuning are supported. AM radio is not offered. The sounds are pumped out via a 10-speaker audio system.
There is one USB-A, one USB-C and a 12V outlet in the cockpit.
Using the seventh-generation BMW operating system, ConnectedDrive provides services such as the 'Hey BMW' personal assistant and news and weather and traffic information. It all comes free for the first three years but requires a subscription after that.
There's even something called Caring Car, which allows users to tell the personal assistant how you are feeling and it sets music, air-con and ambient lighting (and so on) to make you feel more energetic or relaxed.
Hot four
As mentioned previously, the 230i is designated by the performance of its engine, which is the ubiquitous B48 2.0-litre turbo-petrol four-cylinder.
It is the middle member in a modular family that also includes a 1.5-litre three-cylinder and 3.0-litre six-cylinder variants.
The direct-injection DOHC 16-valve engine includes variable valve and camshaft timing, a twin-scroll turbocharger with intercooler and aluminium construction of the block and cylinder head. The timing drive is via more durable chain than belt.
Where the 220i uses the same engine to produce 135kW, the 230i has been tweaked to increase outputs to 190kW at 6500rpm and 400Nm from 1550-4400rpm. The 0-100km/h claim is 5.8 seconds.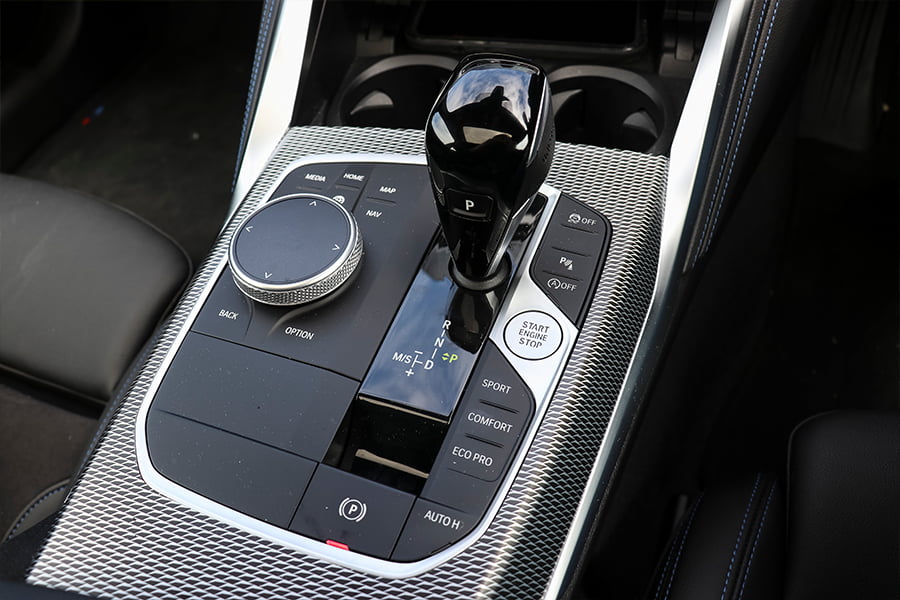 The 230i drives the rear wheels via an eight-speed ZF automatic transmission that offers Comfort, Sport and manual shift modes, the latter via the lever or flappy paddles mounted behind the steering wheel.
There is also a mode button on the centre console that cycles through Eco Pro, Comfort and Sport settings that alter the engine, throttle settings, steering and so on.
Efficient performance
The claimed combined-cycle fuel consumption number for the 2023 BMW 230i Coupe is 6.4L/100km, which is pretty decent for a performance-focused vehicle like this – and just 0.1L/100km more than the less-powerful 220i.
It uses aids such as automatic engine idle-stop, a coasting function (in Comfort and Eco Pro modes), active air flap control, on-demand operation of ancillaries and brake energy regeneration to help keep the thirst under control.
Our test result was a significantly higher 9.1L/100km, but that was after some enthusiastic driving. The 230i drinks premium fuel and has a 52-litre tank.
The goldilocks zone
Like the other members of the G42 2 Series Coupe family, the 2023 BMW 230i is based on a shortened version of the familiar CLAR architecture that also underpins the rear-wheel drive 3 Series and 4 Series. BMW says there's plenty of component sharing between 2 Coupe and 4.
By the way, BMW might want you to think the four-door 2 Series Gran Coupe is a direct relation, but it's not. It is based on a different platform and powers the front or all four wheels.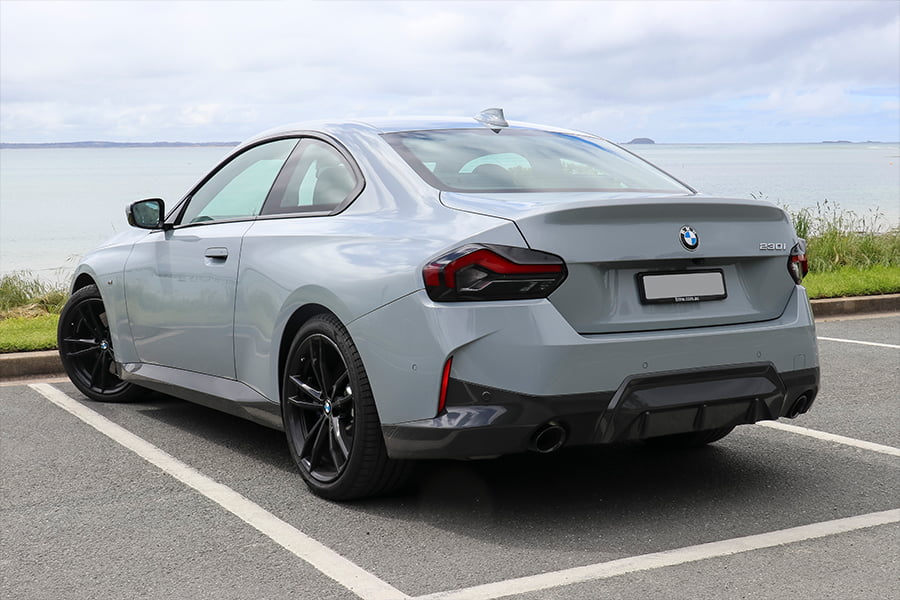 The 230i measures up at 4537mm long, 1838mm wide and is 1390mm high. It has a 2741mm wheelbase and is claimed to weigh in at 1525kg with a handling-friendly front-to-rear weight balance near 50:50.
The 230i employs a double-joint spring strut front suspension and a five-link rear-end in a passive M Sports tune.
Servotronic speed-dependent electrically assisted steering is very quick at about two turns lock to lock. The turning circle is 11.2m.
Ventilated discs are fitted up front with four-piston blue-painted M Sport callipers and are standard 230i equipment.
The end result of all this is a small, nippy and responsive car that becomes more enjoyable the more enthusiastically it is driven.
Just cruising about, its functional disadvantages (which we'll get to shortly) and firm suspension tune make it acceptable rather than fun company.
This is a car that likes to be let off the leash. The good thing is it's not so brutally fast that it treads over the line when exploring its handling and powertrain talents on the public road.
Rolling into a corner using the manual shift to down-change, pressing on that firming brake pedal, arcing the chubby steering wheel rim to hit the apex and then punching out the other side riding on the wave of torque, snapping ZF up-changes and feeling the rear-end work is satisfying and involving fun.
It's not all sweetness and light though.
The steering lacks feel and its weighting in Sport is too heavy, the suspension patters over the small stuff and smashes into the big holes, the tyres generate too much road roar and much of what engine noise there is, is fake.
At this money adaptive dampers would be appreciated and give the 230i a wider bandwidth.
A nice niche
The 2023 BMW 230i Coupe is a nicely executed vehicle for people who appreciate a little verve in their driving without spending really stupid money or having to drive at really stupid speeds to achieve it.
It's nice to have a relatively light and responsive rear-wheel drive car to steer. BMW's history is dotted with them and it's pleasing the tradition continues.
However, in this world of utes and SUVs, the 230i's impracticalities as a day-to-day urban transport vehicle are obvious.
You could commute in the 230i and it would do it competently, but treating it as an appliance would be a waste of its talents.
All of which means the 230i is a niche within a niche. If that sounds like you, enjoy!
2023 BMW 230i Coupe at a glance:
Editor's Rating: 7.4/10
Price: 
$73,200 (plus on-road costs)
Transmission: 
Eight-speed automatic
Available: 
Now
Fuel: 
6.4L/100km (ADR Combined)
Engine: 
2.0-litre four-cylinder turbo-petrol
CO2:
147g/km (ADR Combined)
Output:
190kW/400Nm
Safety rating: 
Four-star (Euro NCAP 2022)
Disclaimer: Images supplied by Carsales.
This article was prepared by an independent author. The information contained in this article represents the views and opinions of the original author, and is based on research carried out by the original author. The appearance of the article on Maxxia's website does not constitute an endorsement of its content by Maxxia in any way. The article has been made available for informational purposes only and should not be taken as advice. While all reasonable care has been taken to ensure that the statements made by the original author in the article are fair and accurate, Maxxia does not guarantee or warrant the accuracy or completeness of this information and will not be liable for, or in connection with, any loss or damage suffered as a result of any inaccuracies, errors or omissions or your reliance on this information. You should independently research and verify information before making any decision in respect of a vehicle.