By Feann Torr, carsales.com.au
The iconic Italian car maker has struggled to reclaim its position as a genuine alternative to the German triumvirate of Audi, BMW, and Mercedes despite creating critically acclaimed rival machines like the Giulia sedan and Stelvio mid-size SUV.
But its newest addition, the Tonale small SUV, might just be the tonic it needs to improve its fortunes in Australia and attract a new audience.
It is a crucial model for the brand as a stepping stone on its path towards a fully-electrified future from 2025 as it is the first to feature a mild hybrid petrol engine – and a sub $50,000 starting price. It is also packed with standard equipment and loaded with typical Italian flair.
But does it do enough to stand out in the crowded small SUV segment? Let's find out…
Grand Entrance
The Alfa Romeo Tonale arrives in Australia as the new entry point into the Italian brand.
It is available in two model grades – Ti and Veloce – that share the same mild hybrid turbo-petrol powertrain priced from $49,900 and $56,400 respectively (plus on-road costs).
Alfa Romeo has suffered poor sales in recent years which has raised questions over the brand's long-term future in Australia. But the company says it remains committed to challenging its German rivals and believes the Tonale will be pivotal to its expected turnaround with additional models, including a plug-in hybrid variant, to follow.
A variety of other new Alfa Romeo SUVs in different segments should also be heading Down Under, but for now the focus is on Tonale.
Company executives expect about 70 per cent of buyers to opt for the flagship Tonale Hybrid Veloce, and while they wouldn't reveal sales predictions for the new range, supply is said to be "ample" and that should ensure delivery times won't be protracted.
Both Tonale models are competitively priced against European rivals such as the Audi Q3 (from $50,600 plus ORCs), BMW X1 (from $60,400 plus ORCs) and the Volvo XC40 (from $53,490 plus ORCs), which was carsales' Car of the Year back in 2018.
Warranty coverage for the Alfa Romeo Tonale is five years/unlimited kilometres, with free roadside assistance over that period.
Service intervals are spaced at every 12 months or 15,000km, while capped-price servicing prices are fairly high at $3675 over five years – $545 at years one, three and five, $645 year two and $1345 year four.
Packed with gear
Alfa Romeo has recognised it can't trade on passion and style alone, so has loaded the Tonale with a long – and generous – list of standard equipment.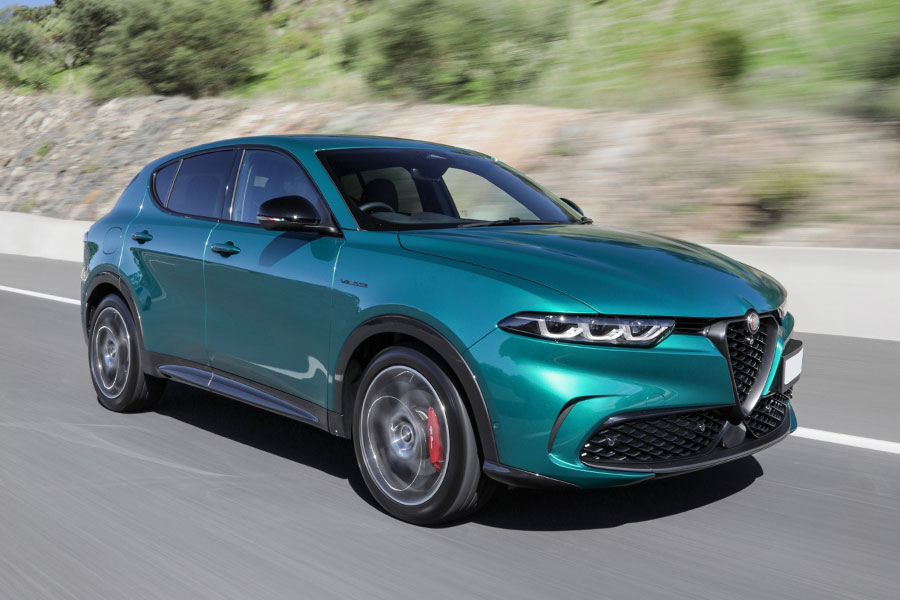 Even in the entry-level Tonale Ti, it features 18-inch alloy wheels, Matrix LED headlights with animated indicators, heated exterior mirrors, cloth and leather interior trim, dual-zone climate control and keyless entry and start.
There's also an impressively high-resolution 10.25-inch centre touch screen that hosts a myriad of infotainment functions with Apple CarPlay and Android Auto as well as a12.3-inch digital instrument cluster.
The leather-wrapped sports steering wheel and alloy pedals add a bit of typical Alfa Romeo passion to the cabin, as does the DNA drive mode selector dial.
The overall ambience is suitably classy.
Stepping up to the Veloce adds bigger 19-inch alloy wheels, scarlet Brembo brake callipers, dark exterior accents, tinted windows, adaptive suspension, massive aluminium gear shift paddles behind the steering wheel, a 360-degree parking camera, auto-dimming side mirrors and perforated black Alcantara and leatherette seat upholstery with crimson stitching and embroidered 'Biscione' logos.
Disappointingly, all models come standard with manually adjustable seats.
If you want eight-way power-adjustable front seats you'll have to fork out an extra $4500 for the Lusso pack, which also adds heating and cooling to the seats, a heated steering wheel, full leather upholstery with dark grey stitching and a 14-speaker, 465W Harman Kardon audio system.
There's also a $2500 Technology pack for the base-grade Tonale Ti that adds blind spot monitoring, rear cross traffic alert, traffic jam assist, side parking sensors, a 360-degree camera and auto-dimming side mirrors – most of which you might have expected to be standard from a premium brand like Alfa Romeo, and which are all included on the Veloce.
The options list is positively miniscule compared to its German rivals. There's a panoramic dual-pane glass sunroof ($2500), while four exterior paint jobs add $1600: Alfa Red, Alfa Black, Vesuvio Grey, Misano Blue.
Going for Veloce also unlocks unique 20-inch alloy wheels ($1500) and Montreal Green tri-coat paint ($2500).
Cinque stella
The Tonale uses the same basic structure as the Jeep Compass and it has scored a full five-star safety rating from independent crash authority ANCAP.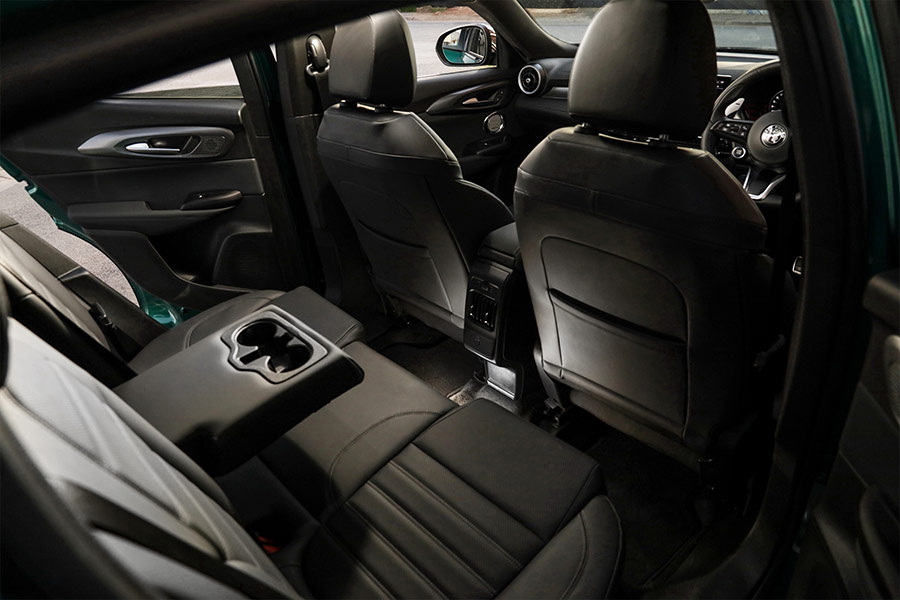 Occupants are protected by six airbags that provide coverage for front and rear passengers, and all models are equipped as standard with autonomous emergency braking, adaptive cruise control with traffic sign recognition, lane keeping assisting and departure warnings, front and rear parking sensors, driver fatigue detection and tyre pressure monitoring.
Matrix LED headlights are also standard on both models, which use an advanced high-beam system that shuts down individual LEDs to avoid dazzling other drivers while keeping the high beams on to dynamically illuminate around other motorists.
Screen time
With plenty of digital real-estate from its twin LCD screens, the 2023 Alfa Romeo Tonale is billed as a class leader in this regard.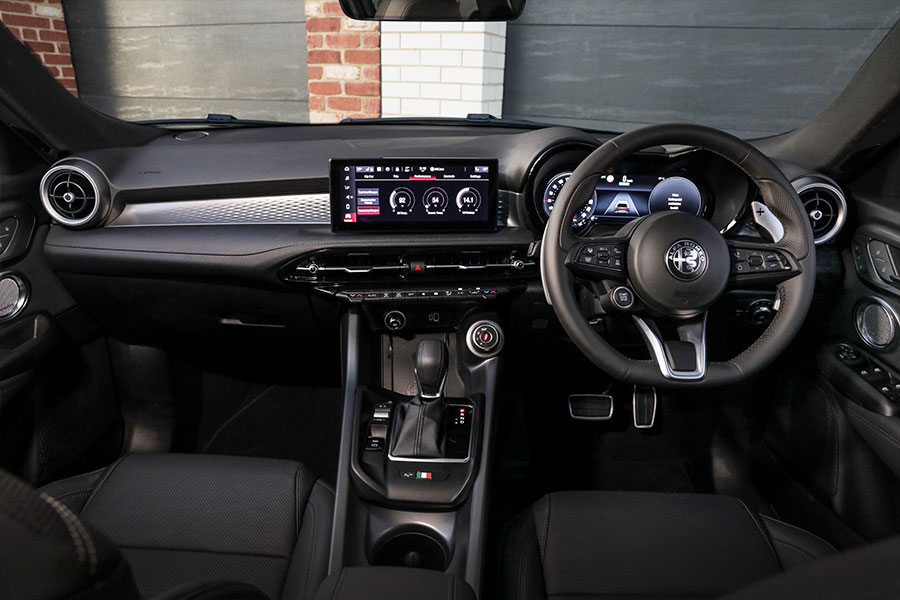 In addition to a range of useful features on both digital screens, such as Android Auto and Apple CarPlay compatibility (wired and wireless) and an excellent GPS-based satellite navigation system with voice control, the Tonale also comes with the Italian brand's first implementation of Alfa Connect services.
By linking the vehicle with the Alfa Connect app, owners can perform a number of remote operations via their smartphone. These include locking, unlocking, and flashing the Tonale's lights, plus there's a vehicle finding tool to help you locate the SUV in a full car park.
The app will also talk with the car to provide a monthly report and update owners on any mechanical issues. Alexa integration is part of the package, which will expand its remit considerably.
La Dolce Vita
Alfa Romeo has always built beautiful cars, and the Tonale certainly stands out against its boxier (more conservative) European rivals. It definitely looks like an Alfa should with a host of unique design elements that hark back to legendary vehicles from its past catalogue.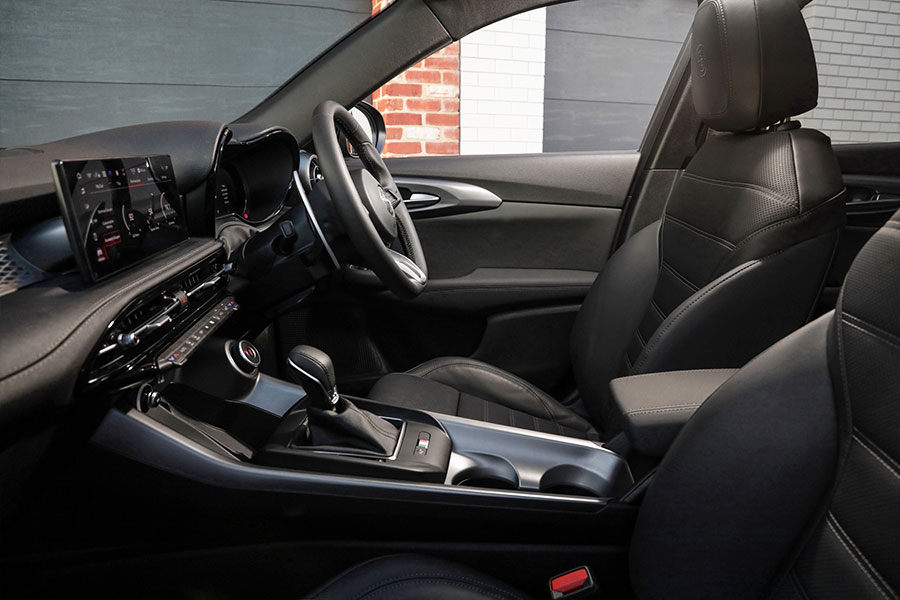 But it's the interior that is even more impressive, as the cabin truly blends Italian style with quality and luxurious touches that makes it ultra-competitive in its class.
All the major touchpoints are nicely finished, particularly the sports seats, the leather-clad steering wheel, and the two-tiered dashboard design with circular air vents.
There's not too many cheap plastics in evidence, and smaller touches add some personality – like the way all the controls seem to wrap around the driver, the engine start button on the steering wheel and little Italian flag easter eggs throughout the cabin.
Physical buttons to activate the climate control are a welcome sight and easy to use, and the digital screens are responsive with logical controls for the menu items. We also like the fact there are USB-A and USB-C connections in both the front and rear, so you don't need countless cables or adapters to keep mobile devices charged.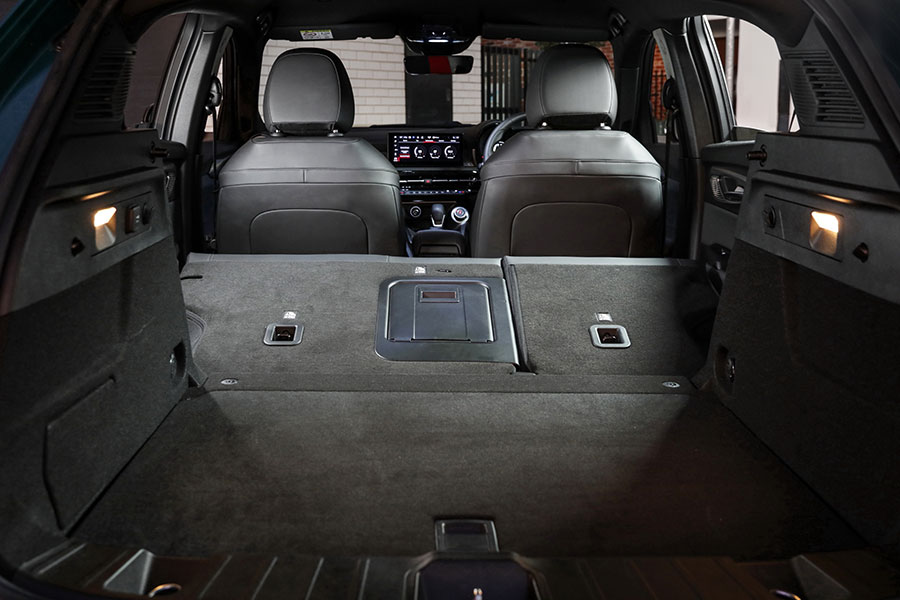 The interior space is good for both front and rear occupants given the vehicle's 4528mm length, and the power-operated tailgate exposes a remarkably large boot with 500L of cargo space.
But, as we mentioned earlier, power-adjustable front seats will set you back $4500, as part of the Lusso or luxury pack. If this bundle was included as standard on the Veloce – even for a slightly higher base price – Alfa would've been closer to nailing the brief.
Mildly spicey
For now, both variants of the Alfa Romeo Tonale are powered by the same 1.5-litre turbocharged petrol four-cylinder engine that also features a 48-volt mild hybrid system.
It produces 118kW of power and 240Nm of torque, which is on par with most of its German rivals and drives the front wheels through a seven-speed dual-clutch automatic gearbox.
The hybrid system includes a small 15kW/135Nm electric motor that has enough pulling power to propel the car silently in certain scenarios.
We managed to coax the Tonale from standstill to around 20km/h on pure electricity, but it drains the 48V (0.8kWh) lithium-ion battery quickly. Its primary role is to assist the petrol engine with some of the heavy lifting while accelerating to reduce fuel consumption.
Alfa Romeo claims the Tonale hybrid has a combined average of 5.6L/100km, but we managed a reading as low as 4.2L/100km while trundling through Adelaide's CBD during our first road test. After more spirited driving through the hills, we ended the day at 7.2L/100km.
One for the road
Alfa Romeo has always been a sports car company, even as the world turned away from traditional sedans to SUVs. This has appealed to traditional enthusiasts – the Alfista – and critics, but perhaps to the brand's detriment as it hasn't helped attract new buyers.
With the Tonale, however, it seems like Alfa has purposely dialled back some of its inherent sportiness – and pumped-up the comfort levels – in order to appeal to a broader audience and steal some of the German's share of the market.
Despite some misgivings around late-stage prototype Tonale SUVs we drove in Italy last year, the entry-level Tonale Ti's passive suspension manages to straddle an affable line between absorbent ride comfort and dynamic handling.
It's a relatively quiet SUV too, as Alfa has used sound-deadening materials to good effect here to give it a more premium feel than top-shelf small SUVs from mainstream Asian brands.
The three drive mode settings provide tangible changes to the way the car behaves as well, altering steering weight and engine response.
We spent more time driving the flagship Tonale Veloce that gets adaptive dampers, and its two suspension settings (Comfort and Dynamic) give it more scope at both ends of the driving spectrum.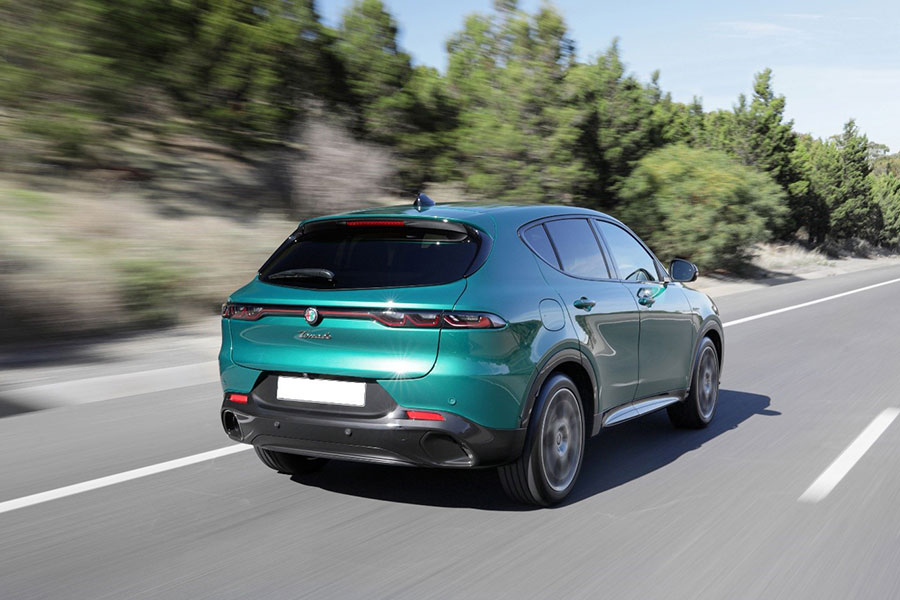 Cruising through Adelaide and the surrounding suburbs in Comfort mode offered slightly more compliance than the Ti model's one-size-fits-all suspension even though the Veloce rides on larger wheels with lower-profile tyres.
Lock in Dynamic mode on the DNA dial and the suspension and steering firm up appreciably, giving the Tonale Veloce plenty of confidence through corners and better body control.
There is a hint of torque steer under full throttle getaways, but the Veloce tracks through corners keenly and with impressive grip – testament to the solid work Alfa Romeo's chassis engineers have wrought here.
The brake-by-wire system is effective but lacks feedback, as does the electrically assisted power steering, both of which dilute the connection between car and driver somewhat.
Then there's the engine. It's very good around town, generating ample mid-range torque and able to deliver impressive fuel economy while being refined and quiet at civil speeds.
But drop the hammer though and the engine takes a while to rev and struggles to pull the vehicle's circa-1500kg mass with any sort of urgency.
This makes blasting out of corners less 'yee-haw!' and more 'yawn-oh'.
Alfa Romeo claims a 0-100km/h time of 8.8 seconds, but testing showed it to be slightly slower than that.
Off the beaten path
Like most SUVs in this category, the Alfa Romeo Tonale's high-riding stance is designed more for comfort and convenience than it is for cross-country adventures.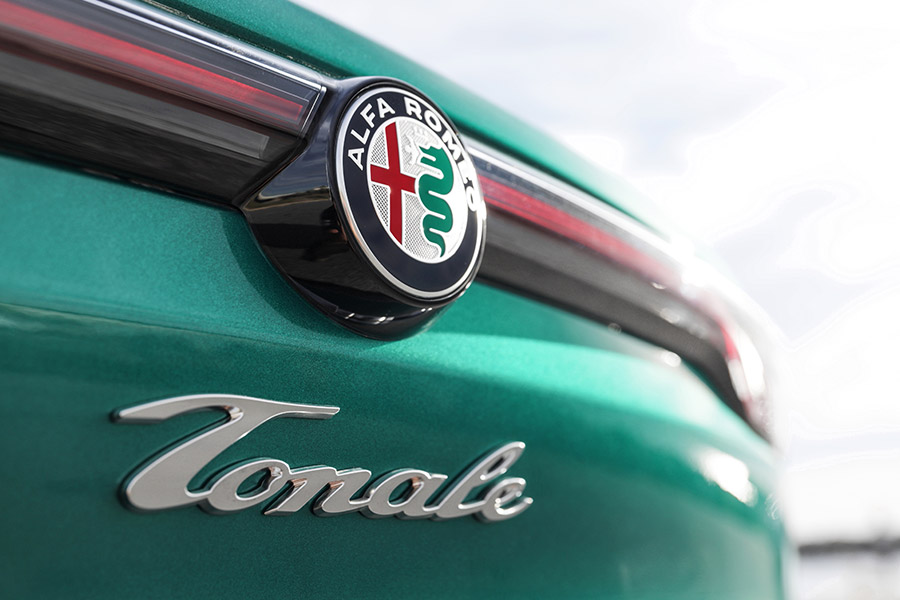 There's no specific off-road mode and given it's a front-drive vehicle with average ground clearance (140mm), the 2023 Alfa Romeo Tonale would struggle on steep climbs or boggy trails.
However, it was predictable and surprisingly obedient to drive on well-graded dirt roads. But anything beyond gravel would be an act of sheer folly.
Should I buy an Alfa Romeo Tonale?
For all the Alfa-ness the Tonale loses in dynamics and performance it becomes the most convincing model yet in the Italian brand's stable.
Sure, it's not as sharp as a pin-stripe suit, it doesn't sing like Pavarotti and won't win a green light Grand Prix, but it is a better car for everyday and every person.
It still brings loads of unique charm, it looks great, has plenty of space and offers a genuinely premium experience from inside the cabin. Plus, it can be ultra-efficient when driven around town.
This time, the Alfa Romeo Tonale stands out from the crowd for all the right reasons.
Alfa Romeo Tonale Hybrid Veloce 2023 at a glance:
Editor's Rating: 7.7/10
Price: 
$56,400 (plus on-road costs)
Transmission: 
Seven-speed dual-clutch automatic
Available: 
Now
Fuel: 
5.6L/100km (ADR Combined)
Engine: 
1.5-litre four-cylinder turbo-petrol
CO2:
129g/km (ADR Combined)
Output:
118kW/240Nm
Safety rating: 
Five-star (ANCAP 2022)
Disclaimer: Images supplied by Stellantis Australia.
This article was prepared by an independent author. The information contained in this article represents the views and opinions of the original author, and is based on research carried out by the original author. The appearance of the article on Maxxia's website does not constitute an endorsement of its content by Maxxia in any way. The article has been made available for informational purposes only and should not be taken as advice. While all reasonable care has been taken to ensure that the statements made by the original author in the article are fair and accurate, Maxxia does not guarantee or warrant the accuracy or completeness of this information and will not be liable for, or in connection with, any loss or damage suffered as a result of any inaccuracies, errors or omissions or your reliance on this information. You should independently research and verify information before making any decision in respect of a vehicle.