By Tim Britten, carsales.com.au
Alfa Romeo arrived late to the SUV party with its Stelvio and has largely been lost in the crowd. While it almost beat the Giulia sedan as the best-selling Alfa model in 2022, it hardly ranks against the most popular mid-size luxury SUVs.
Still, there's a lot to like about the Stelvio, particularly the mid-spec Veloce variant we're testing here which holds its own as one of the sportier options in the class.
Offering a gutsy turbo petrol engine, the Stelvio Veloce is a worthy alternative in a market segment populated by the likes of the Porsche Macan, BMW X4 and Audi Q5 Sportback.
It's not quite the rip-snorting supercar on stilts that is the flagship Stelvio Quadrifoglio, but with 206kW of power and 400Nm of torque it is the most powerful four-cylinder Stelvio version yet and sits comfortably among the fastest of its type.
So, let's see if it is worth a closer look.
In the mix
The latest iteration of Alfa Romeo Stelvio Veloce originally launched with a sticker price of $78,950 plus on-road costs when it arrived in showrooms in the middle of last year.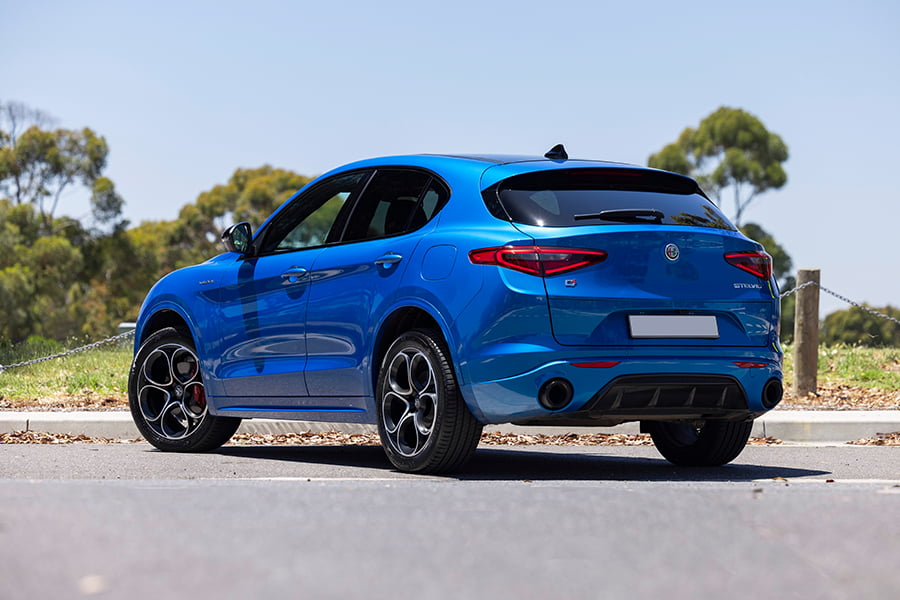 Since then, though, prospective buyers will have to fork out an additional $4000 (before ORCs).
That hasn't altered its position in the pecking order as it still manages to be more accessible than the entry-level Porsche Macan ($89,300 plus ORCs), the Audi Q5 Sportback 45 (from $90,600 plus ORCs) and the BMW X4 xDrive30i (from $99,900 plus ORCs). And it's significantly cheaper than the Stelvio Quadrifoglio that costs $160,700 (plus ORCs).
Sharper dynamic focus
Alfa Romeo has trimmed the Stelvio line-up to just two variants – the Veloce and Quadrifoglio – as demand for lower-grade models petered out.
The 2022 update to the Veloce not only brings improved power outputs from the 2.0-litre turbocharged four-cylinder engine, but also a host of upgraded components to further enhance its dynamic character, including a Q2 limited-slip rear differential, active suspension and larger brakes with four-piston front callipers.
The alloy wheels have also increased in size from 19 to 20 inches.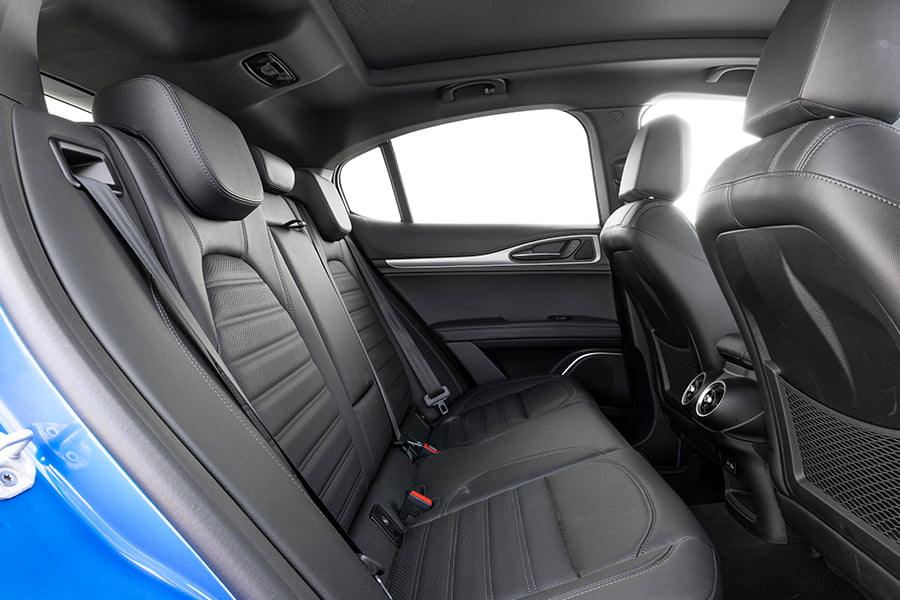 Inside the cabin, there are a number of detailed revisions such as stitched leather on the seats, dash and door trims, powered front sports seats with three-position memory settings on the driver's side, heated seats front and rear, a hands-free powered tailgate and a solid 10-speaker sound system that includes a subwoofer to impress passers-by in the street.
Carryover cabin niceties include a heated steering wheel, ambient lighting and aluminium pedals.
Our particular Stelvio Veloce featured an optional $1650 14-speaker Harman Kardon audio system ($1650) to further enhance the soundscape, as well as a sliding panoramic sunroof ($3300) and metallic Misano Blue paint ($2150).
Alfa Romeo Australia recently improved its aftersales support with an extension to its warranty provisions, now out to five-years with unlimited kilometres.
As for scheduled servicing, the Stelvio Veloce still requires regular maintenance every 12 months or 15,000kms. The first visit will cost $345, the second is $645, the third is $465 while the fourth is a major service that will cost $1065 before dropping back to $345, culminating in a total of $2865 over five years or 75,000km.
Where's the flair?
Alfa Romeo interiors have generally always taken a little different route on the road to style – for good or bad.
And, in an age where extravagant styling excesses are increasingly prevalent, the Stelvio Veloce is something of an anachronism – both in Alfa folklore and industry trends in general.
There's nothing like an iPad stuck in the dash to control the myriad of entertainment and conveniences, and nor is there is a digital instrument display that looks like you're driving a video game.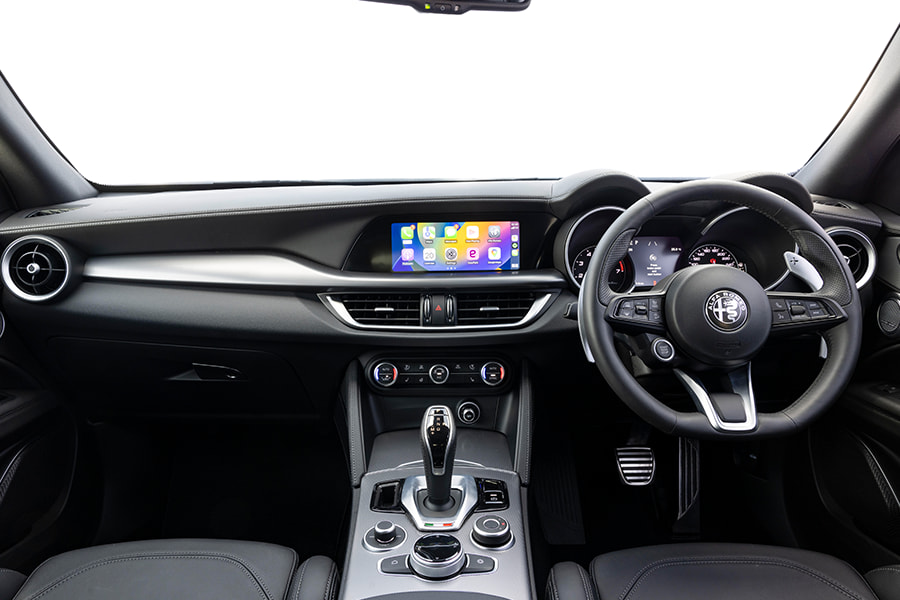 Instead, the Stelvio might appear a little outdated and bland to technophiles. Yet, it still imbues an element of restrained grace and prestige in typically Italian style.
Enthusiastic drivers will appreciate the supportive embrace of the widely adjustable powered front seats, extending lower cushions and three memory settings (driver's only), as well as the conventional analogue instrument display which is free of the often-confusing array of digital advice presented in many of today's cars.
The Stelvio's oversize, column-mounted shift paddles certainly make a statement and the starter button on the steering wheel is equally easy to find.
Rear seat occupants in the Stelvio will suffer from a disappointing shortage of legroom, which is somewhat out of place in the context of a mid-size SUV.
The cushioning is fine, and so is the shoulder-room, but the fact that adults need to compromise their stretching comfort is not what you would expect in an $80,000-plus five-seater.
The rear seat headroom, especially with the optional dual-pane sunroof, isn't anything special either.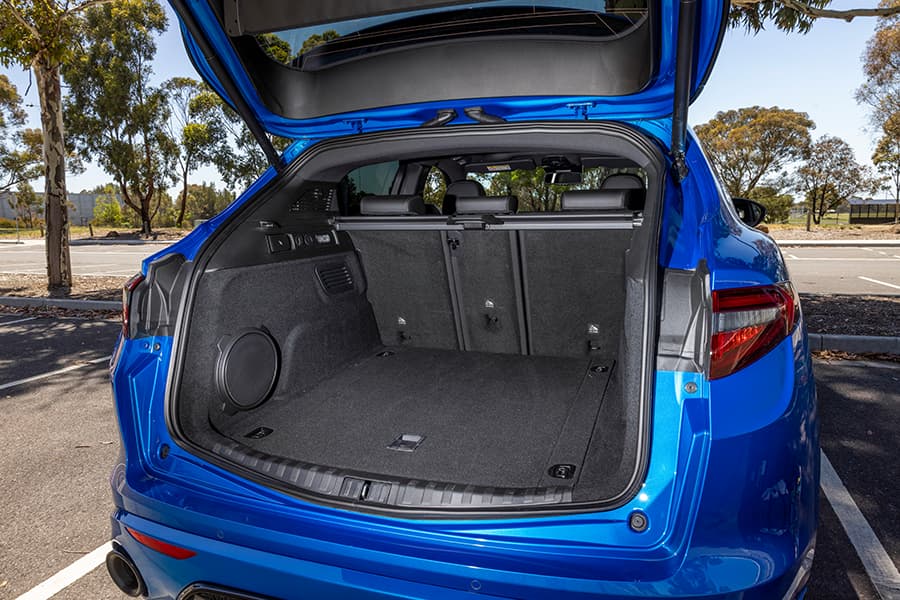 The cargo carrying capacity isn't as compromised, with a decent 499-litre boot that can be extended to 1600 litres by folding the rear seats flat – although we are not ecstatically happy with the inflatable space-saver tyre which seems to take up an inordinate amount of space.
The Veloce's hands-free tailgate is a welcome addition, too.
Covering the basics
Standard tech equipment on the 2022 Alfa Romeo Stelvio Veloce includes an 8.8-inch touchscreen with sat-nav and Apple CarPlay/Android Auto connectivity complete with wireless phone charging as well as four USB ports sprinkled around the interior.
Headlights are self-dipping and will help the driver see partly around approaching corners, but the dated bi-Xenon technology fails to provide the penetrating spread of white light or the glare-avoiding characteristics – aimed at making life safer for oncoming traffic – that are available via LEDs.
Safely does it
Headlights aside, the Alfa Romeo Stelvio Veloce features a comprehensive rollcall of active and passive safety systems that brings it up to speed with most rivals.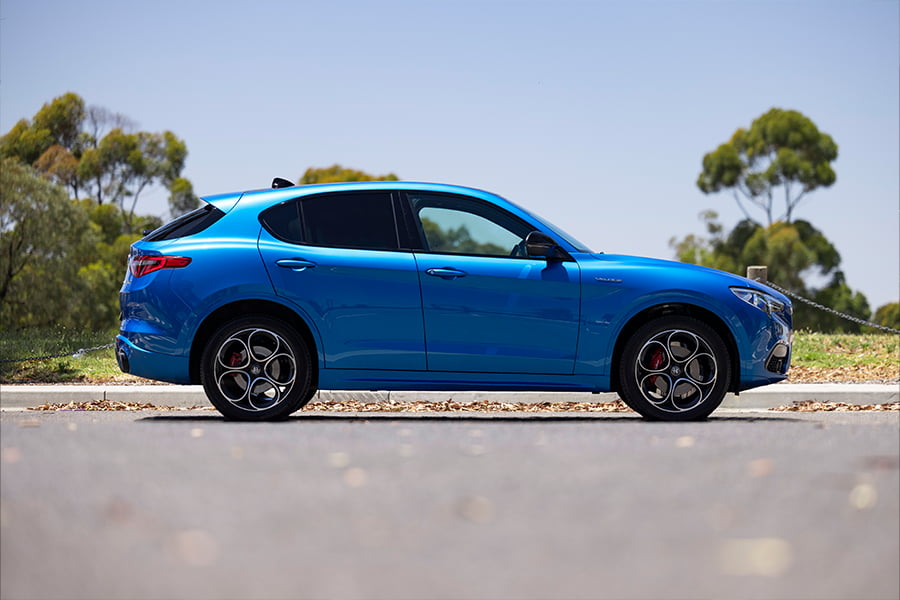 All the usual safety spec is there, including autonomous emergency braking (AEB) – for both low and high speeds – pedestrian avoidance, adaptive cruise control, lane departure warning with lane keep assist, blind spot monitoring with active assist, rear cross traffic alert, front and rear parking sensors and driver attention monitoring.
The Stelvio has six airbags and a five-star ANCAP safety rating that dates back to testing carried out in 2017, the year before it launched in Australia.
Hot Four
The 2.0-litre turbo engine was powered-up for the Alfa Romeo Stelvio Veloce in 2021 and has a bit to boast about with its solid 400Nm of torque and lofty 206kW maximum.
Redlined from 5500rpm, the Veloce's powerplant requires a mere 5250rpm to reach peak power, which doesn't encourage excursions into the upper reaches of the rpm range.
Because the 400Nm of maximum torque is produced at higher engine speeds than most turbo fours of this capacity (2250rpm), all the action occurs across a fairly narrow 3000rpm power band.
That means there's a slight faltering at low engine speeds that is followed by a very solid but relatively brief rush up to maximum power.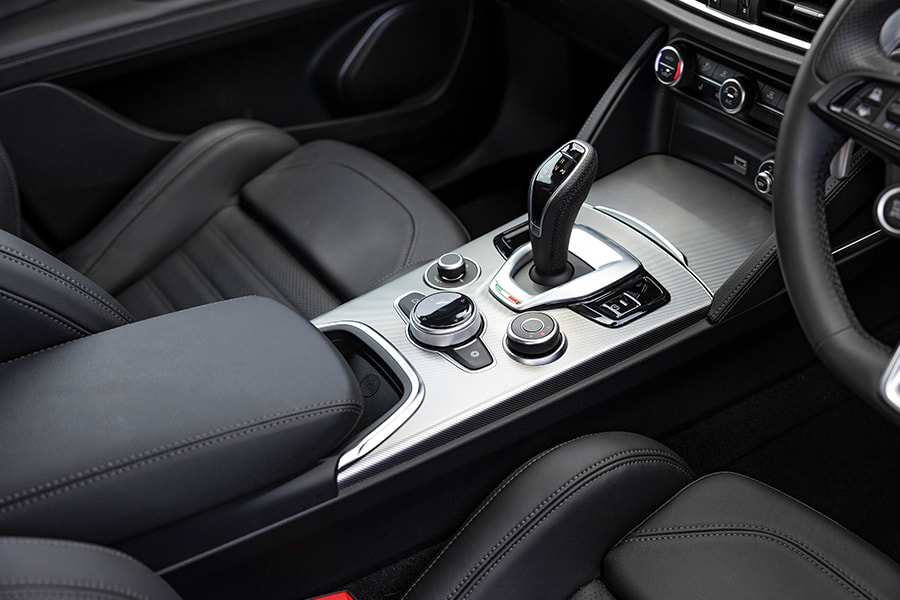 The upshot is that the Veloce feels eager but not frenetic, leaving the eight-speed ZF automatic transmission to sort out when and where the power output is best applied.
Alfa must have got it right as it can rocket from 0-100km/h in 5.7 seconds and yet delivers a claimed combined-cycle fuel consumption of 7.0L/100km, both of which are nothing to be ashamed of.
The price of power
Achieving that 7.0L/100km is not an easy task in everyday situations, however.
Our 2022 Alfa Romeo Stelvio Veloce review car was more inclined to sit around the 10L/100km mark and in past reviews we've seen 2.0-litre Stelvio models using 11L/100km or more.
Alfa Romeo at least suggests a diet of 95 RON fuel, not 98 RON as required by some other performance SUVs, although its relatively small 64-litre fuel tank will tend to limit the Veloce's driving range.
What's it like to drive?
Dynamically, the 2022 Alfa Romeo Stelvio Veloce rates among the top contenders in its segment and is remarkably car-like in its composed, flat-handing demeanour.
With lightning-quick steering – there's just 2.2 turns lock to lock yet the turning circle is a competitive 11.8 metres – the Stelvio Veloce hides its SUV underpinnings on twisty, undulating roads.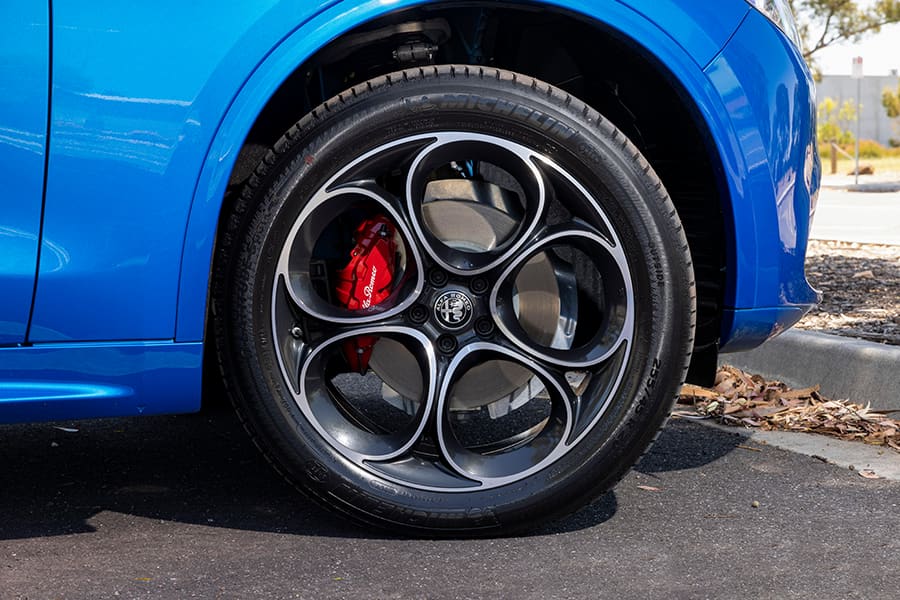 This is helped by the 20-inch tyres that provide plenty of grip without compromising ride quality over bumpy stretches of tarmac.
The Stelvio's light-footedness is helped by its weight too, which measures up at 1619kg tare to make it much lighter than its competitors from Porsche, Audi and BMW.
The Stelvio Veloce can be made to adopt a quietly conservative character or – in a muted sort of way – become an exhaust-popping, rev-matching road-stomper via the three-mode DNA controller (for Dynamic, Natural and Advanced settings) on the centre console which also switch the shock absorbers between soft and firm settings.
The rear biased Q4 all-wheel drive system scopes out grip requirements to send power progressively between back and front ends depending on road conditions and/or driver behaviour.
If there's a beef, it's that the Stelvio's steering is prone to an unsettling low-speed clunking on full lock that's been noted in previously-driven Alfas and is understood to be related to the front-end geometry.
Going off-piste
The 2022 Alfa Romeo Stelvio doesn't pretend to be an off roader. While it obviously has all-wheel drive, there's no defined modes for sand, gravel or mud like other SUVs.
It can easily cope with a mildly slushy or gravelly track where the AWD system and road-oriented tyres cope well, but there's little point in taking it much further.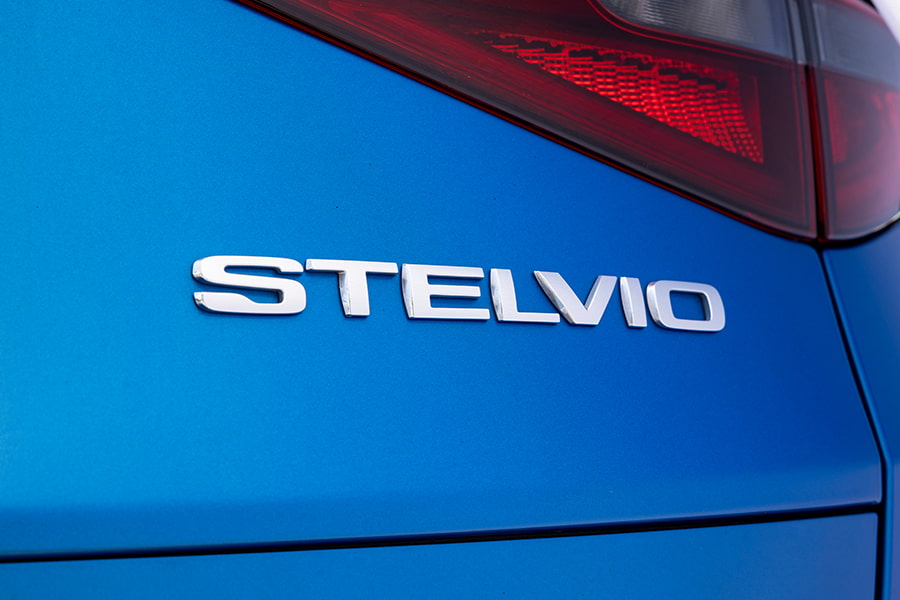 Maybe in contradiction of this bitumen-biased slant, the Stelvio Veloce is rated to tow a braked trailer/caravan weighing up to 2.3 tonnes.
No apologies
That the 2022 Alfa Romeo Stelvio is well down in the mid-size premium SUV popularity stakes is due to numerous factors including that it is swamped by a big list of high-profile competitors.
Notwithstanding this, the Stelvio Veloce has nothing to apologise for in terms of engine performance, dynamic capabilities and charm.
And there's no question about the status or prestige of the Alfa Romeo brand.
The question is whether you would lean away from the more popular performance-oriented mid-size premium SUVs – as an indicator of market preferences, the Porsche Macan outsells the Alfa by a ratio of about 10 to one – and the answer would unquestionably refer to the existence of a band of welded-on Alfistis unprepared to even consider an opposing brand.
The price might be relatively high, but the performance and dynamics of the Alfa Romeo Stelvio Veloce place it comfortably in the high-performance mid-size SUV mix.
2022 Alfa Romeo Stelvio Veloce at a glance:
Price: 
$82,950 (plus on-road costs)
Transmission: 
Eight-speed automatic
Available: 
Now
Fuel: 
7.0L/100km (ADR Combined)
Engine: 
2.0-litre four-cylinder turbo-petrol
CO2:
161g/km (ADR Combined)
Output:
206kW/400Nm
Safety rating: 
Five-star (ANCAP 2017)
Disclaimer: Images supplied by Carsales.
This article was prepared by an independent author. The information contained in this article represents the views and opinions of the original author, and is based on research carried out by the original author. The appearance of the article on Maxxia's website does not constitute an endorsement of its content by Maxxia in any way. The article has been made available for informational purposes only and should not be taken as advice. While all reasonable care has been taken to ensure that the statements made by the original author in the article are fair and accurate, Maxxia does not guarantee or warrant the accuracy or completeness of this information and will not be liable for, or in connection with, any loss or damage suffered as a result of any inaccuracies, errors or omissions or your reliance on this information. You should independently research and verify information before making any decision in respect of a vehicle.