By Carsales staff
Hyundai wants families to go beyond the suburbs with its bold new Santa Fe seven-seater.
But it has removed one of the keys to exploring outside the city limits, with confirmation that it will ditch diesel power in this fifth-generation model.
Bigger, bolder, and more imposing than ever before, Hyundai claims the new Santa Fe has purposely been designed to not only look good in the city but also to encourage families to go on long-distance holidays and camping thanks to a significantly larger boot and wider tailgate that can swallow more cargo.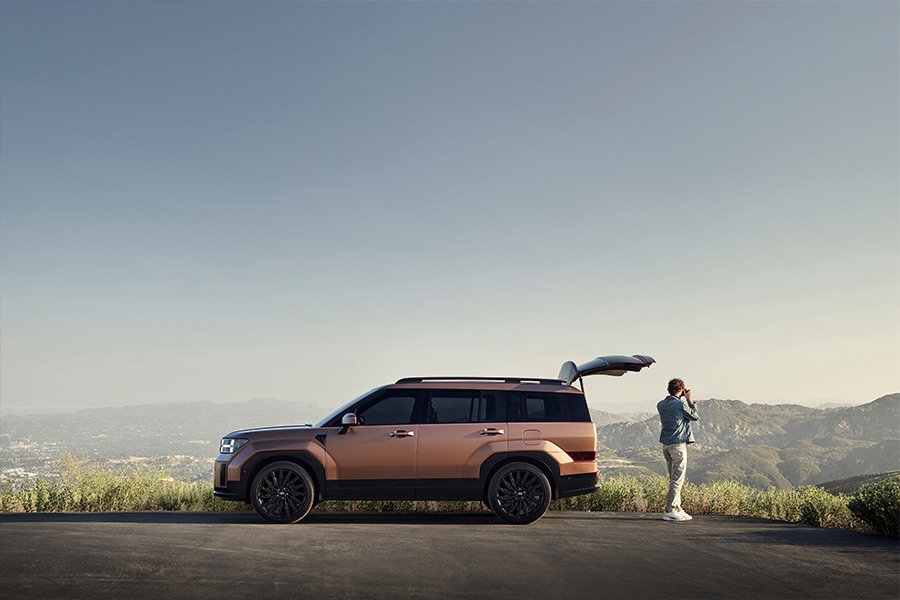 Measuring 4830mm long, 1900mm wide and 1720mm tall while riding on a 2815mm wheelbase, the new Santa Fe is larger in every dimension than the model it replaces and almost as big as the range-topping Palisade that sits above it.
Under the bonnet will be an array of new four-cylinder powertrains comprising a 2.5-litre petrol (143kW/246Nm), 2.5-litre turbo-petrol (207kW/422Nm), 1.6-litre turbo-hybrid (132kW/265Nm) and a 1.6-litre turbo plug-in hybrid (118kW/265Nm), though not every drivetrain will be available in every market.
It is expected that Hyundai Australia will offer the Santa Fe locally with just the Sonata N-Line-sourced 2.5-litre turbo and the 1.6-litre hybrid system, given the company has previously put a pin in offering plug-in hybrids Down Under.
The larger engine will be paired to an eight-speed dual-clutch automatic transmission whereas the smaller but more frugal hybrid will feature a six-speed torque converter auto, with front and all-wheel drive options for the 2.5-litre and exclusively all-wheel drive for the Hybrid.
Expect both powertrains to be offered across multiple trim levels like the existing model, which can be had in standard, Active, Elite and Highlander grades.
The new exterior design is mirrored inside the cabin with an abundance of straight lines and next to no curved surfaces.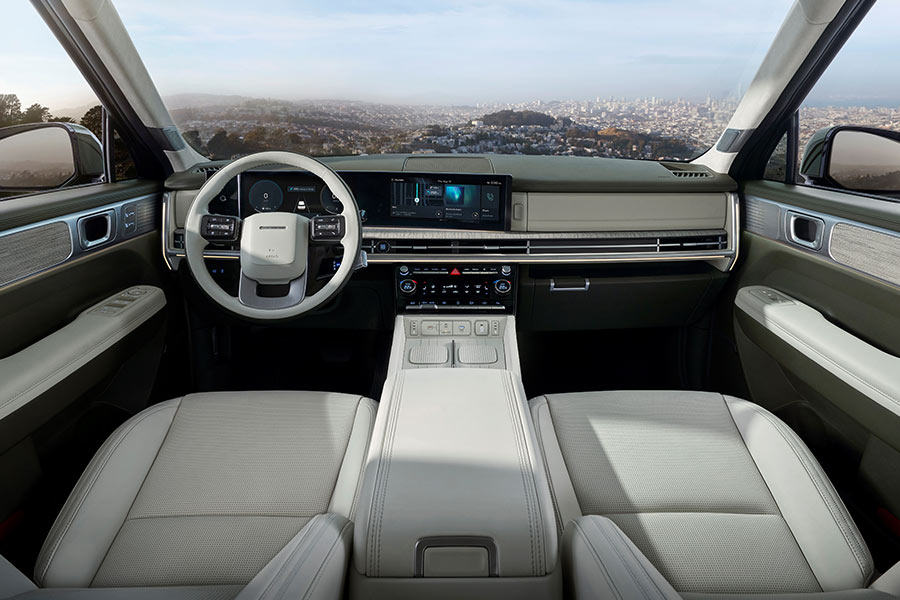 The obvious exceptions to that rule are the steering wheel and the curved panoramic display, which bundle the 12.3-inch digital cluster and infotainment system into one aesthetically pleasing LCD interface.
The rest of the cabin is big, chunky, and full of sustainable materials. It is also more spacious with the biggest improvements made to accommodate more cargo in the boot and liberate additional room for third-row occupants.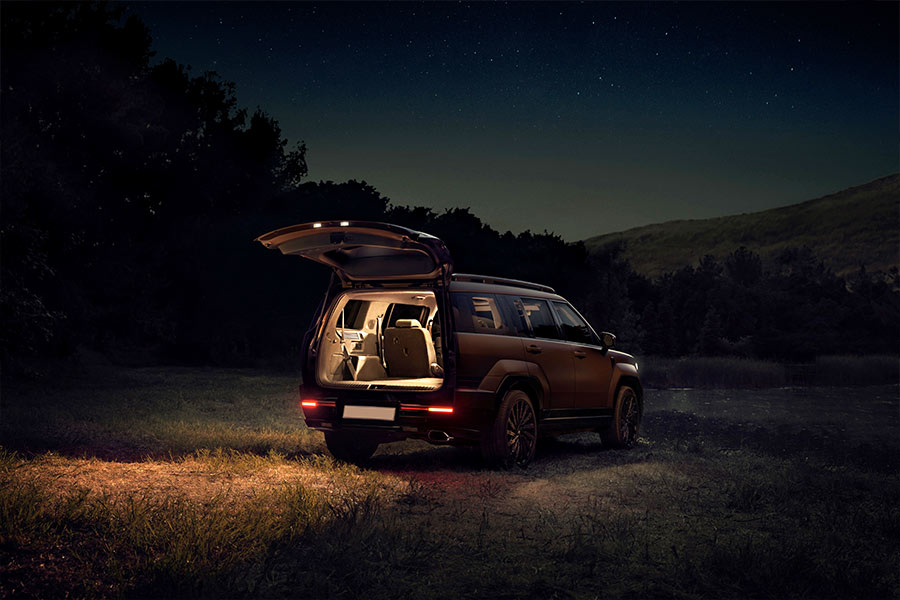 The boot can now carry 791 litres of cargo when the third row is stowed – an increase of up to 91 litres compared to the current model - and is accessed via a much wider tailgate, which Hyundai says helps elevate the ambience when relaxing in the countryside, plus the obvious benefits of being able to get bigger items in and out of the boot more easily.
"This appealing design feature reflects Hyundai Motor's use of big data to identify customers' interest in the latest outdoor lifestyle trends, such as car camping and gear-intensive adventures," the brand said.
Equipment highlights will include "the world's first Bilateral Multi-Console storage space", plus a digital rear-view mirror, dual wireless phone charging system, a 'UV-C Sterilization Tray', over-the-air updates for the infotainment system, digital key compatibility, navigation-based smart cruise control, automatic climate control, relaxation front seat with leg rest and a 6.6-inch full-touch climate control display.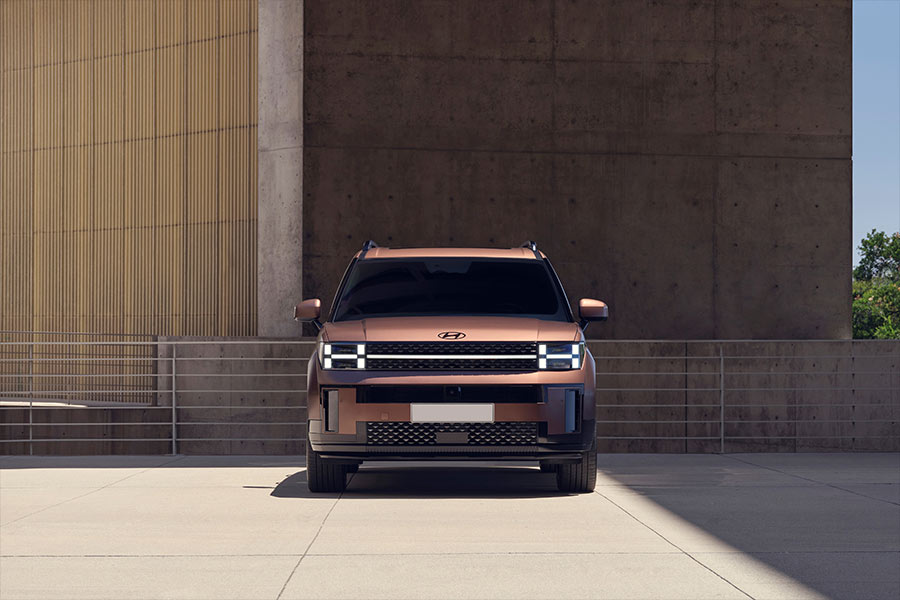 Headline safety gear meantime comprises forward collision-avoidance assist, lane following assist, driver attention warning, highway driving assist, intelligent speed limit assist, rear cross-traffic collision-avoidance assist, parking sensors, 360-degree camera, remote smart parking assist, and safe exit assist.
"Since the first-generation SANTA FE's debut 23 years ago, this iconic SUV has won the hearts of millions of customers around the world," said Hyundai president CEO Jaehoon Chang.
"The all-new Santa Fe's bold and powerful identity, which encompasses the boundless outdoors and urban landscape, will establish an unrivalled presence in the SUV market."
Australian pricing and final specification details will be confirmed closer to the new Santa Fe's local launch early next year.
Disclaimer: Images supplied by Hyundai.
This article was prepared by an independent author. The information contained in this article represents the views and opinions of the original author, and is based on research carried out by the original author. The appearance of the article on Maxxia's website does not constitute an endorsement of its content by Maxxia in any way. The article has been made available for informational purposes only and should not be taken as advice. While all reasonable care has been taken to ensure that the statements made by the original author in the article are fair and accurate, Maxxia does not guarantee or warrant the accuracy or completeness of this information and will not be liable for, or in connection with, any loss or damage suffered as a result of any inaccuracies, errors or omissions or your reliance on this information. You should independently research and verify information before making any decision in respect of a vehicle.