Impactful Women Celebrated at South Australian Leaders' Breakfast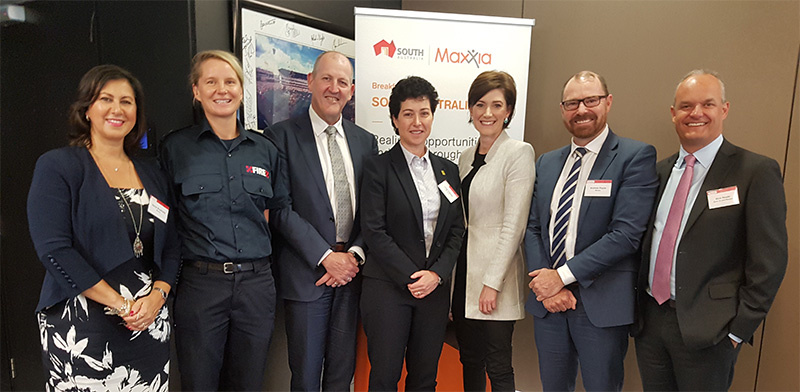 With the key theme of "Realising opportunities and value through embracing gender differences" at the 2019 Maxxia SA Business Forum, there was plenty of discussion around leadership, culture, having key sponsors for female leaders and the visibility of women's success across many industries.
Hosted by Maxxia at the iconic Adelaide Oval and facilitated by Maxxia's own Ron Steiner (Group Executive, Customer Relations), an audience of business leaders heard about a range of topics tied to enabling successful women.
Some of the key points discussed included:
Leadership and the attitude of senior leaders to create the right culture for women's success;
Having strong role models to learn from as well as key sponsors to advocate for women and remove barriers;
Having the confidence to make decisions and demonstrate the same ambition as female trailblazers;
The importance of celebrating the achievements of women in other areas such as women's football, women's cricket as well as other sports, plus police and emergency services.
"Making sure that we drive and celebrate a gender-diverse workforce in all industries and professions in the future to deliver sustainable cultural and commercial outcomes," was a key takeaway for Andrew Payze, Maxxia's Regional General Manager Sales and Distribution.
A panel discussion featuring business leaders Nick Reade (Chief Executive, Bank SA), Linda Fellows (Assistant Commissioner SA Police), Nicolle Flint (MP, Member for Boothby) and Jo-Anna Kenny ( Station Officer Operations, SA Metropolitan Fire Service) canvassed many topics, including creating opportunities through sponsorship and spotlighting successful women across a range of industries to inspire others to greater things.
"The distinguished panellists shared their own wonderful stories and, combined with the relaxed environment and engaged audience, made for some really insightful conversations," Mr Payze said.
Other senior members of the Maxxia team in attendance included CEO Mike Salisbury and Venus Sopikiotis, Group Executive Southern Region. Venus says she found the panel conversation inspiring: "It takes a shared commitment from male and female leaders to address gender diversity" and one of the points shared by the panel was that 'You can't be what you can't see', regarding the importance of having role models for women in the workplace.
Having pulled together another well-attended forum that enabled talented and inspiring people to share their stories while furthering conversations around the need for greater diversity once again showcased Maxxia's commitment to local investment in South Australia.